Is Goat Simulator 3 Multiplayer?
Be ready to gather the goat gang.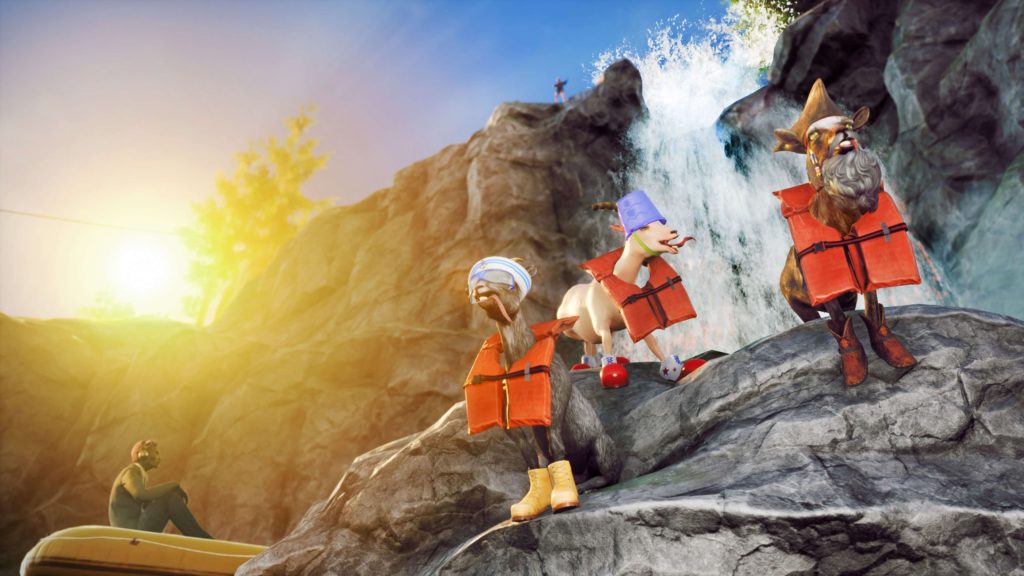 A rogue goat causing millions of dollars of damages, mayhem and even the extinction of a human race. A concept so ridiculous that it was only destined to one thing: greatness. And Goat Simulator 3, the sequel to Goat Simulator (of course there's not a second part) continues with the craziness, and it's already gaining respect and praise from critics and gamers alike. With that being said, does Goat Simulator allow you to play with friends? And by play, I mean causing irreparable destruction for families and the community alike. Is Goat Simulator 3 multiplayer? Let us talk about it.
Is Goat Simulator 3 Multiplayer?
Now, not only the idea of not including a multiplayer mode in a game like Goat Simulator 3 could qualify like a very missed opportunity, but taking into account that the previous game already had a multiplayer mode, it could be a disaster that could only rival the one that your goat can provoke in the game. Without getting extra convoluted, I'm pleased to confirm that Goat Simulator 3 is indeed a Multiplayer game as well. It packs 4 player local co-op as well as online multiplayer. Poor town of San Angora, it will see destruction like no other event has caused in history. Along your friends, you will be able to destroy everything in your path, and even compete in 7 mini-games available now. So that's great news, not for the citizens, but for you, you goat-destruction loving maniac.
Related: How to complete the Ballerina Effect Event and Create Tornado in Goat Simulator 3
So, I don't know what you are waiting for. Get your pals together and prepare yourself for wrecking like you've never seen before. And that is goat-level wrecking.
---
Goat Simulator 3 is available now on PlayStation 5, Xbox Series X/S and Windows. If you like our Goat Simulator content, be sure to check out How to Reach the Stratosphere in Goat Simulator 3?, and How to Rescue Steve from Drowning in Goat Simulator 3.
About the author