Idiotic Investing Codes (March 2023)
We have the complete list of working codes for Roblox Idiotic Investing that you can use to get free OP in-game items and boosts
Idiotic Investing is an experience developed by Mewious for the Roblox platform. Idiotic Investing is a unique Roblox game that you play against four or more players. At the start of each round players get to draw a piece of art. After the artwork is complete players go through multiple rounds of bidding on the artwork. The true value is only revealed after bidding is finished, showing if the winner made profit or a loss.
Get the latest free items, boosts, and more with our Idiotic Investing codes list. Refer to the section below for more information on how to redeem codes in Idiotic Investing. Remember to bookmark the page and check back often for new codes and updates. If you're on a computer, press CTRL+D to add us to your bookmarks and never miss a code again.
All Idiotic Investing Codes
We have the full list of codes for Roblox Idiotic Investing below. You can enter any of these codes into the code redemption screen to claim some freebies like boosts, currency, or even limited-time items. Codes expire after a short time, so make sure to use them while they last or they will go to waste. Check back soon for more updates.
Current Idiotic Investing Codes
Last checked: March 6, 2023.
FanBoy – Fanboy Icon
GiveMeMoneyPls – 1200 Coins
GelPlays – 600 Coins
Ayron – 600 Coins
Expired Codes
1YEARWOO – 5k Coins
100FOLLOWERS! – Coins & Icon
Released! – 1200 Coins & Icon
Idiotic Investing FAQ
How Do I Redeem Idiotic Investing Codes?
Here is how to redeem codes in Roblox Idiotic Investing:
Launch Idiotic Investing on your Roblox-compatible device
Tap on the Codes button from the main menu
Enter a working code into the code redemption box
Press the Redeem button to redeem the code
Enjoy your free in-game rewards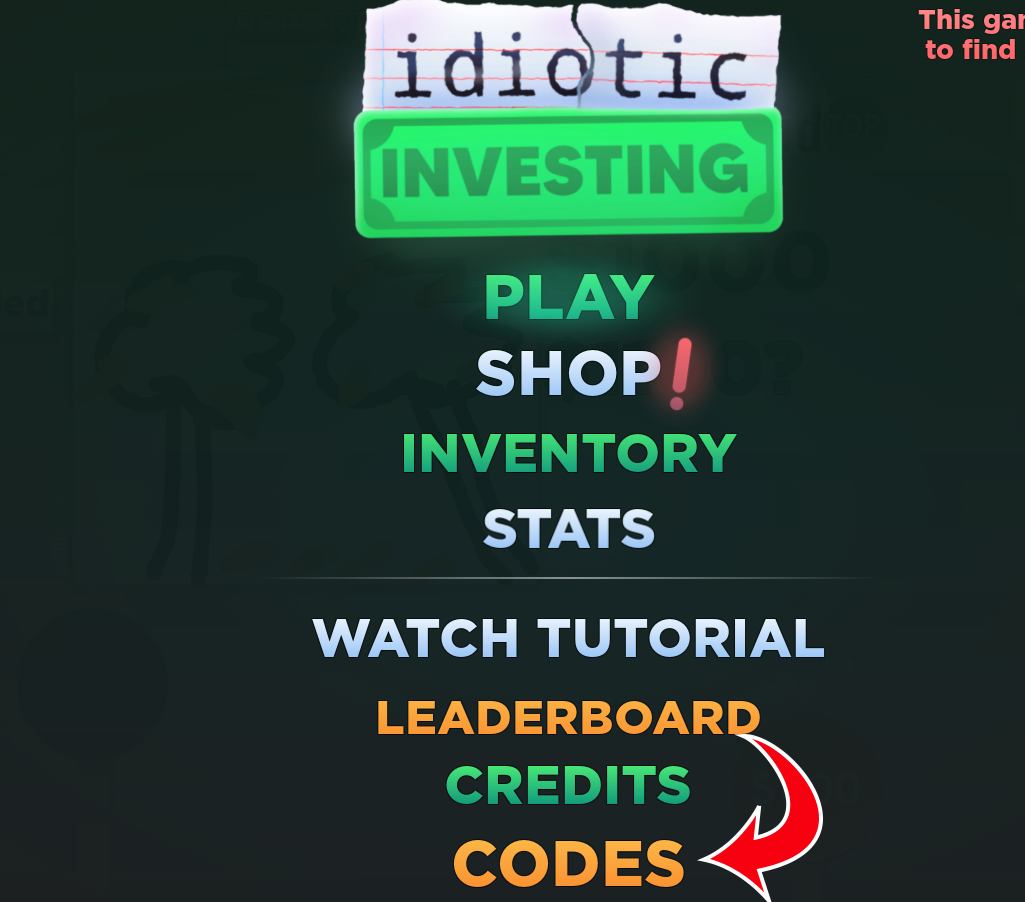 Where Can I Get New Codes for Idiotic Investing?
Follow the developers on their Twitter account to stay up-to-date with announcements and Idiotic Investing news. You can also follow the game's Roblox page or join the official Discord community server to chat with other players, get new updates and announcements, and learn more about the game. We recommend following our code list here for updates so you can have them all in one convenient location!
That's the full working codes list for Roblox Idiotic Investing. Bookmark this page and check back later for more. As soon as a new one releases, we'll have it on our list.