How to Unlock the Drone Relic in Tower of Fantasy
Lend a hand, will ya?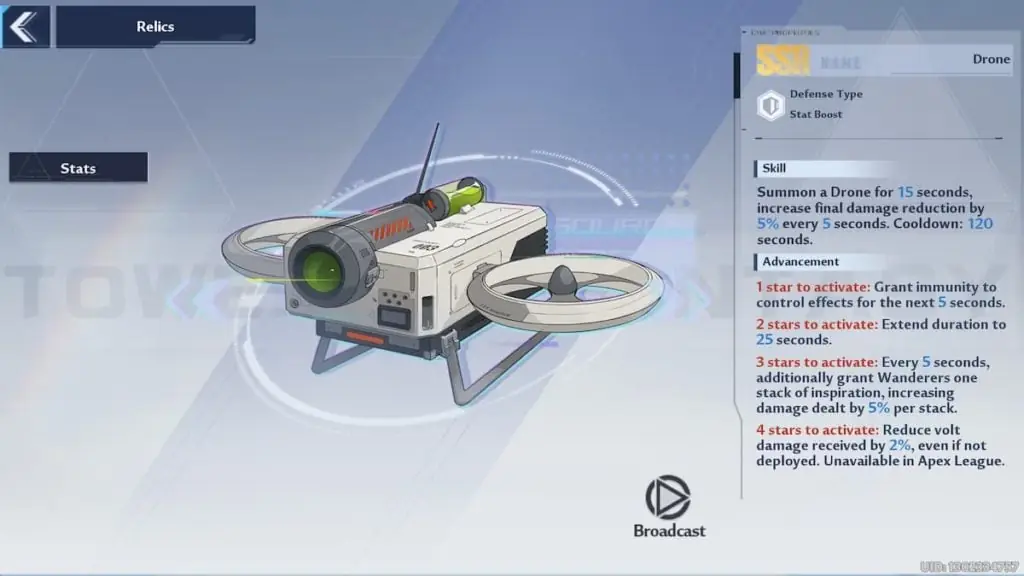 Tower of Fantasy will have you defending from all sorts of threats. Bludgeoning bats, laser beams, slicing jaws and claws, and even fall damage. When fending off all of these threats and enemies can be tiring and can take a toll on your wanderer's health. This is especially bad when you consider they are taking on all of these attacks and strikes with practically no armor. I mean, just look at your character. Scarcely an ounce of protective plating.
When you need a little more defense, you can't go wrong with the Drone, a flying companion that will follow you around and give you an extra boost of defense, to better prepare you for the onslaught your wanderer receives every day. But how do you unlock this relic, and what is it?
What is the Drone Relic in Tower of Fantasy
The Drone is an SSR relic that floats around and buffs your defense, increasing in strength every five seconds, protecting you more and more. It is indestructible and is a reliable piece of kit if ever you need that edge over a powerful opponent who ends up slaughtering you a little too quickly. It may also serve to shave off a lot of damage from powerful boss attacks, so may be a handy boss battle must-have.
The game has this to say about the Drone:
Summon a Drone for 15 seconds, increase final damage reduction by 5% every 5 seconds. Cooldown 120 seconds.

Tower of Fantasy
The Drone can be upgraded to become even more of a powerful boost. Upgrades include giving you immunities and more buffs, which could give your wanderer enough of an advantage to win battles where the odds are stacked against them. The Drone, at four stars, can even permanently reduce volt damage taken by the player even when not deployed, and at five stars, 20% of damage will be converted into health.
Considering how powerful this drone can be at keeping you alive, it's no wonder players may want to get their hands on it. But how can it be unlocked?
How to unlock the Drone relic
Such a useful relic is not easy to come by. To unlock it, you must acquire 30 Drone relic shards. These can be found when defeating a boss, as a boss reward, so you're going to have to work hard.
Once 30 have been found, make sure to go into the relic menu to activate it, enabling you to use it.
Related: How to Unlock Confinement in Tower of Fantasy
Keep an eye on Gamer Journalist for more gaming and Tower of Fantasy content.