How to Unlock 5th Skill in Wolcen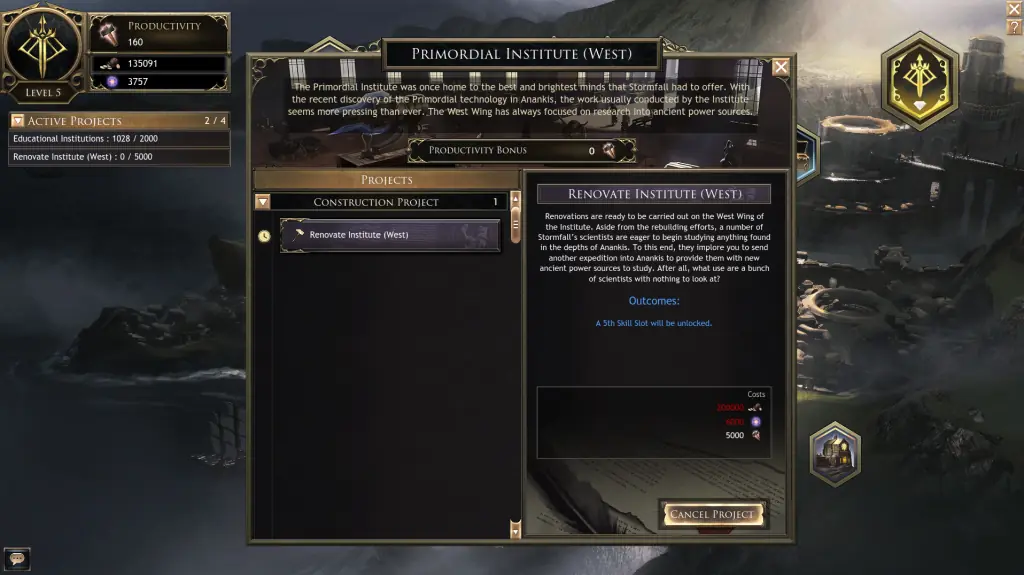 You are probably already aware of the fifth skill in Wolcen and wondering how to unlock it. This guide will show you how to unlock 5th skill in Wolcen, but it will require you to get to the end-game content to do so.
How to Unlock 5th Skill in Wolcen
The 5th skill can be unlocked through the Stormfall Restoration area in the end-game of Wolcen. After finishing the third and final act of the game, you will unlock an adventure mode area where you can upgrade and restore parts of Stormfall.
To access this menu, hit the "n" key on your keyboard which should bring up the Stormfall Restoration menu. On the top of the screen, you'll see Primordial Institue (West).
This is the project you will want to complete in order to unlock the 5th skill. It will cost you the following:
200,000 Gold
6,000 Affinity
5,000 Productivity
Productivity can be earned through running missions at the Mandate Board on the right side of town. Affinity can be earned from right-clicking and selling the skills you find and pick up. Gold can be obtained through drops and selling items and most abundantly from the little loot goblins or omens.
After starting the project, you will need to grind out some missions to speed up the project time.