How to Play PowerWash Simulator Co-op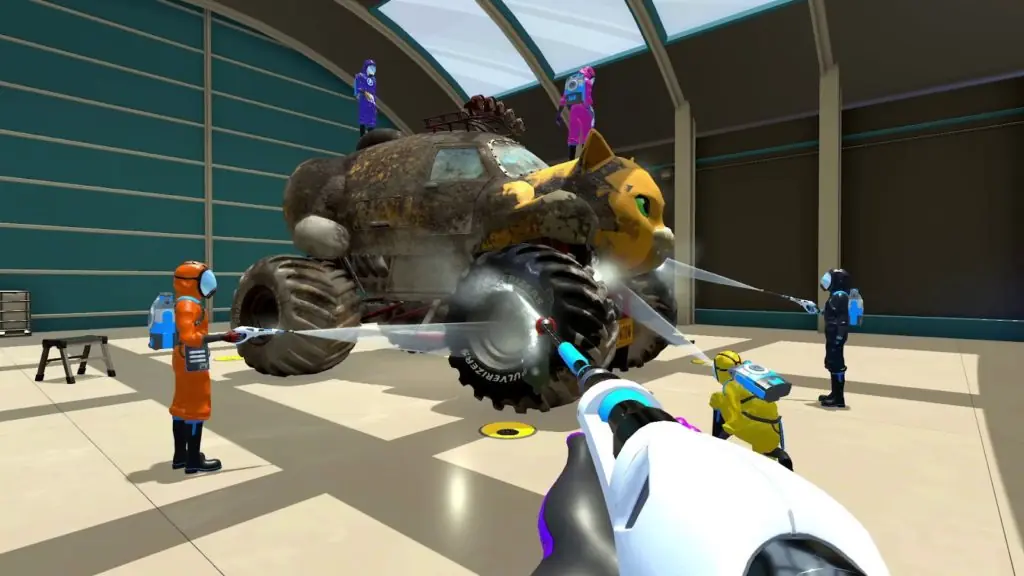 It never ceases to amaze me, the mundane tasks that can be successfully game-ified. For example, I hate washing my car by hand. It's exhausting, time-consuming, and occasionally really gross. But you turn it into a game, add a few fun gimmicks, and suddenly it's the social sensation that's sweeping the nation. PowerWash Simulator, despite still being in Early Access, has earned an Overwhelmingly Positive rating on Steam and become a favorite of gaming streamers. If you want to enjoy this mildly strange concept yourself, though, it's best done with some open-minded friends. Here's how to play PowerWash Simulator co-op.
First and foremost, due to PowerWash Simulator's Early Access nature, the game doesn't have built-in matchmaking, at least not yet. As such, you can only play the game co-op with people who are already on your Steam friends list. Everyone has to own a copy of the game, too, so if you're trying to coordinate a co-op session, you're going to have to do it through an external medium like Discord.
How to Play PowerWash Simulator Co-op
To play PowerWash Simulator co-op
Start a game either in Career Mode or Free Play
Bring up your tablet menu and toggle on the co-op setting near the top of the screen
Other players can click the Join button to join your in-progress session
You can play PowerWash Simulator cooperatively in both Career Mode and Free Play mode, though there is a slight restriction to be mindful of. If you're playing in Career Mode, there can only be up to two players in a session at once, which means only you and one friend. If you're playing in Free Play, you can be joined by up to five friends for six players in total.
To get a co-op session started, just launch either Career Mode or Free Play. When you've loaded up, bring up your tablet menu. You should see a little toggle switch near the top-left of the screen that reads "Co-op hosting." Toggle it on, and you'll appear in the active session list. Other players on your friends list can now see your session if they click the Join button in the upper right of the tablet menu, and with one click, they'll drop right in.
Bear in mind, this feature is still in beta, so you may encounter some occasional jankiness like unsynced cleaning percentages or the host player spontaneously turning invisible.