How to Intercept in Madden 23
Stealing the ball away from your opponent could be a complete momentum shifter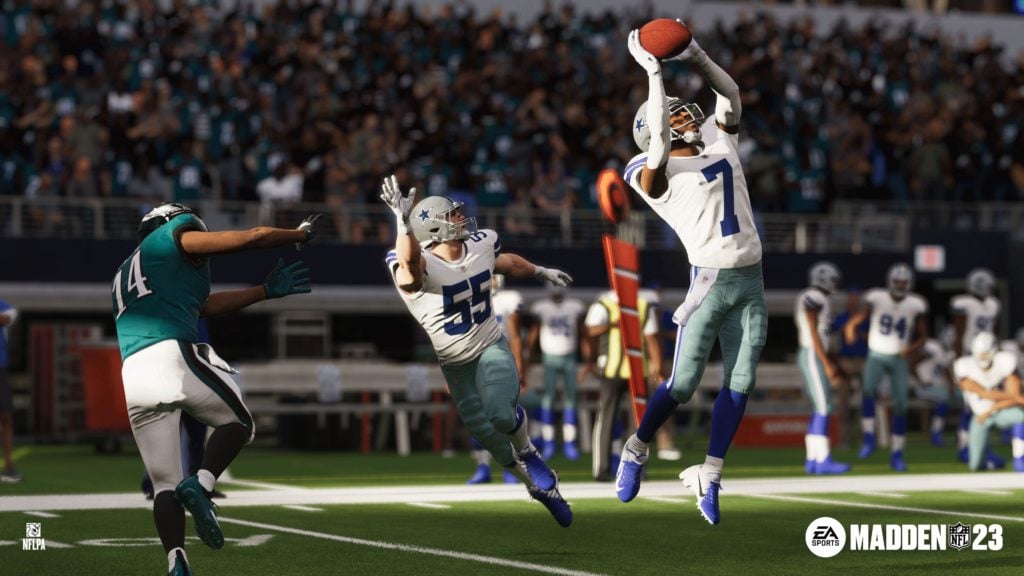 Everybody knows that turnovers are the name of the game in Madden 23. Whether you're trying to avoid them as a quarterback or enforce them as a defender, a tipped pass for an interception or a crushing hit for a fumble can be the deciding factor in a game.
In this guide, we will break down everything you need to know about how to intercept the ball in Madden 23.
How to Intercept in Madden 23
The importance of winning the turnover battle cannot be overstated. However, not all turnovers are created equal and interceptions are said to have a bigger impact on the outcome of a game. This is because the defender is most likely to still be on his feet after the takeaway. Meaning they can still take it the distance and provide good field position for the offense (or potentially even score).
Related: How to Stop the Run in Madden 23
All of this is to say that knowing how to intercept the ball in Madden 23 could be the difference between winning and losing a game. Luckily, it's a pretty easy maneuver to pull off.
To intercept a ball in Madden 23, you simple need to;
Hold Y (for Xbox) or Triangle (for PlayStation) as the defender closes in on the receiver
When a pass is flying through the air in Madden 23 and your defender is within range to catch it. You have the ability to sit back and watch them go for it on their own. Allowing the CPU to make the play for you. However, the far more reliable option is to take matters into your own hands and make a User Pick using the controls above.
That's everything you need to know about how to intercept the ball in Madden 23. If you're interested in more Madden content, be sure to check out our guides section here at Gamer Journalist. Where you can find information like the best offensive playbooks in Madden 23 or how to throw all passes in Madden 23.