How to find and use the Crucifix in Roblox Doors
Back, demon!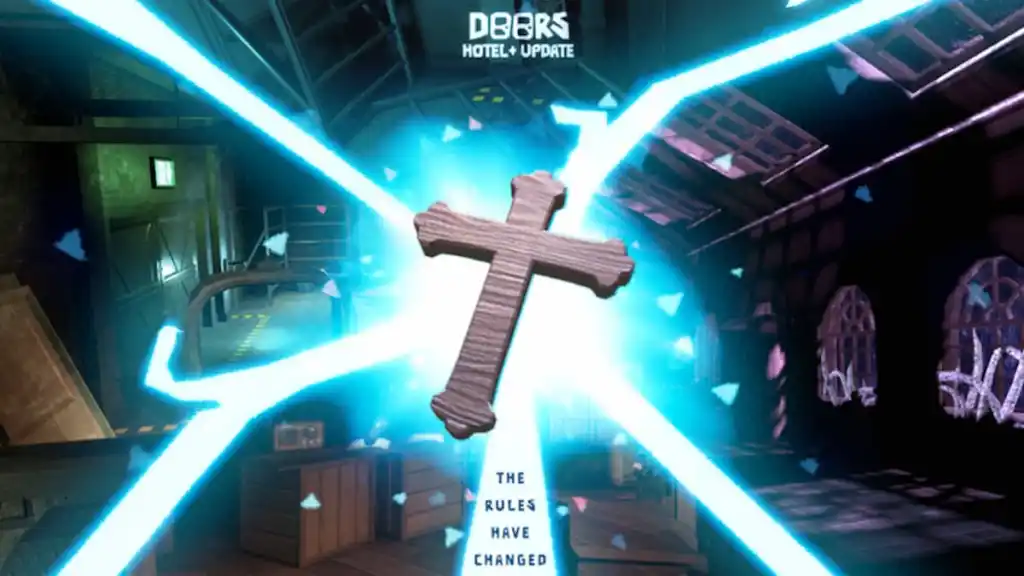 Roblox Doors is a fantastic and unique horror experience that sees you walking through many, many doors. Hunted by horrors beyond your imagination, you will have to survive an ordeal of monsters and entities as you make your way to door 100. There are, however, items that will help you on your journey through the game. In the Hotel+ update, the Crucifix is one such item. Here is how to find and use the Crucifix in Roblox Doors.
How to find the Crucifix in Doors
Roblox Doors, thankfully, has a whole lot of items to help you if you search for them. The Crucifix is one of the items added in the Hotel+ update, and is highly sought after. There are a few ways to grab it, and make sure you do.
Like all other items, there is a chance to find it in drawers that you loot – just watch out for Timothy! It is a rare chance, however, but it is worth to check every draw that you come across, just in case. Interestingly, you may also find a Crucifix hanging above a door, to ward off evil spirits. Make sure to check the top of each door you pass, and you may get lucky.
The other way to get the Crucifix is buying it from Jeff's store. Jeff sells the Crucifix for 250 gold, so make sure you loot as much as you can before you reach it. You simply must buy it – he'll always have one in stock for you.
Related: How to Beat the Figure in Roblox Doors
How to use the Crucifix in Doors
When you have a Crucifix in your inventory, simply make sure you have it equipped. When an entity runs into your line-of-sight, the Crucifix will activate, chaining them to the floor with brilliant blue light. The Crucifix will be consumed, but that entity will be taken out of action.
Figure and Seek and somewhat resistant to the Crucifix, as they will eventually shrug off the chains. They will be momentarily stunned and frozen instead of chained permanently.
---
We hope you enjoyed our Roblox Doors guide. You can head on over to our Facebook page to keep up with the latest of video game content. You may also be interested in our other Doors content, such as how to beat Seek, or how to beat the paintings puzzle.