How to Beat Metal Mario Cup in Mario Kart Tour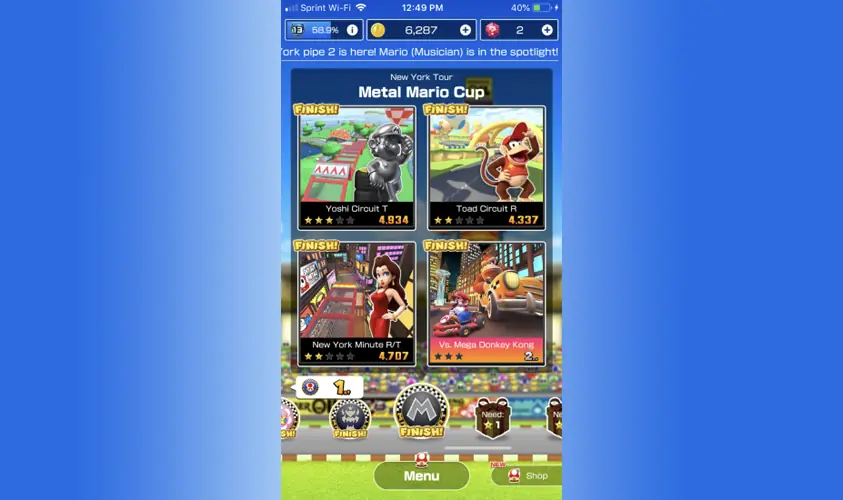 The latest cup in Mario Kart Tour, The Metal Mario Cup, was released. It turns out to be quite a leap in skill level compared to the last cup. Below we show which Drivers, Karts, and Gliders are optimal for each course so you know what you should focus on leveling in order to beat this cup.
Note that courses may have different variants "R" and "T" on them. For example New York Minute R/T means it is driven in reverse (or mirrored) and includes additional obstacles and ramps.
Yoshi Circuit T
First up is Yoshi Circuit T. The optimal driver here is either Metal Mario or Yoshi, as they will give you three items per box. There are two carts that will award x2 bonus points and one shell glider that will grant x3 combo points and big combo-time boosts.
Toad Circuit R
Toad Circuit R is a mirrored course and Diddy Kong will be our top performer here somehow. We're not exactly sure why Toadette and the Toadstool Kart are not optimal, so don't ask. The two gliders and karts shown below are also most optimal.
New York Minute R/T
Mario Musician is this week's featured Driver, so fire a few pipes and test your luck. Who knows, you could get lucky and unlock him on the first attempt. Metal Mario and Pauline are optimal for this mirrored and increased obstacle course. The two Karts and one Glider shown below will yield the most points.
How to Beat Metal Mario Cup in Mario Kart Tour
Beating these levels with 2-3 stars will not be much of a challenge. Getting a perfect 5-star will be near impossible, though, unless you have the right Drivers, Karts, and Gliders unlocked for each course. On top of that, you may need to hit a few lucky frenzies to top off your points.
Use your point-level boost tickets and skill-level boost tickets. This will increase the max points you can get for each driver, kart, and glider. Increasing their respective levels will also provide you with some nice combo boosts that will help you achieve the 10,000 point mark.
Lastly, use your rubies to fire some pipes and unlock Mario (Musician). He will come in handy for the last course in particular. Fire a 10 pipe and test your luck!