Green Hell Building Update Patch Notes
This is a huge improvement for players.
Green Hell players who have been playing the game for years now have even more to be excited for. As the game's latest Building Update brings with it the biggest expansion yet, allowing players to build their very own treehouse sanctuaries. But what is included in the Building Update? Well, today we're going to do a deep dive into the developer's patch notes so that we can show off all this update has to offer players!
Green Hell Building Update Patch Notes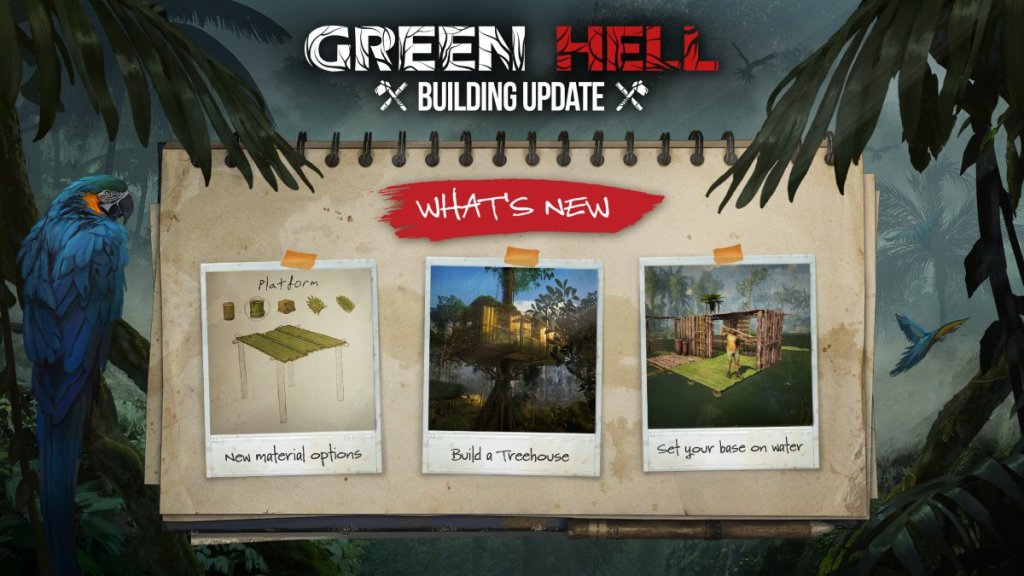 This major Building Update not just brings the ability to craft these massive new humble abodes, but a new plethora of building materials, being able to build a base on water, and even a laundry list of game fixes.
The biggest takeaways to know about the Building Update though are that you can literally build mansion-like treehouses yourself in order to create your very own virtual home away from home. If trees aren't your thing though, you can also now build floating houses on water too. And because buildings are a new thing, there are various materials and new crafting recipes available in order for you to create the digital home of your dreams.
The other side of this Building Update is the new Heavy Stone Pickaxe which players are now able to craft and use, being the first two-handed weapon the game has seen yet. This allows players to really take out enemies easily, as well as clear paths which have now been more refined as well.
New Elements
These are all of the new gameplay enhancements that are outlined in the developer patch notes:
Build your home in the trees – Utilizing a new Climbing Rope construction, players can head to the treetops to build their very own treehouse! Find the biggest tree around—covered with Indigo Blue Leptonia Mushrooms and Banisteropsis Vine—and assemble your two-story Wooden/Bamboo Tree House.
Footbridge – Make easy walking connections between your tree constructions as well as your water and land abodes.
Whatever floats your boat – The new Floating Frame & Triangular Floating Frame will allow players to build their abode up to 3 floors high right on the water.
3-sided fun – Use new Wooden/Bamboo Triangular Frames to create a more unique home than ever before.
STAY OUT! – Keep out unwanted visitors with Wooden/Bamboo Doors.
More building material options – Bamboo and Wood everywhere! Build new versions of walls, roofs, and ceilings out of the material of your fancy.
Hit 'em hard – No predator is safe when players wield the all-new Heavy Stone Axe, the first two-handed axe players can craft on their own.
Revamped notebook – The player notebook is slimmer and more organized than ever.
Clear your path – Cut down big palms, logs, stumps, and branches to clear your path all through the Amazon.
Related: 8 Best Games Like Conan Exiles
Fixes
These are all of the game fixes that are outlined in the developer's patch notes:
Big Stones no longer disappear when being carried on longer distances,
Ropes on trees respawn more frequently,
Players are now able to pick up heavy objects while diving,
Tribesmen and animals can no longer walk through walls,
Fixed translation errors in Turkish version,
Ladders should no longer block the way when built near a doorway,
Players can now properly see dirt on other players' bodies in co-op sessions,
Placing frames on upper levels of custom buildings should be more convenient now,
Fishermen's water slot should no longer disappear after reloading,
Players should be able to snap other constructions to Fires (Small Fire and Campfire),
Removed an overscaled plant from Spirits of Amazonia 3 area,
Arrow buttons for turning pages in the Notebook are no longer transparent,
Pressing 'T' no longer brings out radio during renaming animals or plants in the Story Mode,
HUD displayed during placing items into constructions should now be snapped to the center of the screen,
Changed the position of 'Name' option in the expand menu,
Ghost placing mode no longer turns off after placing a single ghost.
---
Well, that's everything that you're going to need to know about Green Hell's major Building Update! Be sure to check out some of our great game guides as well, such as "How do you Build a Chicken Farm in Valheim". And don't forget to like Gamer Journalist on Facebook in order to be kept in the loop of all of the latest news on Green Hell!