Fnatic STREAK65 Speed Keyboard Review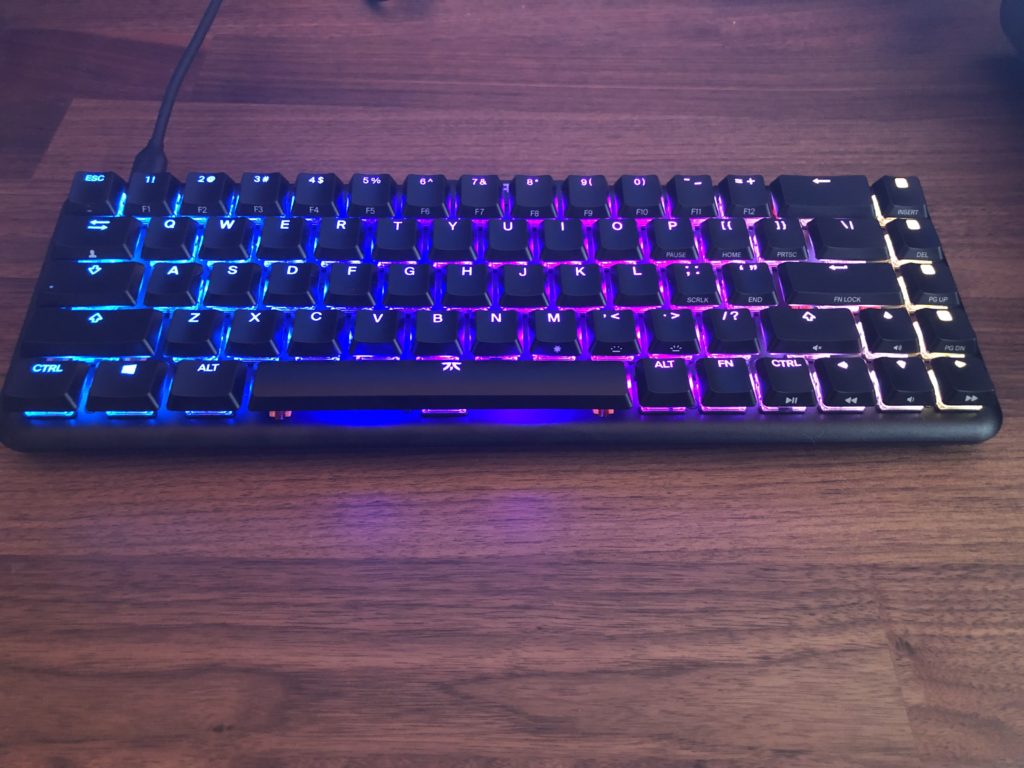 Anyone that follows competitive gaming knows the Fnatic name. Not only are they one of the top esports organizations, but they also have a few products under their belt. By leveraging their gaming expertise, Fnatic has been developing some top tier gaming peripherals like keyboards, mice, and headsets. We got our hands on their newest keyboard, and want to give you our thoughts on it. Here's our review of the Fnatic STREAK65 Speed Keyboard.
To provide a fair, unbiased review, I've been using this as my primary keyboard for roughly 100 hours. My usual keyboard is a Filco Majestouch 2 HAKUA TKL with MX Silent Reds, for reference. I have thousands of hours in Counter-Strike, Call of Duty, and other shooters, so this review is from an actual gamer.
Fnatic's STREAK65 is marketed as the fastest mechanical keyboard on the market, boasting ultra-low profile switches. As the name implies, it's a 65% form factor keyboard, a popular choice for gamers due to the compact size. No number pad and standalone function key row allow for a smaller design, freeing up more room for your mouse hand. Gamers who need a lot of mouse space benefit most from compact designs like these.
Compared to the miniSTREAK, the STREAK65 is a 48% smaller volume, 8mm lower height, and has 1.9x faster actuation than Cherry MX Silent Reds. Fnatic uses its own proprietary switches, which they boast is the "ultimate esports switch." But enough with the marketing regurgitation, let's dive into the good stuff.
Table of contents
Fnatic STREAK65 Speed Keyboard Review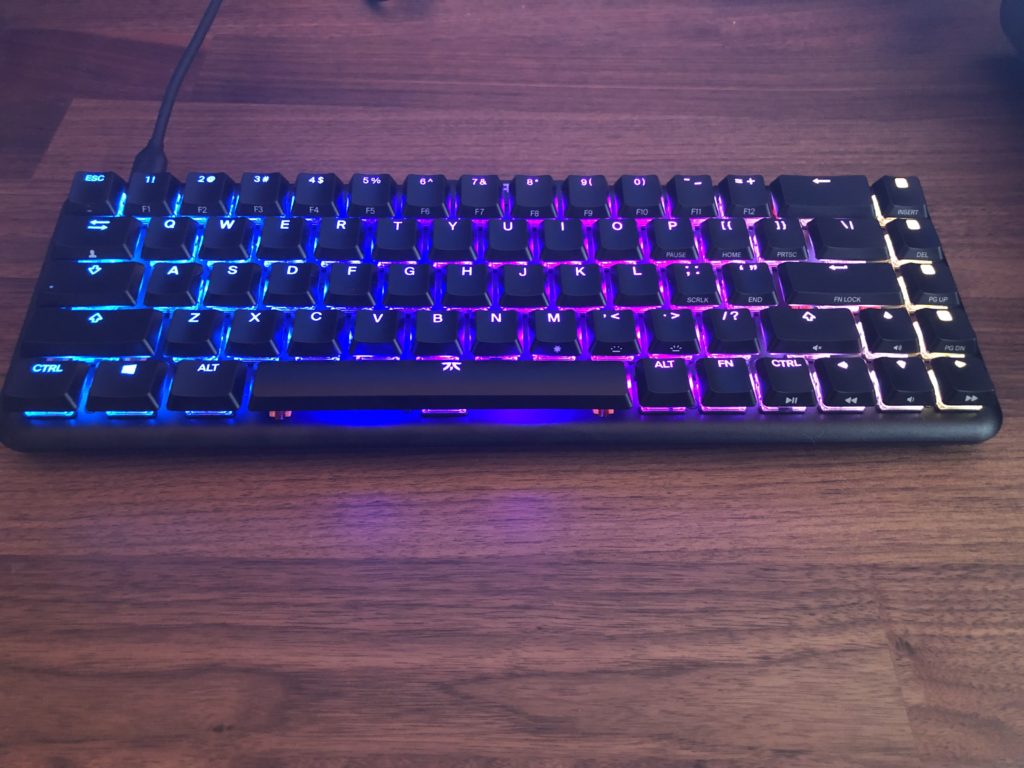 Fnatic's 65% form factor STREAK65 gaming keyboard will help you maintain that winning streak without breaking the bank.
Pros
Slim profile
Solid construction
Pre-lubricated Stabilizers
Detachable cable
Good value
Cons
The matte finish on keys shows fingerprints
Packaging
Starting with the packaging, the Fnatic STREAK65 nails it. The design of the packaging is minimal, without any wasted space. There's no excessive terminology on the box, so you can save it and use it as a transport case or put it on display if you're a collector.
Opening the box reveals a plastic bag covering the keyboard, with a cardboard compartment above it. Folding back the cardboard flap reveals the fully detachable power cord, a ~2 meter USB Type-C to USB-A male cable. There's no cable gutter or special enclosure for the cable, allowing you to use your fancy custom paracord cable with no problems.
Build
The keyboard is Solid Aluminum and weighs just under a pound (420g). It has a durable feel to it, and the lightweight aluminum and small size make it the perfect portable keyboard option. You can tell the build construction is high-quality when you pick it up out of the box. There's a matte black finish on the entire keyboard and keys, so it looks sleek and minimal. Dimensions of Fnatic's STREAK65 are 316 x 109 x 20mm.
The branding logos on the keyboard might be a bit much for some users, but I didn't notice them and they didn't bother me. The word "Fnatic" is on the keyboard's top center above the 7 and 8 number keys. The words "Streak" are found on the left and right sides of the keyboard. You'll also see the Fnatic logo in the center of the spacebar.
There is a removable magnetic plate with a Fnatic logo on the back of the keyboard, which exposes a transparent window to let the RGB lights shine. Fnatic may have some plans to sell custom logo plates in the future, which would explain this feature. Either way, that's five logos on a tiny keyboard; granted, only two are visible to the user.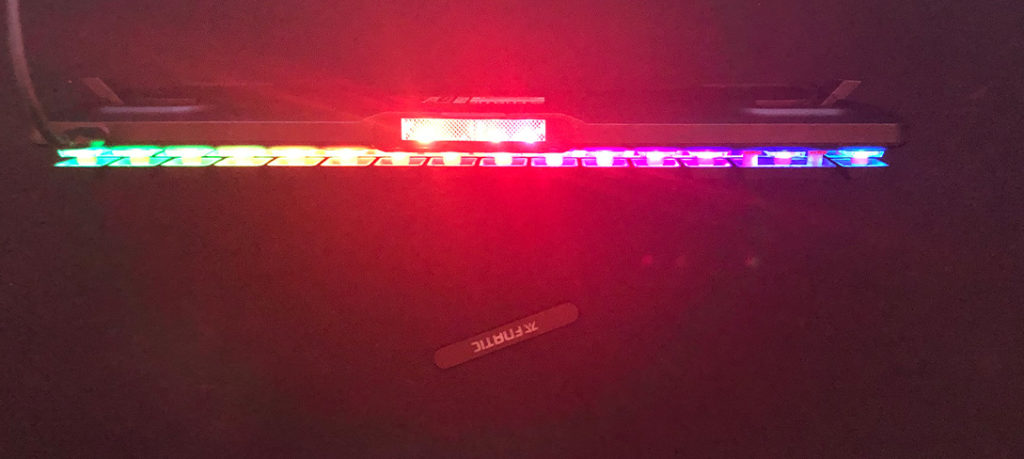 The keyboard's edges are more rounded than most. I tend to prefer more square edges, but I won't deny that the keyboard still looks nice, even given my preference. Finally, you'll find two pull-out feet on the keyboard's bottom that extend to a 90-degree angle and raise the backside.
Keys and Switches
The switches on the STREAK65 are the Fnatic Speed Switches, which are linear and super smooth. The keys actuate at ~1mm with about 45g of force, so you only need to apply just the right amount of pressure. The total travel distance is ~3.2mm, allowing you to press and switch between multiple keys quickly. The low profile switches are 35% lower than your typical mechanical switches, according to their specs.
The keys feel comfortable to type on after some adjusting. Within an hour, typing and gaming felt natural, and my words-per-minute were up to par. Not only are the keys smooth, but they're also quiet, so you don't have to worry about using dampeners to avoid waking up your roommates. These keys are rated for 50 million keystrokes, so you're guaranteed to get some fair use out of them.
The STREAK65 really shines in the key stability department. Both the switches and keys are solid and don't have any wobble. I've never used a stock keyboard with stabilizers as nice as these. The stabilizers come pre-lubricated, which in my experience is never as good as lubing the stabilizers myself. However, these are a different story. Please don't take my word for it, though. Here's my typing speed test using the Fnatic STREAK65 so you can make up your own mind:
The matte finish on the keys makes fingerprints and oils fairly noticeable without much use. It's a minor issue, though, and can be solved with some regular cleaning. One nice thing about the plate and the raised keys is that you can easily clean out the crumbs, hair, and whatever else usually ends up between the keys. I was able to use a can of compressed air and spray it through the keyboard's side to clean it effectively.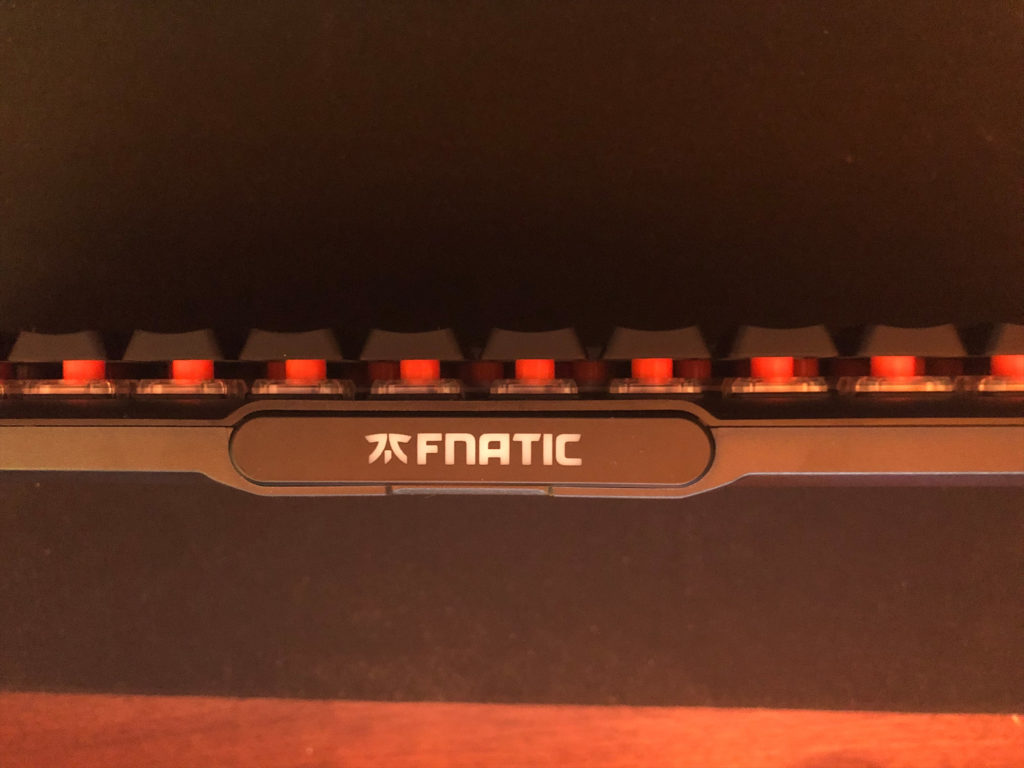 Key Bindings
If you're like me, you'll constantly forget the hotkeys, so I'll lay them out here. Feel free to refer back to these if you end up purchasing the STREAK65. You'll likely be using these shortcuts the most:
Fn + Tab: Switch between four RGB backlighting options
Fn + > and <: Increase/decrease RGB backlighting brightness (six options)
To access all the key binding customization options, you will want to download the Fnatic OP software. According to the application, this software is still in early access, but it seems to have everything necessary, and I haven't run into any issues.
From the Key Bindings menu, you can select any individual key, and assign a Macro, re-map it, make it launch an application, or have it open a file or link. The keys in the rightmost column of the keyboard are perfect for this. The macro action editor is fascinating, but I didn't dive into it deeply enough to review that portion. Essentially, you can create a sequence of buttons that activates when you press the assigned key.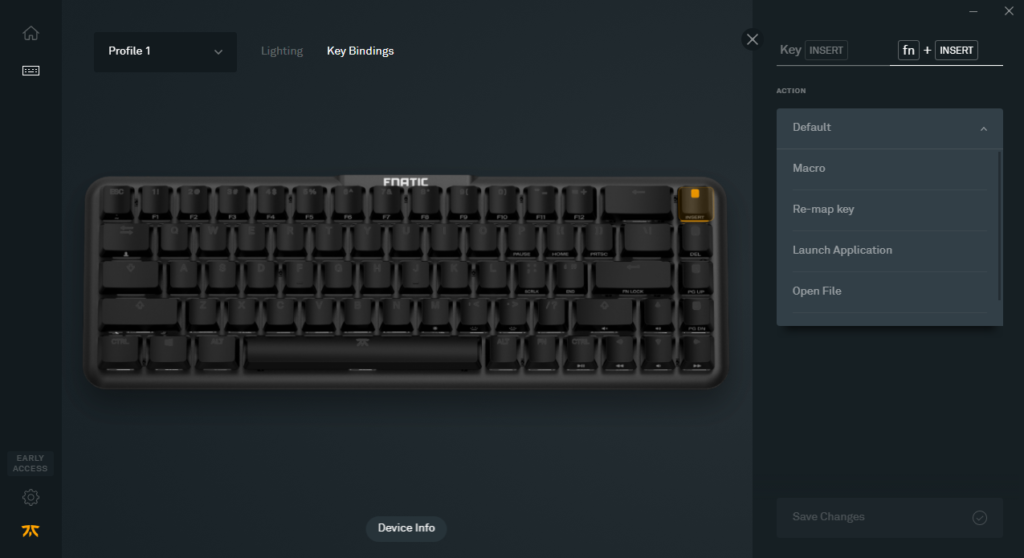 Backlight Options
Using the Fnatic OP software, you can select the Backlight Effect, which offers Wave, Rain, Pulse, Fade, Colour Editor, Gradient, Reactive, and Reactive Ripple. You can also modify the backlighting animation speed, anywhere between 0% to 100% in 1% increments. Lastly, you can select the animation direction between up, down, left, or right.
Without the software, you can still choose between four RGB backlighting presets and modify the brightness. I'd recommend using the software, though, because it's super lightweight and adds a lot more customization.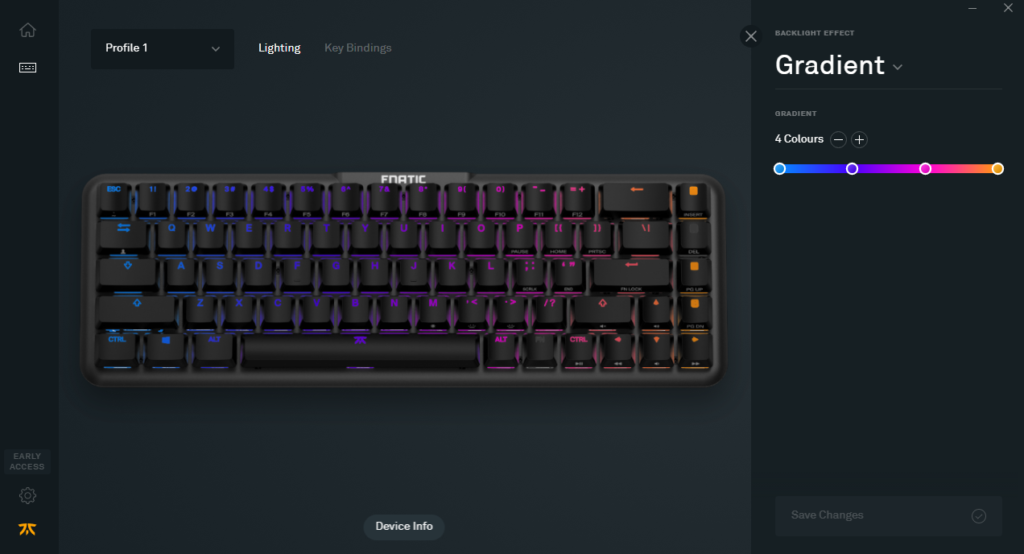 Conclusion
To recap, here's a quick look at the pros and cons of Fnatic's STREAK65:
Pros: a slim profile, solid feel and construction, smooth pre-lubricated stabilizers, fair price, detachable cable
Cons: matte finish on the keycaps show fingerprints and oils
Score
7
/
10
"Pretty Good"
Overall, the Fnatic STREAK65 is one of the best stock gaming keyboards I've used to date. At $109.99, it's an excellent value for a keyboard that should last you at least a few years. The speed switches are perfect for gaming, which makes sense, given they're designed by one of the best esports teams in the world. You can tell some serious thought went into this design. I'd especially recommend this keyboard if you need a compact design for some extra mouse room or do a lot of traveling.
About the author