Fall Guys Collaborates With Pusheen – When Do the New Skins Release?
Here's Fall Guys' latest collab!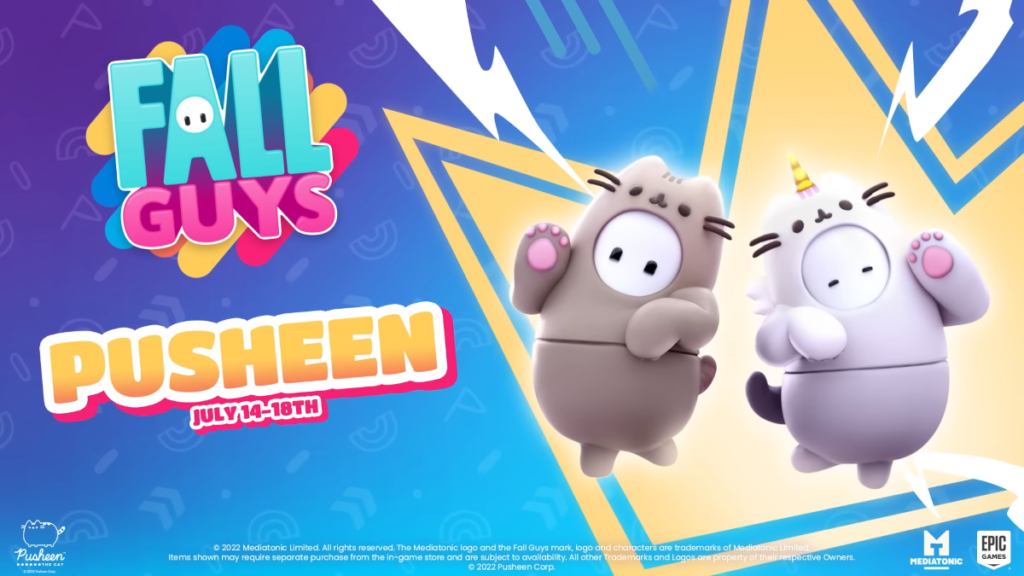 UPDATE (10/20/22): According to the Fall Guys official account on Twitter, it looks like this promo is being recycled, this time with some new outfits! In addition to the Pusheen and Super Pusheenicorn skins, there will be two new outfits to try on, including Sloth and Pusheenosaurus! These outfits are available now, as of writing! You can nab them in bundles for 1,200 to 1,600 Show-Bucks, or each skin individually for 800. The original story published on July 12 follows this update.
Fall Guys developer Mediatonic has announced a collaboration with the comic strip Pusheen, created by Claire Belton and Andrew Duff. Included in the adorable alliance are two skins — Pusheen and Super Pusheenicorn — and both will be exclusively available from July 14 to July 18 for 800 Show-Bucks.
In addition, this collab includes an adorable Fall Guys x Pusheen comic! Pusheen is a prime opportunity for cross-collaboration. Debuting in 2010, the iconic feline has appeared across the internet, from Facebook to iMessage. As of writing, she is also collaborating with another internet icon, Hatsune Miku.
Fall Guys — like its cousin, Fortnite — is no stranger to cross-promotion. Past collabs have resulted in skins based on recognizable characters such as 2B from Nier: Automata and Ezio from Assassin's Creed II. Like with other Fall Guys collabs, these Pusheen skins will likely vanish into the void after July 18! So, be sure to get your toe beans on it while you can!
How to Buy Skins in Fall Guys
If you're having trouble buying new skins — including the ones based on Pusheen — follow these steps!
Once you've loaded the Fall Guys client, look at the top of the screen and click the fourth button. It looks like a shopping cart. Here, you'll see the latest promotions and outfits/skins you can purchase using either Kudos or Show-Bucks. The Fall Guys Store is divided up into categories, including FEATURED, SEASON, ITEMS, and SHOW-BUCKS.
As soon as you've purchased the outfit/skin you'd like, click on the second button, which looks like a coat hanger. It's here where you can equip your outfits, customize your theatrics and interface.
For more on Fall Guys, including a piece on whether or not there are bots in the game, in addition to other pieces on brand collaborations in games like Fortnite and Fall Guys, stick with Gamer Journalist!
Related: Top 10 Games to Play like Fall Guys