The Best Games to Grab During the Epic Games Store Holiday Sale
These deals are too good to pass up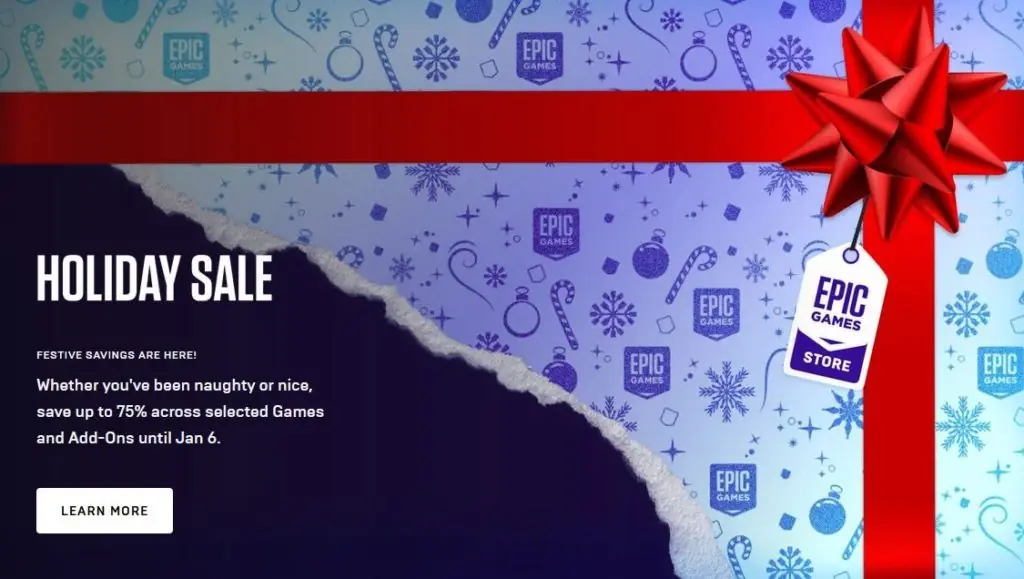 The Epic Games Store has been running for a good few years now, but it still kinda feels like the new kid on the block. I guess when you're trying to go toe-to-toe with Steam, who's been on the board for nearly two decades, a few years seems like nothing. But if anything helps the EGS rival Steam, it's their major sale events. The EGS has got their 2021 holiday sale up and running, a good week ahead of Steam's holiday sale in their usual scoop effort. Whether it's Steam or EGS, sales are sales, so here are some of the best games to grab during the Epic Games Store Holiday Sale, which lasts from December 16 to January 6.
Before we get into the deals, there are a couple of bonus features to this sale you should know about. First and foremost, EGS has brought back their yearly Epic Coupon. Every active EGS account has automatically received a coupon for $10 off any game priced $14.99 or more. When you go to buy a game, the coupon will automatically be applied, and afterwards, you'll receive another $10 coupon. You'll keep getting coupons for every game you buy, but make sure to use them, as they'll expire at the end of the sale.
Secondly, in another yearly tradition, EGS is giving away free games every day for the entire duration of the sale. EGS usually gives away smaller games every Thursday, but they usually bust out the bigger-budget stuff during the Holiday Sale. At time of writing, Shenmue III and Neon Abyss have been given away, and the current game available is Remnant: From the Ashes. You don't need to buy anything to get the free games, just remember to come claim them when they cycle out every day at 11 a.m.
So, with all that squared away, here are a few highlight deals.
The Best Games to Grab During the Epic Games Store Holiday Sale
A modern success story if ever there was one, The Forgotten City started as a simple mod for The Elder Scrolls V: Skyrim. Thanks to some major devotion from developers (and the fans), it bloomed into a complete game of its own, with homemade animations and models, and an incredibly charismatic cast of voice actors.
The Forgotten City is a four-dimensional puzzle adventure, trapping you in a city governed by "The Golden Rule," deeming that if one person commits a crime, the whole community is punished for it. By looping through time, you need to figure out who breaks the rule and how to stop them, all while unraveling the mystery of the bizarre city.
It's a well-documented fact that people like cowboys. Put on a stetson, grab a six-shooter, boom, instant cool. If you're hankering for that ol' dusty trail, you can't do much better than Red Dead Redemption 2. Step into the shoes of outlaw Arthur Morgan and experience a tale of honor and loyalty in the wild west.
If that doesn't appeal to you, hop onto Red Dead Online, included with Red Dead Redemption 2, and become an outlaw of your own renown in a growing online community.
With Tiny Tina's Wonderlands right around the corner, now's a good time to familiarize yourself with the Borderlands paradigm if you haven't already. As the latest game in the series, Borderlands 3 features the classic looting and shooting action that the series is known for with awesome classes and quality of life tweaks not present in games before it.
As always, you can play by yourself, or play co-op online with three other friends. The game even features built-in balancing systems, ensuring that players of all levels and playstyles can get a cut of the loot.
What would you get if you took the breathtaking animation design sensibilities of a modern Dreamworks movie and transformed them into a sprawling action/adventure game? Well, maybe I'm off-base here, but I'm pretty sure you'd get Kena: Bridge of Spirits.
Take control of young spirit channeler Kena as she travels the lands righting wrongs, helping the downtrodden, and recruiting her little spiritual companions, the Rot. You can put little hats on them! Every game is improved at least 15% by tiny hats. Scientific fact.
They say you are what you eat from your head to your feet, but I don't think this is quite what they meant. In Bugsnax, visit a mysterious island populated by Bugsnax, bizarre creatures resembling many foods in both appearance and taste. Gather up a cast of lovable (and surprisingly relatable) characters, feed them Bugsnax captured in a similar vein to Pokémon Snap, and rebuild their community as you try to figure out where their leader ran off to.
Now's an especially good time to pick up Bugsnax, as in 2022, the game will be receiving a major content update called "The Island of BIGSnax." This update will introduce a new biome, new Snax, and new quests, and it'll be completely free to everyone who owns the game.
Kingdom Hearts is one of those series that must look completely incomprehensible to an outside viewer, but from the inside… well, it's still pretty incomprehensible, but enjoyably so. Join Sora, Donald, and Goofy (in that order) as they embark across a massive action-RPG adventure, visiting worlds inspired by both Disney movies and Final Fantasy games.
This particular package includes Kingdom Hearts Final Mix, Re: Chain of Memories, Kingdom Hearts II Final Mix, and Birth By Sleep Final Mix, plus HD remasters of the cutscenes from 358/2 Days and Re:Coded. That's a whole lotta Disney!
Those are six of the best titles to grab during the limited-time Epic Games Store Holiday Sale!