Best ESO Public Dungeons to Farm for Gold and Items
I used to collect coin like you, then I took an arrow in the knee.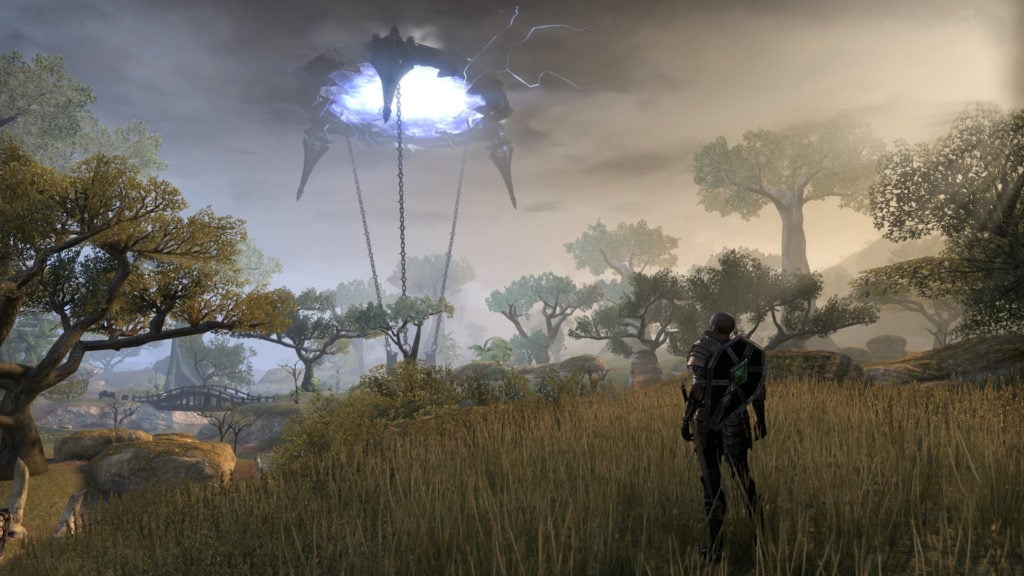 Farming is something we all RPG fans are pretty much used to. Hours and hours just to upgrade that skill to the maximum or to be able to max up that sweet Ebon armory. Nevertheless, coin and items are a necessity, in real life and in Elder Scrolls Online (ESO). One great way to farm these, is through the Public Dungeons, which means that you can access these areas whenever you like (but other players will be there as well). This also means there is a group challenge that will net you some extra rewards. With those conditions, who could say no to that? Here are the best ESO Public Dungeons to farm for gold and items.
Best ESO Public Dungeons to Farm for Gold and Items
The most important resources for you to collect, besides the items that can be sold, are gold (of course) and Skyshard. Gold is used to repair gear, buy new equipment, upgrade weapons armor (at the armory system), expand the inventory and contribute to a guild. Skyshard grants the player ability points while you continue to collect them. Without further ado, here's a list of the best ESO Public Dungeons to farm for gold and items.
Best Public Dungeons
Crimson Cove (Malabar Tor): the biggest of the bunch, this dungeon is a gold mine. Allowing you to go through mobs that respawn quickly, you're seeing the best dungeon to farm in the game (there is also a high value gear to be collected: Spinners Garments). A Skyshard is available as well, so this dungeon has it all.
Obsidian Scar (Rivenspire): quite the contrary to the previous dungeon, going through this dungeon takes you a blink of an eye. However, there are tons of gold and Skyshard available. So maybe take the time to reward ratio into account. This dungeon drops Necropotence weapons, which will give you a quick buck.
Razak's Wheel (Bangkorai): a Dwemer ruin with Imperials? Sign me up. Imperials equals gold, so, there you go. It couldn't get much simpler than that. Pick up Spriggan's Thorns weapons here and sell them. You're becoming quite the entrepreneur.
The Lions Den (The Rift): a lot of mobs, a lot of gold. You can find Dwarven Ore and a Skyshard as well.
Forgotten Crypts (Deshaan): located on the smaller side of the dungeons, there are a lot of mobs as well. There are also Mother's Sorrow Inferno stave drops, so prepare yourself for some juicy deals.
Old Orsinium (Wrothgar): a large dungeon filled to the brim with mobs. If you have arachnophobia like me, you may want to rethink this visit. Nevertheless, this dungeon gives you a great yield and also have Briarheart weapon drops. Which means, sell.
The Vile Manse (Reaper's March): the classic gold farming place. It might not bring a lot of items, but a lot of gold? Oh yes.
Forgotten Wastes (Vvardenfell): while you may get a little overwhelmed by this dungeon, it gets to be a great farming spot if you get used to it. Rare drops such as War Maiden's Inferno staves and Sixth House Banner furniture items makes this a must-go to place.
Rkindaleft (Wrothgar): orcs and spiders equals gold in this place. So go ahead and farm a lot of gold, a Skyshard and some Crystal Fragments (thanks to some quests available as well).
Spire of the Crimson Coin (High Isle): a brand-new player on the game, this Breton ruins surely pack a decent amount of gold. Just stick to the outer circle of the dungeon and collect any items you see (since this is a new dungeon, then the items collected are more valuable as well).
Now that you know where to go, go ahead yourself or with your friends and farm like you've never farmed before. And sell as well, I think you got the idea.
---
Elder Scrolls Online is available now on Windows, macOS, PlayStation 5, Playstation 4, Xbox One and Xbox Series X/S. If you like our Elder Scrolls Online content, be sure to check out Elder Scrolls Online Login Failed – How to Fix and How to Get the Cliff Ram Pack in the Elder Scrolls Online.
About the author