All Crosshairs from the VALORANT Champs Acend
Win your ranked games with these crosshairs from Acend's VALORANT champion roster.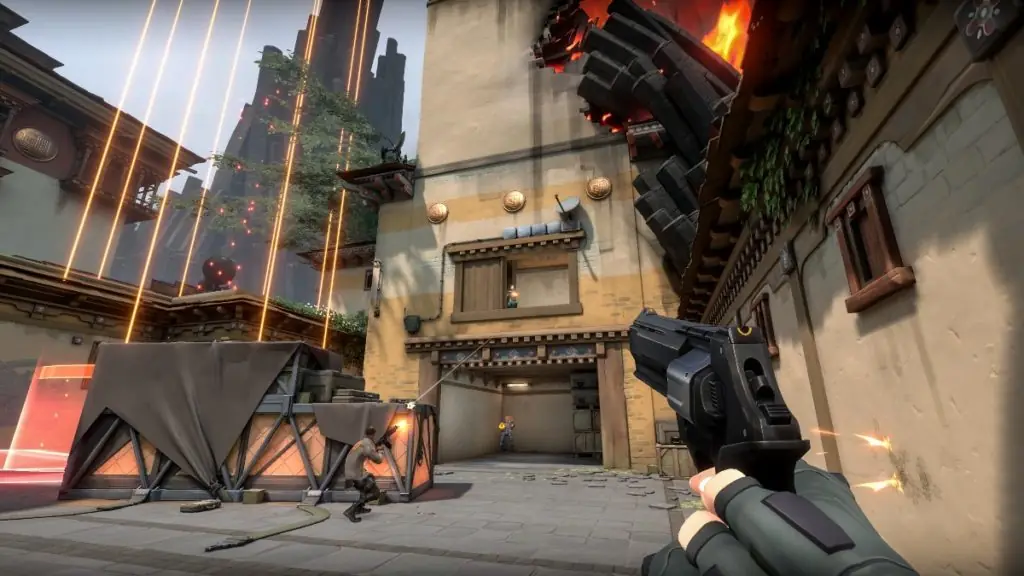 Before jumping into the five VALORANT crosshairs below, I want to point out that the players I'm featuring here are the members of Acend when they won the VALORANT Champion's Tour in 2021. Since then, two of the five members have left and moved to other rosters, so if this isn't the Acend you know, that's why.
Having said that, these five crosshairs helped this team win a championship. Pros use them for a reason, so you should be, too. If you're in the market for a new crosshair, or you're just curious to see what's out there, I've got you covered. These are the five VALORANT crosshairs belonging to the championship-winning Acend team.
All Acend VALORANT Crosshairs
cNed
cNed VALORANT Crosshair Code – 0;P;h;0;f;0;0l;5;0o;0;0a;1;0f;0;1b;0
cNed's VALORANT crosshair is the most standard and safe out of the entire championship-winning Acend team. It's just a regular white cross with no center space. Personally, I like having that room in the middle to see what I'm shooting at, but I get that not everyone does.
As far as pro crosshairs go, Cned's offers consistency at the cost of the precison that something like ScreaM's crosshair offers. You won't be hitting super-tight flicks with it, but you will have an easier time tracking your targets.
If you're looking for a safe crosshair that will help with your consistency, give this one a try.
BONECOLD
BONECOLD VALORANT Crosshair Code – 0;P;c;1;h;0;0b;0;1o;1;1a;1;1m;0;1f;0
BONECOLD's VALORANT crosshair code is the exact opposite of cNed's. As opposed to a sizeable, standard cross, this crosshair is a type of hybrid between a dot crosshair and a Tenz style crosshair.
It maintains that outer line, no-center dot style that a lot of people, including myself, really like, but at a minuscule size.
Personally, I don't really like small crosshairs. I prefer to be able to see where I'm shooting so that I can correct mid-gunfight. What I will say, though, is that BONECOLD's crosshair does offer a clear level of precision above that of most of his teammates. If you don't like dot crosshairs but you're looking for a more precise crosshair than a cross, this might be worth exploring.
Kiles
Kiles VALORANT Crosshair Code – 0;P;c;1;h;0;d;1;z;1;a;0;0t;1;0l;3;0o;2;0a;1;0f;0;1b;0
I'm unsure if the information about Kiles' crosshair out there is wrong, but this is what we've got to go on. So, we're going to work under the assumption that this is, indeed, Kiles' VALORANT crosshair.
I say I'm unsure purely because this is a pretty unusual, and weak, crosshair. It's in that same Tenz style with a large center gap, but the actual lines on the crosshair are paper thin. When I was experimenting with it, I genuinely couldn't see it half of the time.
I'm nobody, though. If a world-champion VALORANT player uses this crosshair, then there's clearly something I'm not getting. Give it a spin and see how you find it for yourself.
starxo
starxo VALORANT Crosshair Code – 0;P;h;0;0l;4;0o;2;0a;1;0f;0;1b;0
Like cNed, starxo has opted to use a traditional and safe crosshair. This time, it's pretty much the Tenz crosshair that's unbelievably popular with pretty much anyone who plays tactical FPS games.
This is my favorite style of crosshair. It blends precision with consistency incredibly well, being sizable enough that you can focus on it mid-gunfight, but maintaining that center gap so that your vision isn't obstructed.
Out of all the crosshairs on this particular Acend roster, this is my favorite, and I would argue it's also the best.
zeek
zeek VALORANT Crosshair Code – 0;P;c;7;o;1;d;1;0b;0;1b;0
This particular crosshair should look pretty recognizable. It's the style that ScreaM helped popularize, being just a dot with no inner or outer lines.
As far as functionality goes, it operates at the same level as other crosshairs of this nature. It's incredibly precise, and you can feel that in your gameplay. Hitting headshots with this crosshair is noticeably easier than with other crosshairs. However, if you miss your first few shots, good look tracking anything with this tiny dot.
If you're a headshot machine, then zeek's crosshair might be worth using. If you're not, though, I would recommend going with something a little bit more traditional.