5 Letter Words with IT in the Middle – Wordle Guides
Solving 5 Letter Words with IT in the Middle.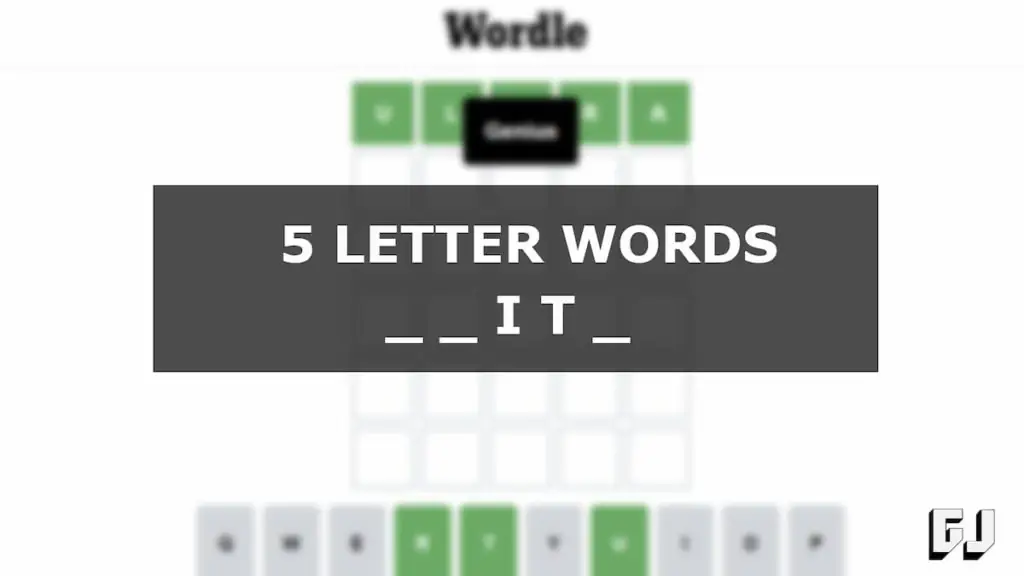 Wordle is a web-based word game that people enjoy playing. It was developed and published by The New York Times Company in 2022 and has been a trending title since. Although it's a word game, Wordle becomes challenging for many people. The rules are simple. You need to guess a five-letter word in six attempts. With every guess, the word tiles change color to represent your progress. With twisted conditions in Wordle, many people cannot solve the puzzles. In this guide, we will solve 5 letter words with IT in the middle.
5 Letter Words with IT in the Middle
We have got 196 words that are compatible with Wordle and solve the 5 letter words with IT in the middle puzzle. If you want to become great at the game, check out our the wordle helper guide. It is a detailed asset which you can read to develop in the game.
adits
agita
aitch
aitus
akita
amity
axite
baith
baits
biter
bites
bitos
bitou
bitsy
bitte
bitts
bitty
blite
blits
blitz
boite
brith
brits
britt
chits
cital
cited
citer
cites
clits
coits
crith
crits
cuits
deity
dital
ditas
ditch
dited
dites
ditsy
ditto
ditts
ditty
ditzy
doits
duits
edits
elite
emits
evite
exits
faith
fitch
fitly
fitna
fitte
fitts
flite
flits
flitt
frith
frits
fritt
fritz
gaita
gaits
gaitt
geits
gitch
gites
glits
glitz
grith
grits
haith
hitch
hithe
kited
kiter
kites
kithe
kiths
kitty
kitul
knits
laith
laity
litai
litas
lited
liter
lites
lithe
litho
liths
litre
meith
mitch
miter
mites
mitis
mitre
mitts
moits
niter
nites
nitid
niton
nitre
nitro
nitry
nitty
obits
omits
pitas
pitch
piths
pithy
piton
pitot
pitta
quite
quits
raita
raits
rites
ritts
ritzy
saith
seity
shite
shits
sitar
sited
sites
sithe
sitka
situp
situs
skite
skits
slits
smite
smith
smits
snits
spite
spits
spitz
suite
suits
swith
swits
taits
titan
titch
titer
tithe
titis
title
titre
titty
titup
toits
trite
twite
twits
unite
units
unity
urite
vitae
vital
vitas
vitex
vitro
vitta
waite
waits
white
whits
whity
witan
witch
wited
wites
withe
withs
withy
witty
write
writs
yites
yitie
zitis
Those are all the words we could get. A full list of 5 letter words with IT in the middle. If you like this guide, consider checking out other resources on the Gamer Journalist website. You can also bookmark our section dedicated to the Wordle game. We create similar guides regularly.