5-Letter Words That Start With T – Wordle Guides
We have a list of 5-letter words starting with T to help you figure out the Wordle of the day.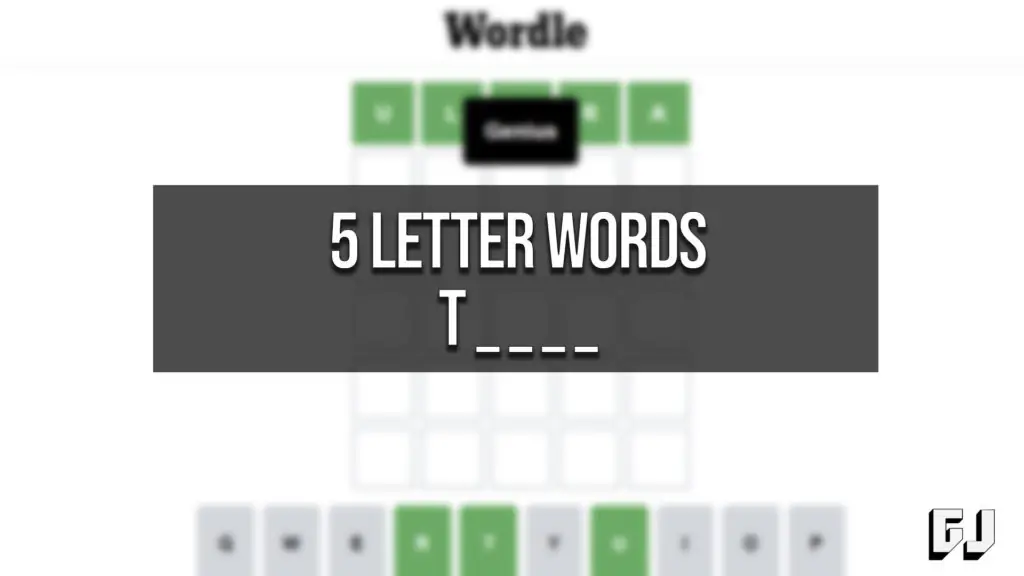 Wordle is a web-based puzzle game that is both a fun and challenging brain teaser. Figuring out the mystery word of the day is not always an easy task, though. You will inevitably stumble upon some clues that leave you stumped, and if you run out of ideas for words to guess next, we're here to help. Below we have a complete list of Wordle-compatible 5 letter words that start with T to help you out.
Words starting with T
Below is a Wordle-compatible list of 5-letter words starting with the letter T. The list may seem comprehensive, but you can narrow it down by eliminating words that contain incorrect letters. Eliminate any words with incorrect letters, and you will be left with a much more manageable list to work with that you can use for your guesses.
5-Letter Words that Start with T
tabby
table
taboo
tacit
tacky
taffy
taint
taken
taker
tally
talon
tamer
tango
tangy
taper
tapir
tardy
tarot
taste
tasty
tatty
taunt
tawny
teach
teary
tease
teddy
teeth
tempo
tenet
tenor
tense
tenth
tepee
tepid
terra
terse
testy
thank
theft
their
theme
there
these
theta
thick
thief
thigh
thing
think
third
thong
thorn
those
three
threw
throb
throw
thrum
thumb
thump
thyme
tiara
tibia
tidal
tiger
tight
tilde
timer
timid
tipsy
titan
tithe
title
toast
today
toddy
token
tonal
tonga
tonic
tooth
topaz
topic
torch
torso
torus
total
totem
touch
tough
towel
tower
toxic
toxin
trace
track
tract
trade
trail
train
trait
tramp
trash
trawl
tread
treat
trend
triad
trial
tribe
trice
trick
tried
tripe
trite
troll
troop
trope
trout
trove
truce
truck
truer
truly
trump
trunk
truss
trust
truth
tryst
tubal
tuber
tulip
tulle
tumor
tunic
turbo
tutor
twang
tweak
tweed
tweet
twice
twine
twirl
twist
twixt
tying
That's our list of 5-letter words that start with T. We hope you can use this to come up with some educated guesses and solve the daily you're having trouble with. Feel free to check out our Wordle section for more related guides, content, and helpful information.