5 Letter Words Starting with C – Wordle Guides
We have the complete list of all 5-letter words beginning with C to help you solve today's daily Wordle puzzle.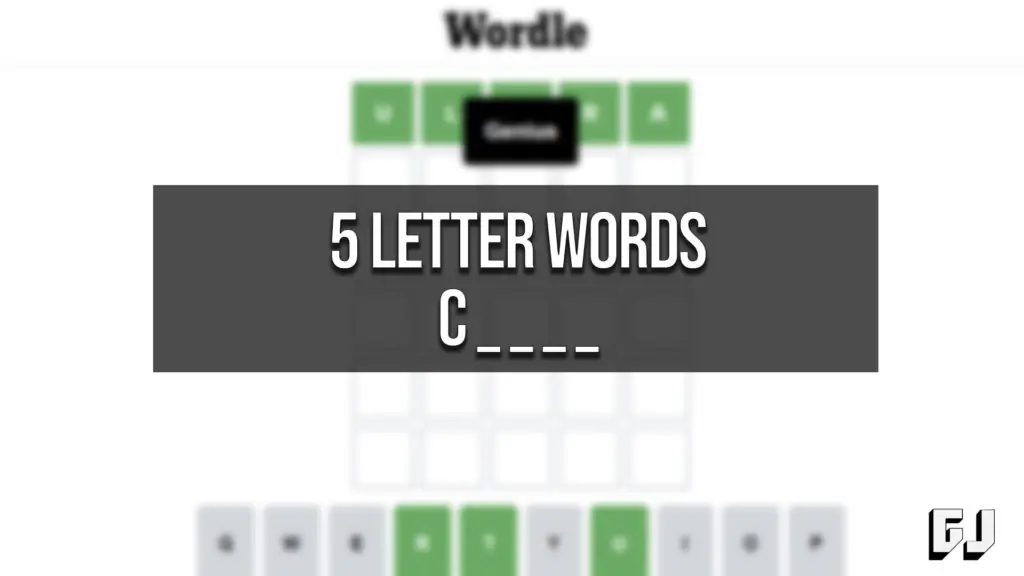 Wordle is a new word game where players get a total of six tries to figure out a mystery 5 letter word of the day. There are a lot of possible guesses, so based on your in-game clues, you might be looking for some more options if you've run out of ideas. If your Wordle clue starts with C, we have a list of words you can use in the guide below to help you out.
Words Starting with C
The list below contains all known Wordle-compatible 5 letter words that start with the letters C. You can further narrow down this list by eliminating any words that contain incorrect letters or letters in the wrong position based on your in-game clues. Use the remaining list to choose words from and make an educated guess.
5 Letter Words Starting with C List
cabal
cabby
cabin
cable
cacao
cache
cacti
caddy
cadet
cagey
cairn
camel
cameo
canal
candy
canny
canoe
canon
caper
caput
carat
cargo
carol
carry
carve
caste
catch
cater
catty
caulk
cause
cavil
cease
cedar
cello
chafe
chaff
chain
chair
chalk
champ
chant
chaos
chard
charm
chart
chase
chasm
cheap
cheat
check
cheek
cheer
chess
chest
chick
chide
chief
child
chili
chill
chime
china
chirp
chock
choir
choke
chord
chore
chose
chuck
chump
chunk
churn
chute
cider
cigar
cinch
circa
civic
civil
clack
claim
clamp
clang
clank
clash
clasp
class
clean
clear
cleat
cleft
clerk
click
cliff
climb
cling
clink
cloak
clock
clone
close
cloth
cloud
clout
clove
clown
cluck
clued
clump
clung
coach
coast
cobra
cocoa
colon
color
comet
comfy
comic
comma
conch
condo
conic
copse
coral
corer
corny
couch
cough
could
count
coupe
court
coven
cover
covet
covey
cower
coyly
crack
craft
cramp
crane
crank
crash
crass
crate
crave
crawl
craze
crazy
creak
cream
credo
creed
creek
creep
creme
crepe
crept
cress
crest
crick
cried
crier
crime
crimp
crisp
croak
crock
crone
crony
crook
cross
croup
crowd
crown
crude
cruel
crumb
crump
crush
crust
crypt
cubic
cumin
curio
curly
curry
curse
curve
curvy
cutie
cyber
cycle
cynic
That is our list of all the 5 letter words that start with C that you can use to figure out the daily Wordle. If you are having trouble or ran out of ideas for what word to guess next, you have some options above. For other related guides, lists, and content, you can check out our website's Wordle section.