5 Letter Words Starting With A and Ending With E – Wordle Guides
Here is the list of 5-letter words starting with A and ending with E that you can use to solve the daily.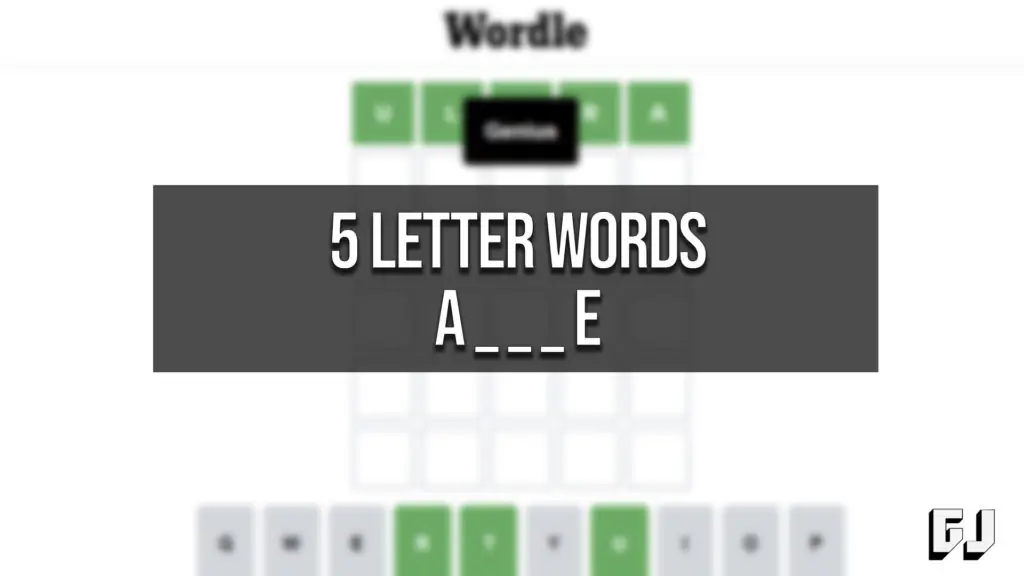 Wordle is a new game in the word puzzle category, and players get six guesses to solve a random daily five-letter word. Hints are provided along the way to designate correct letter tiles letter positions to help you solve the puzzle. Each successful guess will get you one step closer to the word of the day. Use the list below for Wordle clues starting with A and ending with E.
Words Starting with A and Ending with E
We have a complete list of 5-letter words below that start with A and end in E. You can use these to help you find words if you're stuck on the daily. Use some of these if you can't think of any more words, and double-check the letters to see if you're making a good guess.
5 Letter Words that Start With A and End in E
agile
allee
alive
apple
addle
adobe
afire
aiyee
aside
aware
azure
aggie
abore
ample
agone
antae
awave
agaze
arene
abuse
alike
awake
avize
agene
abate
aerie
alure
atone
aisle
anime
aleye
above
adore
awoke
amove
agape
akene
anele
amine
aline
alone
aizle
agave
apace
arise
amuse
abode
antre
anise
adage
azide
abase
afore
ainee
alane
azine
agree
arose
abcee
alowe
agoge
acute
algae
arame
ayrie
abele
axone
amaze
avale
anode
abune
axile
ankle
angle
ackee
abide
amble
arete
argue
aspie
adoze
azyme
agate
aglee
atoke
azote
aruhe
aquae
amice
amene
avise
aurae
anole
arere
alkie
axite
arede
alate
aygre
amole
amide
ansae
amate
apage
apode
avyze
argle
arvee
ancle
avine
anile
areae
albee
azole
More Word Lists
That's our list of 5-letter words starting with A and ending in E. We hope you can use this to come up with some educated guesses and solve the daily you're having trouble on. Feel free to check out our Wordle section for more related guides, content, and helpful information.