5 Letter Words with RI in the Middle – Wordle Guide
Here is the list of 5-letter words with RI in the middle that you can use to solve the daily.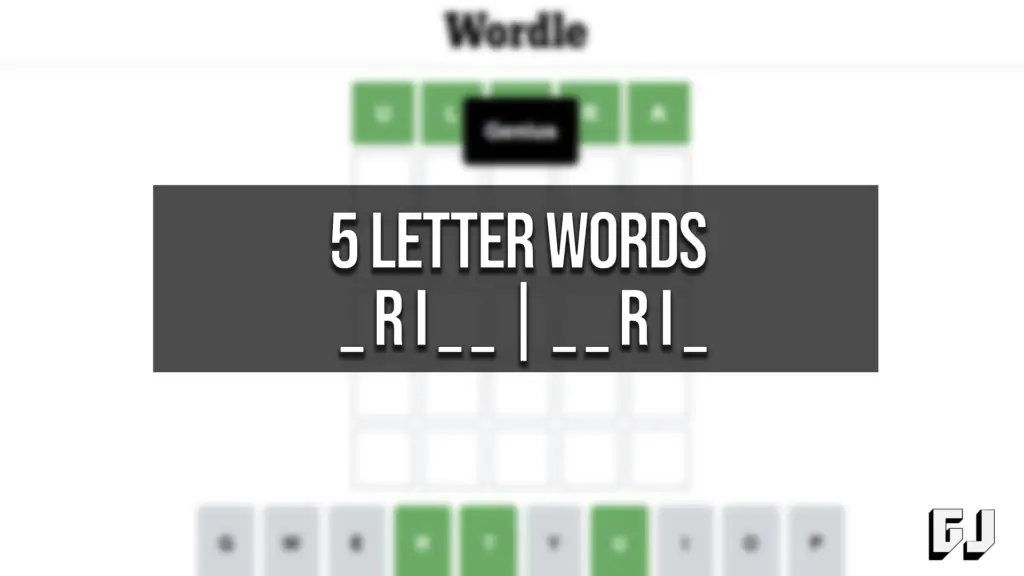 The daily Wordle is a newcomer in the word puzzle category of games, and players get six guesses to solve the daily word. You will get hints along the way, whether you've either guessed a correct letter or guessed the exact location, to help you solve it. Each successful guess will get you one step closer to the word of the day. Use the list below for Wordle clues with RI in the middle.
Words with RI in the Middle
We have a complete list of 5-letter words below with the letter "RI" in the middle. You can use these to help you find words if you're stuck on the daily. Use some of these if you can't think of any more words, and double-check the letters to see if you're making a good guess.
5 Letter Words with RI in the Middle
trist
wried
prill
primp
triol
trigo
trior
frith
grise
pries
triff
irids
grits
trier
tripy
grist
prima
drily
griot
prims
trips
triac
dries
trick
writs
primi
gride
iring
tripe
crias
crime
crise
grips
prion
prise
urine
drice
wrier
griff
brits
dribs
frill
brick
drift
grisy
grize
privy
brios
pride
trine
primo
frits
briks
crims
drive
erics
pried
grind
tribe
trill
pricy
prime
prief
grids
tride
wrick
briki
grike
frist
trigs
fritz
grill
priss
wrist
fritt
wring
grith
vrils
friar
brisk
britt
dried
briny
crips
crier
urite
grigs
frier
crits
frise
print
arias
krill
trins
trios
arish
fries
bride
brims
drink
brief
dript
trike
cripe
cries
urial
brith
prize
crimp
crick
brigs
bribe
price
briar
bring
brill
brize
fribs
prigs
grift
ariki
prick
brine
frisk
gript
yrivd
orixa
drips
prior
trims
erica
crios
prink
trild
brise
prism
gripy
fried
primy
crisp
ariot
ariel
grimy
drill
cried
grime
frigs
tries
trice
gripe
erick
crith
triad
oribi
arils
cribs
ering
grice
brink
trial
write
frizz
bries
frize
wries
crine
arise
prier
grins
prial
trite
grief
drier
brier
brins
tried
briss
oriel
---
varix
auris
merit
daric
aerie
abris
jerid
eerie
skrik
lurid
noria
sprig
loric
ceric
coria
ourie
meril
paris
garis
xeric
mirin
afrit
firie
doric
ceria
strip
peris
strim
unrip
sprit
oorie
maria
meris
kuris
atria
puris
ibrik
pyric
abrin
burin
sarin
scrim
arris
auric
rerig
rorid
seric
unrid
eyrir
mirid
zoris
marid
torii
feria
zoril
thrip
peril
orris
scrip
siris
loris
daris
shris
murid
purin
horis
atrip
laris
thrid
agrin
moria
abrim
roric
owrie
toric
goris
rorie
boric
baric
amrit
ayrie
zaris
strig
unrig
agria
doris
serin
eyrie
naric
curie
stria
acrid
lyric
virid
sirih
curio
derig
epris
naris
harim
serif
kyrie
saris
porin
varia
curia
noris
That's our list of 5-letter words with RI in the middle. We hope you can use this to come up with some educated guesses and solve the daily you're having trouble on. Feel free to check out our Wordle section for more related guides, content, and helpful information.