5 Letter Words with N as the Fourth Letter – Wordle Guides
We have the complete list of 5 letter words with N as the fourth letter to help you solve today's daily Wordle.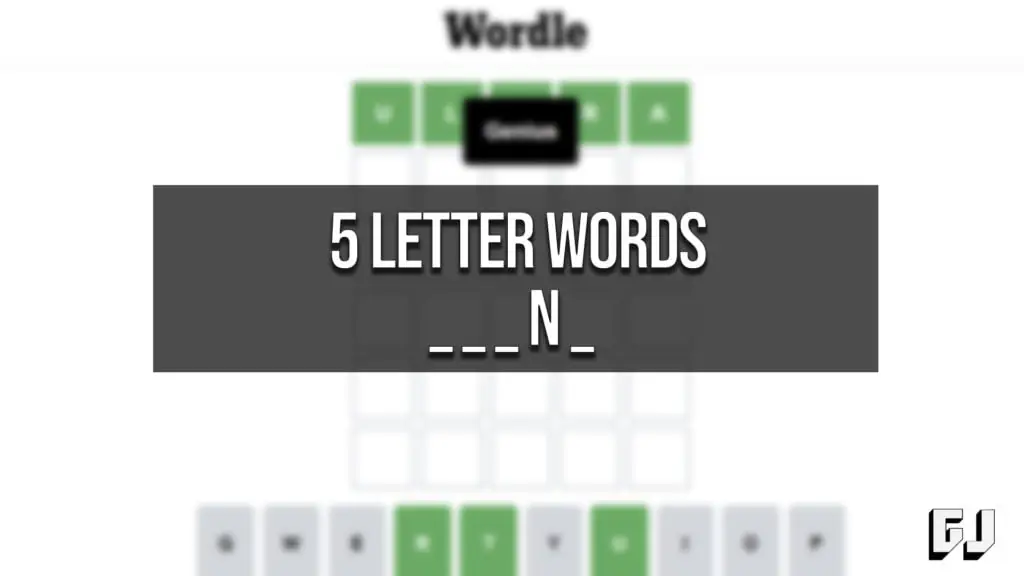 The web-based puzzle game known as Wordle is a fun and challenging brain teaser. Figuring out the word of the day is not always smooth sailing, though. Sometimes, you may stumble upon clues that stump you, and if you run out of ideas for what to guess next, we're here to help you out. Below we have a complete list of Wordle-compatible 5-letter words with N as the fourth letter.
Words With N as the Fourth Letter
Below is a Wordle-compatible list of 5-letter words with N as the fourth letter. The list may seem comprehensive, but you can narrow it down by eliminating words that contain incorrect letters based on your in-game feedback. After eliminating those incorrect words, you will be left with a much more manageable list to work with and use to make an educated guess.
5 Letter Words with N as the Fourth Letter List
agent
aging
agony
alone
along
amend
among
aping
arena
atone
being
bland
blank
blend
blind
blink
blond
blunt
borne
bound
brand
brine
bring
brink
briny
brunt
bunny
burnt
canny
chant
china
chunk
clang
clank
cling
clink
clone
clung
corny
count
crane
crank
crone
crony
daunt
doing
downy
drank
drink
drone
drunk
dying
ebony
eking
event
eying
faint
fanny
fauna
fiend
flank
fling
flint
flung
flunk
found
frank
frond
front
funny
gaunt
giant
gland
glint
going
grand
grant
grind
grunt
haunt
horny
hound
hyena
icing
inane
irony
jaunt
joint
leant
lying
meant
mound
mount
nanny
ninny
opine
ovine
owing
ozone
paint
penne
penny
phone
phony
piano
plane
plank
plant
plunk
point
pound
prank
print
prone
prong
prune
rainy
rhino
round
saint
sauna
scant
scene
scent
scone
shank
shine
shiny
shone
shunt
skunk
slang
slant
sling
slink
slung
slunk
sound
spank
spend
spent
spine
spiny
spunk
stand
stank
sting
stink
stint
stone
stony
stung
stunk
stunt
suing
sunny
swine
swing
swung
taint
taunt
tawny
thank
thing
think
thong
trend
trunk
twang
twine
tying
urine
using
vaunt
vying
whine
whiny
wound
wring
wrong
wrung
young
That's our complete list of 5-letter words with N in the fourth position. You might be able to get some good ideas from these words that will help you finish off the puzzle if you're stuck. If you ever need help with any other aspect of this game, you can simply visit our Wordle section for more word lists, clues, and guides.