5 Letter Words with ES in the Middle – Wordle Guide
Here is the list of 5-letter words with ES in the middle that you can use to solve the daily.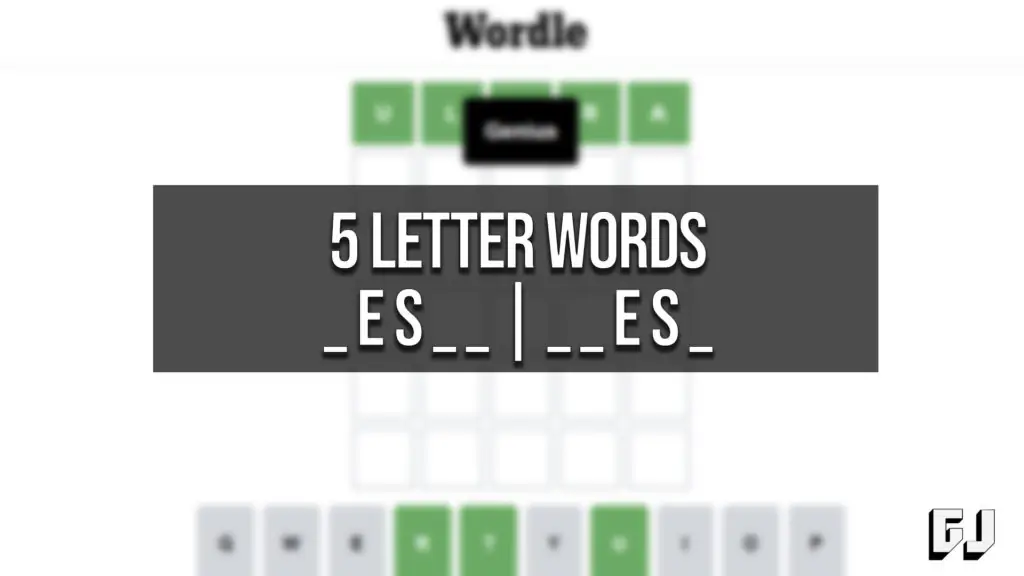 Wordle is a newcomer in the word puzzle game category. Players get six guesses to solve a mysterious daily 5-letter word. You will receive some in-game hints after each guess that tell you correct or incorrect letters and letter positioning. Each successful guess will get you one step closer to the word of the day. Use the list below for Wordle clues with ES in the middle.
Words with ES in the Middle
We have a complete list of 5-letter words below with the letters ES in the middle. Use the list below if you need some ideas for words to use in your guesses. Narrow down the list by eliminating words that you know contain incorrect letters and letter positions so you can make a more educated guess.
5 Letter Words with ES in the Middle List
chess
caese
thesp
guess
ghest
fresh
flesh
prese
blest
geese
ewest
doest
feese
neese
drest
poesy
loess
dress
guest
bless
these
grese
press
chest
tress
goest
presa
egest
wrest
crest
phese
plesh
cress
trest
prest
reest
geest
obese
yeesh
quest
leese
weest
fiest
resty
besaw
pesto
resaw
resew
lesbo
bests
beset
tesla
resid
geste
leses
pesos
teste
rests
desis
meson
besit
resto
testa
resin
vespa
resow
festa
yeses
festy
tests
meshy
deshi
besom
yests
nests
yesty
besat
reset
desex
lests
jesus
messy
hesps
testy
kesar
cesti
resee
besti
gests
kests
resit
cesse
resay
jesse
hests
mesal
yesks
mesic
zesty
mesto
sesey
reses
pests
resat
aesir
fests
gesso
desks
fesse
cesta
vests
gesse
jests
wests
meses
zests
sessa
besee
mesas
resus
resod
pesty
desse
mesel
vesta
mesne
beses
pesky
besot
That's our list of 5-letter words with ES in the middle. Hopefully, you can use this list of words to make some educated guesses and figure out the daily Wordle if you're having trouble. Feel free to check out our Wordle section for more related guides, content, word lists, and other helpful information.