5 Letter Words with AR in the Middle – Wordle Guides
Here is the list of 5-letter words with AR in the middle that you can use to solve the daily.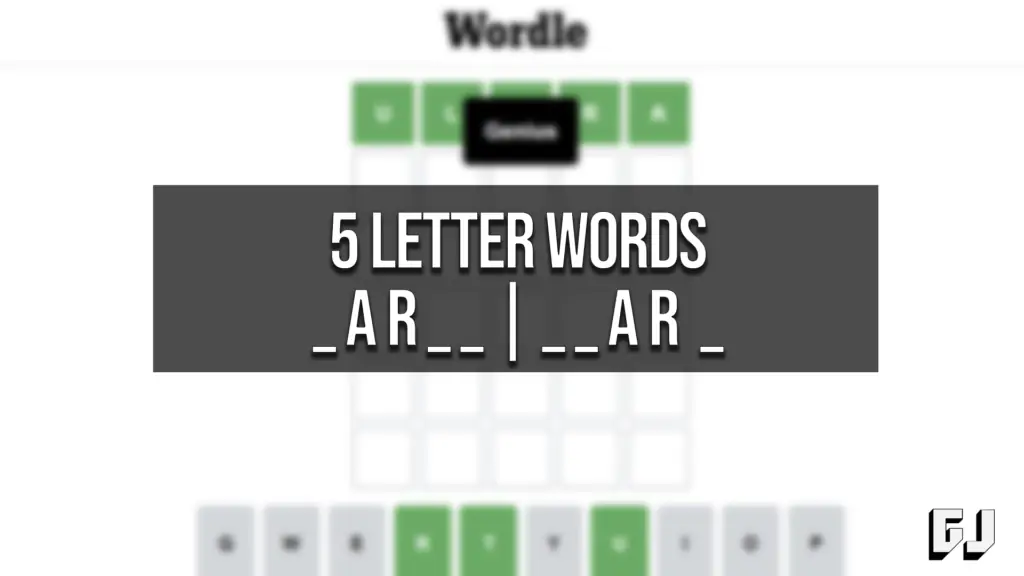 The daily Wordle is a newcomer in the word puzzle category of games, and players get six guesses to solve the daily word. You will get hints along the way, whether you've either guessed a correct letter or guessed the exact location, to help you solve it. Each successful guess will get you one step closer to the word of the day. Use the list below for Wordle clues with AR in the middle.
Words with AR in the Middle
We have a complete list of 5-letter words below with the letter AR in the middle. You can use these to help you find words if you're stuck on the daily. Use some of these if you can't think of any more words, and double-check the letters to see if you're making a good guess.
5 Letter Words with AR in the Middle
yearn
peare
deary
smart
spare
crare
afars
learn
chard
alary
award
quart
heart
deare
weary
alarm
dwarf
rearm
geare
stare
clart
blart
glare
chare
board
chars
start
blare
bears
afara
shard
chart
clary
dearn
feare
ovary
feart
lyard
goary
soars
sharp
roary
roars
scare
rears
enarm
boars
awarn
liars
scars
swarm
spars
quark
pearl
chara
fiars
snary
wears
tharm
charm
beard
acari
unarm
scart
aware
diary
guard
coarb
scary
spard
scarf
charr
claro
wharf
sware
chark
haars
flare
spark
flary
arars
kbars
hoary
stars
sharn
stark
knars
hoard
starn
tiara
glary
gnarl
years
gnars
otary
snare
peart
gears
liart
gnarr
tiars
sward
duars
izard
heard
kyars
thars
apart
snarl
beare
urari
ksars
izars
hoars
agars
seare
share
urare
boart
teary
inarm
knarl
smarm
soare
liard
fears
swarf
czars
dears
chary
shark
laari
scarp
tzars
snars
skart
maars
tsars
snark
sears
whare
pears
yeard
maare
starr
swart
leary
unary
yaars
spart
guars
voars
meare
pharm
slart
tuart
nears
tears
snarf
hears
lears
imari
lyart
quare
heare
leare
phare
---
garbe
targe
carve
barfs
carob
taros
bares
larva
caret
karma
bards
parra
cardy
sarks
saros
tarre
marry
barry
carbo
barfi
tarns
aargh
parvo
marvy
cardi
sargo
carks
carap
parps
saris
bardy
barmy
karks
march
parge
barns
parma
marcs
raree
marts
marsh
karoo
nares
barye
sared
maras
wares
naras
carls
carts
karst
parki
large
vardy
dared
tarts
naric
carle
earls
darcy
tarok
yarer
varus
taras
parks
fares
pardi
saree
daric
sarin
jarps
cares
parti
larch
sarus
carta
garbs
parol
marka
maror
parse
sards
marra
yarns
tardo
carol
barer
pared
carns
carom
larum
barps
dares
yarak
barbs
farcy
barby
rares
largo
barks
varas
sarky
karos
haram
pareo
pares
garda
varix
yarrs
harls
carse
targa
karat
darga
darer
fards
darks
darns
carex
barky
harsh
tarry
mares
farle
lardy
cared
caron
paren
farls
maron
carte
parle
jarks
marge
harps
taroc
laree
earns
jarta
tared
early
larky
rarer
karts
narre
parky
party
narky
larnt
narco
baric
carby
rared
bardo
carny
garms
hardy
sarod
barms
tarps
carat
earst
mardy
barca
tarot
marid
parve
marly
larns
marah
warst
tares
hards
farse
haros
parts
varia
parer
garis
darky
parrs
harry
farer
warbs
pardy
warps
bared
garum
harns
barbe
varna
karns
rarks
eards
warez
yards
carpi
paras
carer
harem
karsy
earnt
barny
saran
yarfa
wared
carry
farce
lares
parry
barro
varve
vares
marls
karzy
parly
barra
karri
larks
parev
tarty
lards
carbs
marae
tardy
barre
warms
varan
parka
farro
fared
garni
paris
narks
warks
harts
yarto
marse
carvy
marks
naris
harim
dargs
margs
laris
cards
farms
cargo
pareu
warre
marri
warty
warby
zarfs
warts
narcs
nards
aarti
marle
yarco
garre
marms
pargo
barge
carps
parch
barde
tarsi
darts
zaris
parae
yarta
eared
darzi
wards
farad
farts
daris
earth
farci
jarls
oared
yarks
harms
pards
harpy
warns
garbo
sarge
maria
baron
darbs
faros
garth
gares
carrs
daraf
darre
hares
hared
jarul
karas
harks
varec
That's our list of 5-letter words with AR in the middle. We hope you can use this to come up with some educated guesses and solve the daily you're having trouble with. Feel free to check out our Wordle section for more related guides, content, and helpful information.