5 Letter Words with AI in the Middle – Wordle Guides
Here is the complete list of 5 letter words with AI in the middle that you can use to figure out today's daily Wordle puzzle.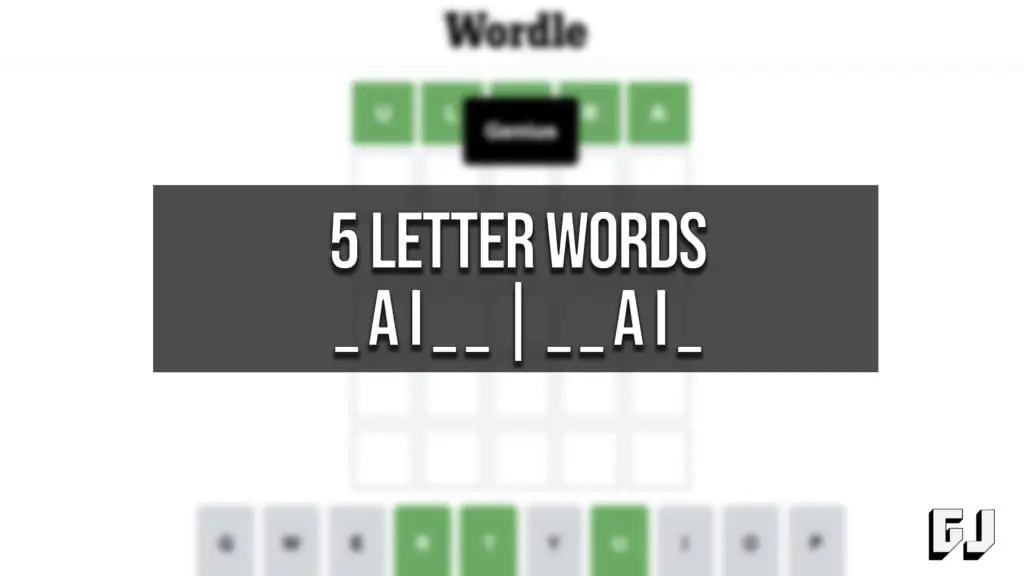 Wordle is a hit new word game taking the internet by storm. In this game, players have six tries to figure out a daily hidden 5 letter word. It's more challenging than it sounds, but it's a fun way to spend a few minutes of time every day. If you find yourself stumped and not sure which word to guess next, we're here to help. We have a list of Wordle clues with the letters AI in the middle to help you with some ideas.
Words with AI in the Middle
Below you can find our full list of 5 letter words with AI in the middle. The list is fairly extensive, but you can narrow it down further by eliminating words with incorrect letters or letters in the wrong spots. If you need more help, you can use our Wordle helper to get some ideas using other letters or letter positions.
5-letter words with AI in the middle list
sains
paisa
naiad
pains
maile
mails
qaids
maiks
paise
waist
rails
nairu
lairs
mairs
rains
waide
kails
gains
raise
vairs
tails
haint
baits
haith
yaird
tains
saist
gairs
maire
baize
laics
maiko
laich
hains
nails
vails
daint
wairs
zaida
hairs
haily
taira
taiga
waite
kaims
laids
rainy
laird
saick
naive
sairs
raits
waift
mains
bairn
saint
maill
daine
laiks
saics
raiks
gaitt
laika
zaire
vaire
gaita
saice
kaifs
cairn
faine
haiks
taits
gaits
bails
taiko
naiks
maize
waifs
daiko
kaing
baisa
waits
taigs
haick
faiks
naifs
dairy
caird
raird
gaily
kaiak
taish
saine
laith
hails
jails
raids
lairy
sails
hairy
daily
maise
fails
haiku
fairy
kaies
fains
haika
pails
kaids
kaiks
saith
zaidy
laigh
kaika
kains
raile
taint
naira
laity
saims
saids
paiks
faith
gaids
paint
cains
saiga
pairs
fairs
raita
maist
caids
maids
baith
wails
raias
paire
wains
baiza
daisy
maims
vairy
raine
faint
waive
bhais
craig
scail
braid
craic
unais
train
skail
grail
swain
fraim
drain
email
spait
stair
acais
graip
avail
glair
chain
staid
await
plait
drail
quais
flair
again
ngaio
thaim
amain
stain
apaid
slaid
brain
twain
grain
flail
plain
swail
claim
vraic
traik
plaid
deair
glaik
chais
spain
reais
chair
frail
staig
brail
snail
slain
trait
trail
quail
krais
krait
spail
elain
quair
blain
smaik
More Word Lists
Those are all of the 5-letter words with AI in the middle that you can use to figure out today's mystery word. You can even use this list for other word games outside of Wordle. We hope that it comes in handy and helps you think of some new words that you can use for your daily guesses. Remember to check out our Wordle section for more word lists, guides, best starter words, and more.