World of Warcraft Classic Realms for Release Day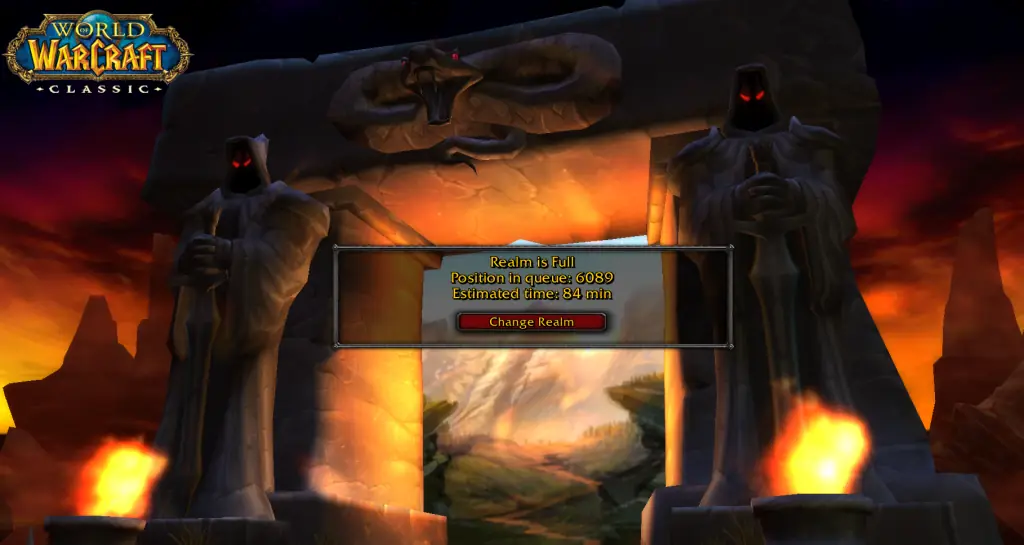 The highly anticipated release, or re-release, of World of Warcraft Classic is finally upon us. With a staggering 800,000 people watching on Twitch, the initial numbers look promising.
Fans from the early days of World of Warcraft are getting back into it, and thanks to streaming culture the game has ascended to new levels. Will World of Warcraft ever reach the same heights as it was at during the original release? Only time will tell.
Due to the congestion, Blizzard decided to spin up a few more realms for the release day. You can expect a very long wait time for realms that are listed as high population. Here's all of the World of Warcraft Classic Realms for release day:
Available Realms for North America
| | | |
| --- | --- | --- |
| Name | Type | Time Zone |
| Atiesh | Normal | Pacific Time |
| Old Blanchy | Normal | Pacific Time |
| Mankrik | Normal | Eastern Time |
| Myzrael | Normal | Pacific Time |
| Ashkandi | Normal | Eastern |
| Pagle | Normal | Eastern Time |
| Westfall | Normal | Eastern Time |
| Bigglesworth | PvP | Pacific Time |
| Blaumeux | PvP | Pacific Time |
| Faerlina | PvP | Eastern Time |
| Fairbanks | PvP | Pacific Time |
| Herod | PvP | Eastern Time |
| Incendius | PvP | Eastern Time |
| Kurinnaxx | PvP | Pacific Time |
| Rattlegore | PvP | Pacific Time |
| Kirtonos | PvP | Eastern Time |
| Kromcrush | PvP | Eastern Time |
| Skeram | PvP | Eastern Time |
| Stalagg | PvP | Eastern Time |
| Thalnos | PvP | Eastern Time |
| Whitemane | PvP | Pacific Time |
| Bloodsail Buccaneers | RP | Eastern Time |
| Grobbulus | RP PvP | Pacific Time |
Available Realms for Oceania
| | | |
| --- | --- | --- |
| Name | Type | Time Zone |
| Arugal | PvP | Australian Eastern Time |
| Remulos | Normal | Australian Eastern Time |
Available Realms for Europe
| | | |
| --- | --- | --- |
| Name | Type | Language |
| Flamelash | PvP | English |
| Gandling | PvP | English |
| Gehennas | PvP | English |
| Golemagg | PvP | English |
| Hydraxian Waterlords | RP | English |
| Mirage Raceway | Normal | English |
| Mograine | PvP | English |
| Nethergarde Keep | Normal | English |
| Pyrewood Village | Normal | English |
| Razorgore | PvP | English |
| Shazzrah | PvP | English |
| Firemaw | PvP | English |
| Stonespine | PvP | English |
| Noggenfogger | PvP | English |
| Zandalar Tribe | RP-PvP | English |
| Auberdine | Normal | French |
| Sulfuron | PvP | French |
| Amnennar | PvP | French |
| Razorfen | Normal | German |
| Venoxis | PvP | German |
| Everlook | Normal | German |
| Lucifron | PvP | German |
| Chromie | Normal | Russian |
| Flamegor | PvP | Russian |
| Змейталак | PvP | Russian |