What To Expect in Sims 4: High School Years Expansion – Early Access Leaks
Can't contain how excited we are!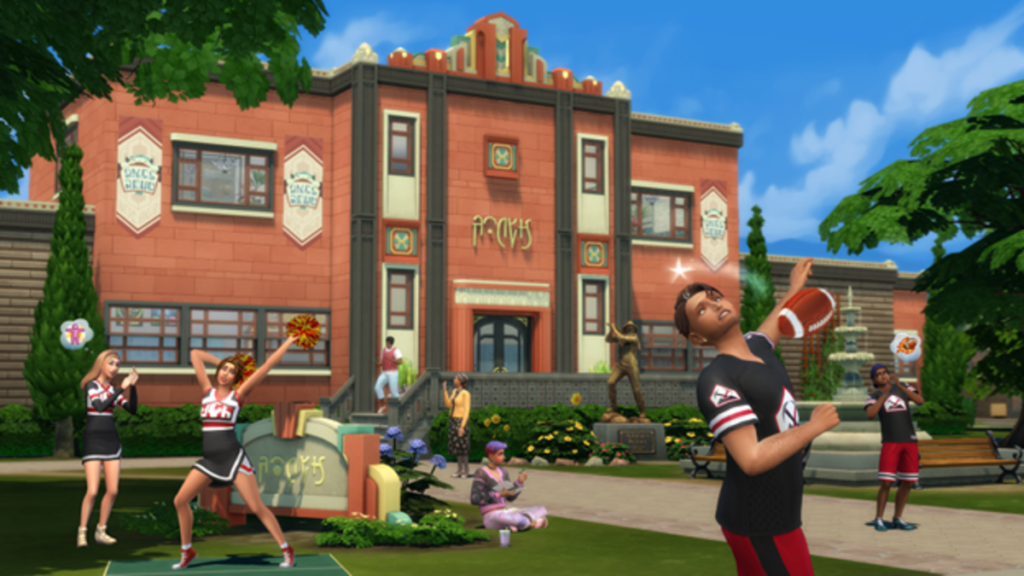 It's almost here! It's really almost here! Sims 4 High School Years Expansion releases in a few days (July 28th) and people are going crazy as streamers and influencers post videos showcasing what we will be getting in this new expansion. Sims 4 has really stepped up their game with this one because now you can follow your teenager to high school! Expect the ability to sneak out of your house, decorate your locker, and create your perfect prom experience. Here's everything you can expect in Sims 4 High School Stories.
Highlights for Sims 4 High School Years Expansion
Social media is a big deal in this expansion! Your teenager can experience social media by using the new app called Social Bunny. It allows you to add friends, post to public feed, send private messages, and react to messages. You can even post about having crushes and you can befriend new sims while sending them dm's. It's pretty cool seeing your Sim take over social media and take part in a new career. That's right, we're getting two new careers you can be excited for. These careers are known a s side hustles and they are "Video game streamer" and "Simfluencer". If you pick any of these careers you can also pick the times you want to work! Whether it be in the evening or early in the morning.
Prom, Activities, & Decorating Lockers in High School!
Sims 4 created an Americanized high school where you can have prom, take up cheerleading, partake in prom proposals, and enjoy career day. The best part about this pack would have to be the ability for Sims to ask their crushes if they would like to go to prom with them. There are a few ways you can do this either by creating signs to propose, place a sticky note on their locker, or asking them directly. Once you've asked them you can attend prom and you can partake in pre-prom and post-prom parties. At the actual night of prom there's a dance floor, a booth to vote for king and queen, and tons of roast chicken to eat.
Activities your teenager can do ranges from chess team member, cheer team member, computer team member, and football team member. Each activity allows you to go to a club meeting three times a week where you'll practice programming or workout to level up. Think of the university pack when it's spirit day and all of your Sims are meeting in one spot to finish certain activities. Not only can you join clubs you can also have fun outside of the classroom by having pillow fights, sneaking out of windows, and buying some tasty boba.
We have to talk a bout decorating your lockers. Sims High School Years gives your teens lockers that we didn't have in the college pack. You can do a lot with the lockers that range from decorating them into these options:
Anime
Dark Academia
Eco Enthusiast
Gamer
Goth
Kawaii
Preppy
Sporty
Lockers also are a way to propose to a Sim to take them to prom and you can purchase items or grab a snack if you're feeling hungry. You also can pull pranks by hiding stink bombs, but be careful, you can kill your Sim because of the overwhelming smell.
New Traits & Aspirations in Sims 4 High School Years
Sims 4 finally is giving us three new traits and four new aspirations. The new traits are party animal, socially awkward, and overachiever. The new aspirations are only available for your teen Sims and they are live fast, admired icon, goal oriented, and drama llama. Each aspiration requires you to finish certain tasks to complete the milestone. For instance if you're a drama llama you'll need to gossip five times, spread a rumor, kiss in the love ride, and have an enemy rival. This pack has given us more traits and aspirations than the past packs so fans are excited for the extra customization. We also are getting wants and fears as part of the base game, which will replace whims, and will add a temporary trait related to it.
Copperdale World in Sims 4 High School Years
Sims fans were leaked an image that showcased what the new world would look like on Sims. We finally have access to Copperdale. It features 12 lots, two which are high school buildings, thrift shop, park, library, few houses and starter homes, townie homes, empty lot, and an area where your Sim can enjoy the ferris wheel on the pier. Perks of the rides? Of course riding them, however if you want to mess around with your significant other you can do that as well. The high school is customizable so if you don't like it you can bulldoze the lot and make your own high school. It's nothing like the hospital where you need to use cheats in order to change it up. All you need is to place the required items to have a functioning high school.
Thrifting in Sims 4 High school Years
Just like with the Dream Home Decorator pack where you can build rooms through interior decorating, there's a store called Thriftea, where you can create outfits where you can buy and sell them. The store also features the famous boba tea where Sims can hang out and sip some boba with their friends. This new thrifting idea opens up a new mode for people who enjoy creating a sim versus building. In order to use the thrifting function you need to click on the clothing rack which will take you to the create a sim feature (CAS). This is a great way for story progression if you want your Sim to become a fashion designer one day and they are trying to sell their clothes.
This expansion is perfect if you're a generational player where you can build some skills in the high school, create memories, and create stories for your Sims. It's a pack that can be used repeatedly instead of only being played a few times. We're excited for the release of it and for the updates we will be getting with body hair being added, likes & dislikes, and much more.
For more Sim and gaming news be sure to follow us at Gamer Journalist. We post gaming tips, guides, and news for popular gaming titles and upcoming ones.
Related: Sims 4 High School Years Expansion – Everything to Know Including Release Date
About the author