Valorant Luxe Collection: Skin Overview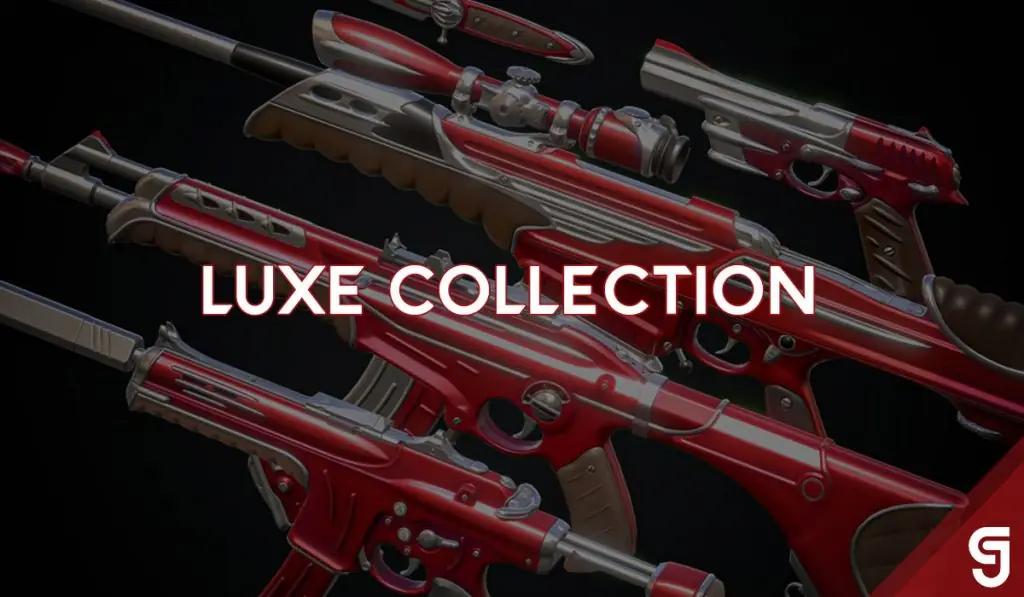 The Luxe Collection is a set of VALORANT skins first featured in the store during the third week of Closed Beta. There are a total of six skins currently in this collection. In this guide, we'll take a look at each weapon skin in the VALORANT Luxe Collection.
Valorant Luxe Collection
The VALORANT Luxe Collection can be bought as a bundle for 4,375 Valorant Points. All weapons except the knife and the Judge in this collection have three additional levels to unlock. Each level features a new color of skins, including blue, camo, and gold. Here's the full list of Luxe weapons:
Ghost
Vandal
Spectre
Operator
Judge
Tactical Knife
Luxe Ghost – 875 VP
First up is the Luxe Ghost, the popular silenced pistol of VALORANT. You can pick this up individually for 875 or as part of the bundle.
Luxe Vandal – 875 VP
The Luxe Collection also contains a skin for the popular Vandal AR. Again, this skin is available in four different colors with the default being red.
Luxe Spectre – 875 VP
Next we have the Spectre, the more popular SMG of the two. We have the 4 color variants to unlock here.
Luxe Operator – 875 VP
The Luxe Operator features the four levels of different skin colors, which may make this an appealing collection for fans of this sniper.
Luxe Judge – 875 VP
The Judge is a full-automatic shotgun with a large spread and deadly close-range damage. There are no color variants for the Luxe Judge aside from the default red color.
Luxe Tactical Knife – 1,750 VP
Last up is the Luxe Tactical Knife. This melee weapon features a red a silver blade, silver guard and pommel, and the brown grips which are consistent through the set.
Check out the full list of VALORANT skins to decide on which one is your favorite. Remember, the store features different skin bundles every week.