Roblox Car Repair Simulator Codes (April 2023)
Repair your cars with a bit of help from codes.
Roblox Car Repair Simulator is a game where you start off as a beginner mechanic and proceed to build your own shop, hire other mechanics, and buy upgrades so you can repair more vehicles in a shorter amount of time. Besides repairing, you would need to go around town collecting coin drops and picking up items from the junkyard so you can fix cars.
Codes in Car Repair Simulator gives you in-game currency called gems. It's not entirely clear what these will be used for now; most of the things in the game cost either in-game cash or Robux. However, since this is a new game, we expect that the developers will soon reveal what these gems can be used for.
All Car Repair Simulator Codes List
Car Repair Simulator Codes (Working)
Here are all the codes that are currently working in Car Repair Simulator.
100kVisits — Unlocks: 10x gems (New)
Release — Unlocks: 10x gems
Car Repair Simulator Codes (Expired)
There are currently no expired codes for Car Repair Simulator.
Related: Roblox Ultimate Driving Codes
How to Redeem Codes in Car Repair Simulator?
Follow our instructions below to successfully redeem codes for Car Repair Simulator.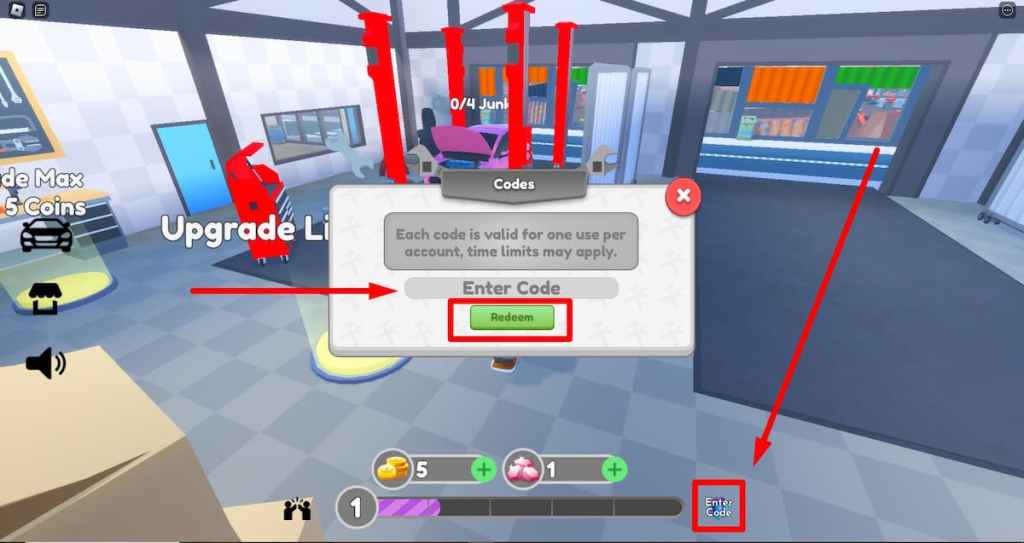 Launch Car Repair Simulator on Roblox.
Click on the "Enter Code" gift box at the bottom of the screen.
Enter your code in the text box.
Click on "Redeem" and enjoy your rewards.
How Can You Get More Car Repair Simulator Codes?
There are two simple ways you can look for new codes for Car Repair Simulator. You can get new codes by either checking the description of the game's page on Roblox or by joining Vanity Studio's group and checking if the developers post new codes there. We expect that as the game grows, the social media for it will be created and become active, so there would be more sources from which you can get codes.
Why are my Car Repair Simulator codes not working?
Codes won't always work in Car Repair Simulator, and there are a couple of reasons why that may be so. The most common thing that causes a code not to work is misspelling. Be careful not to have typos when entering codes, and if you want to be on the safe side, always copy and paste the code from your source instead of typing it in manually. Another case where codes won't work is when they simply expired. Developers retire older codes when they introduce new ones, so it can just mean that you were too late for that particular code.
Other ways to get free rewards in Car Repair Simulator
You will earn in-game cash by repairing vehicles in Car Repair Simulator. The more of them you can repair, the more cash flow will be coming your way. Additionally, you can grab your car and drive around town to pick up coin drops that will award you even more cash. However, a drop can be collected only by one player, so make sure you get there fast if you want your free reward!
What is Car Repair Simulator?
Car Repair Simulator stays true to its name with each stage of the game. You are put in the shoes of an owner of a car repair, and you are tasked with fixing vehicles and upgrading your shop so you can serve more customers at the same time. In order to achieve that goal, you will need to pick up junk from the junkyard, hire mechanics, buy more lifts and upgrade them. However, since you won't have enough money to do all of these things at once, you will have to prioritize and invest whatever cash you have wisely. For example, you don't want to have 3 lifts if you can't serve that number of customers. Instead, you might wanna have one or two lifts that are well-upgraded and maintained by experienced mechanics.
---
If you are a big Roblox fan, go check out our Roblox Game Codes post, where you will find plenty of other codes. More Roblox freebies can also be found on the Roblox Promo Codes page. Lastly, while you are waiting for new codes, you can always check our latest guides and news about the latest games and follow us on Facebook.
About the author