NBA 2K23 Cover Athlete Revealed – Everything You Need to Know
It's official, a certain NBA superstar has been named to the cover of NBA 2K23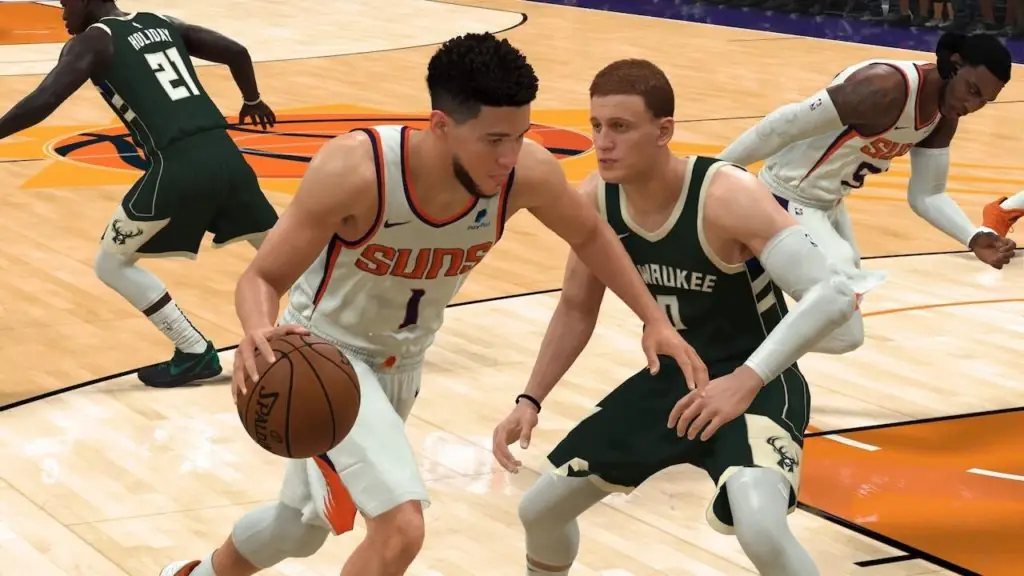 The 2022 NBA offseason is in full swing, and trade rumors are swirling. Up-and-coming franchises are making massive free-agent signings, while title contenders are adding the finishing touches to push them over the top. However, amid all of the recent NBA news, it appears as though 2K sports has revealed their latest cover athlete for the upcoming NBA 2K23, and it sure is a doozy.
Here is everything you need to know regarding the latest cover athlete reveal for NBA 2K23.
NBA 2K23 Cover Athlete Revealed – Everything You Need to Know
After months of speculation as to which NBA superstar would grace the cover of the upcoming sports title. News has broke that the Phoenix Suns' franchise shooting guard, Devin Booker, will be the cover athlete for NBA 2K23.
The news comes along with the major announcement that Booker will be finalizing a four-year, $214 million contract extension to stay with the team, as reported by The Athletic's Shams Charania.
Related: NBA 2K23: Predicting the Top 5 Teams to Play For in MyCareer
At the time of writing, we don't have any official cover art or formal announcement from 2K Sports. However, multiple sources, including Shams Charania, have revealed this to be the case. Which leads us to believe there's truth to this breaking news.
While there are countless other names who would've been exceptional choices as well, most notably the Golden State Warriors' Steph Curry, who's fresh off winning an NBA championship. Or Ja Morant, who was arguably the most exciting player to watch this past season. It makes sense that Devin Booker got the nod when you consider what he's accomplished thus far in his young NBA career.
At just 25-years-old, Booker is already a three-time NBA All-Star, was a first team All-Rookie recipient in 2017, a first team All-NBA recipient in 2022 and the three-point contest champion in 2018.
He's also coming off his best statistical season yet, in which he averaged 26.8 points, 5.0 rebounds and 4.7 assists per game with .466/.383/.868 shooting splits. Which was good enough for him to be in the running for league MVP.
What's also led some credence to this announcement is that 2K Sports dropped a short reveal trailer earlier in the day hinting that the news could be coming soon.
All things considered, it's fantastic that we're already getting updates on information like this. Particularly since we had to wait until near mid-July last year for the cover athlete of NBA 2K22 to be revealed.
Only time will tell what the cover of NBA 2K23 will actually look like, and if there will be any other names featured as well. Similar to how NBA 2K22 had Luca Doncic, Candace Parker and Kevin Durant on the cover. As well as former NBA legends Dirk Nowitzki and Kareem Abdul-Jabbar.
That's everything you need to know about 2K's most recent announcement of the NBA 2K23 cover athlete, Devin Booker. For now, be sure to check out some of our other NBA 2K content here at Gamer Journalist. Like the NBA 2K23 release date and what we know so far or the NBA 2K22 locker codes (July 2022).