Madden 22 Controls Guide for Xbox and PlayStation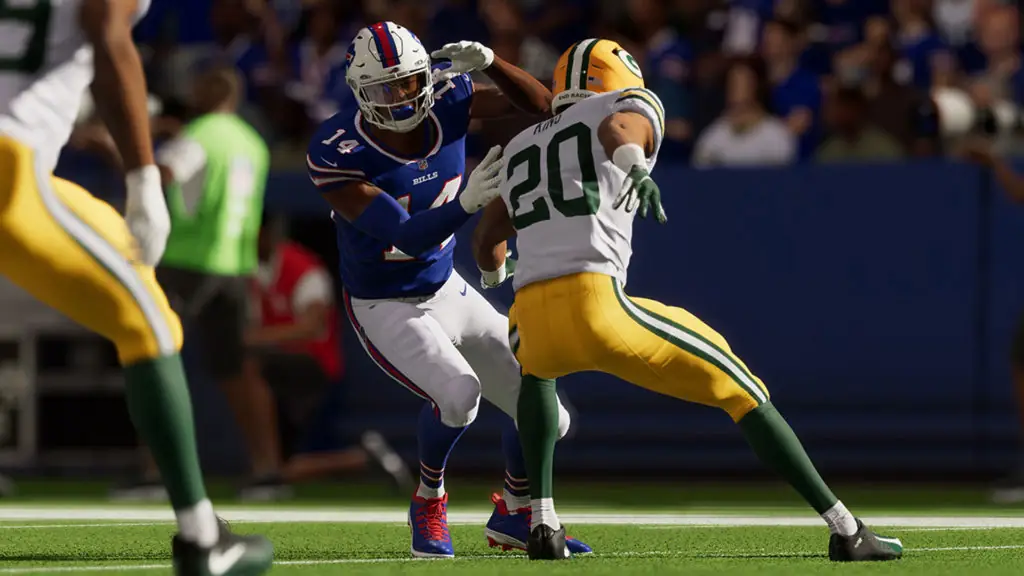 Madden 22 from EA Sports has officially arrived on consoles as of August 20, 2021. As always, there are dozens of controls to memorize, but it's nothing too tricky if you've been playing the previous Madden titles. Either way, sometimes it helps to have a guide handy to refer to in case you need to know the button for something. We compiled a list of the complete Madden 22 controls for every aspect of the game.
Below you can find a complete list of Madden 22 Xbox and PlayStation controls for ballcarrier, catching, offense, defense, blocking, and special teams. Feel free to bookmark this page and refer to it if you ever forget the button for something.
Here are the Madden 22 controls
Ballcarrier
| | | |
| --- | --- | --- |
| Action | Xbox | PlayStation |
| Stiff Arm | A | X |
| Spin | B or rotate RS | Circle or rotate RS |
| Pitch | LB | L1 |
| Protect Ball | RB | R1 |
| Dead Leg | RS Down | RS Down |
| Juke Left | RS Left | RS Left |
| Juke Right | RS Right | RS Right |
| Truck | RS Up | RS Up |
| Sprint | RT | R2 |
| Dive | X | Square |
| Give Up | X | Square |
| QB Slide | X | Square |
| Hurdle | Y | Triangle |
| Jurdle* | Y+LS | Triangle +LS |
Passing
| | | |
| --- | --- | --- |
| Action | Xbox | PlayStation |
| Low Pass | Receiver Button + Hold LT | Receiver Button + Hold L2 |
| High Pass | Receiver Button + Hold LB | Receiver Button + Hold L1 |
| Bullet Pass | Hold Receiver Button | Hold Receiver Button |
| Touch Pass | Press Receiver Button | Press Receiver Button |
| Lob Pass | Tap Receiver Button | Tap Receiver Button |
| Scramble | LS + RT | LS + R2 |
| Pump Fake | Double Tap Receiver Button | Double Tap Receiver Button |
| Throw Away | R3 | R3 |
| Throw (Receiver 1) | A | X |
| Throw (Receiver 2) | B | Circle |
| Throw (Receiver 3) | X | Square |
| Throw (Receiver 4) | Y | Triangle |
| Throw (Receiver 5) | RB | R1 |
Catching
| | | |
| --- | --- | --- |
| Action | Xbox | PlayStation |
| Aggressive Catch | Y | Triangle |
| Possession Catch | A | X |
| Run After Catch | X | Square |
| Sprint | RT | R2 |
| Strafe | LT | L2 |
| Switch Player | B | Circle |
Defensive Pursuit
| | | |
| --- | --- | --- |
| Action | Xbox | PlayStation |
| Aggressive / Dive Tackle | X | Square |
| Blow-Up Blocker | RS Flick | RS Flick |
| Breakdown Tackle | A | X |
| Cut Stick | RS Down | RS Down |
| Defensive Assist | LB | L1 |
| Hit Stick | RS Up | RS Up |
| Sprint | RT | R2 |
| Strafe | LT | L2 |
| Strip Ball | RB | R1 |
| Switch Player | B | Circle |
Ball in the Air Offense
| | | |
| --- | --- | --- |
| Action | Xbox | PlayStation |
| Aggressive Catch | Y | Triangle |
| Auto Play / Defensive Assist | LB | L1 |
| Possession Catch | A | X |
| RAC Catch | X | Square |
| Sprint | RT | R2 |
| Strafe | LT | L2 |
| Switch Player | B | Circle |
Ball in the Air Defense
| | | |
| --- | --- | --- |
| Action | Xbox | PlayStation |
| Ball Hawk | Y | Triangle |
| Defensive Assist | RB | L1 |
| Play Receiver | A | X |
| Sprint | RT | R2 |
| Strafe | LT | L2 |
| Swat | X | Square |
| Switch Player | B | Circle |
Preplay Offense
| | | |
| --- | --- | --- |
| Action | Xbox | PlaySation |
| Audible | X | Square |
| Camera Zoom In | D-Pad Down | D-Pad Down |
| Camera Zoom Out | D-Pad Up | D-Pad Up |
| Fake Snap | RB | R1 |
| Hot Route | Y | Triangle |
| Momentum Factors | RT | R2 |
| Motion Player | LS Left/Right (Hold) | LS Left/Right (Hold) |
| Pass Protection | LB | L1 |
| Player Lock | Double Press L3 | Double Press L3 |
| Pre-Play Menu | R3 | R3 |
| Show Play Art | LT | L2 |
| Snap Ball | A | X |
| Switch Player | B | Circle |
| Timeout | View | Touchpad |
| X-Factor Vision | RT | R2 |
Preplay Defense
| | | |
| --- | --- | --- |
| Action | PlayStation | Xbox |
| Audible | Square | X |
| Camera Zoom In | Down D-Pad | Down D-Pad |
| Camera Zoom Out | Up D-Pad | Up D-Pad |
| Coverage Audible | Triangle | Y |
| Defensive Hot Route | X | A |
| Defensive Keys | R1 | RB |
| Defensive Line Audible | Left D-Pad | Left D-Pad |
| Linebacker Audible | Right D-Pad | Right D-Pad |
| Momentum Factors | R2 | RT |
| Pre-Play Menu | R3 | R3 |
| Pump Up Crowd | RS Up | RS Up |
| Show / Weak Side Gap Assignment | R2 + X + Circle | RT + A + B |
| Show Play Art | L2 (Hold) | LT (Hold) |
| Switch Player | Circle | B |
| Timeout | Touchpad | View |
| X-Factor Vision | R2 | RT |
Defensive Engaged
| | | |
| --- | --- | --- |
| Action | Xbox | PlayStation |
| Bull Rush | RS Down | RS Down |
| Club/Swim Move | RS Left or Right | RS Left or Right |
| Contain | LT | L2 |
| Reach Tackle | LS Left or Right + X | LS Left or Right + Square |
| Rip Move | RS Up | RS Up |
| Speed Rush | RT | R2 |
| Swat | Y | Triangle |
| Switch Player | B | Circle |
Defensive Coverage
| | | |
| --- | --- | --- |
| Action | Xbox | PlayStation |
| Defensive Assist | LB | L1 |
| Player Movement | LS | LS |
| Press / Chuck Receiver | A + LS | X + LS |
| Strafe | LT | L2 |
| Switch Player | B | Circle |
Blocking
| | | |
| --- | --- | --- |
| Action | Xbox | PlayStation |
| Aggressive Cut Block | RS Down | RS Down |
| Aggressive Impact Block | RS Up | RS Up |
| Block on Collision | LS | LS |
| Player Movement | LS | LS |
| Switch Player | B | Circle |
Player Locked Receiver
| | | |
| --- | --- | --- |
| Action | Xbox | PlayStation |
| Change up (on the line) | Flick RS | Flick RS |
| Conservative Change-up Release | A | X |
| Foot Fire (on the line) | Hold RS | Hold RS |
| Individual Play Art | LT | L2 |
| Just-Go Release | RT | R2 |
| Player Lock | Double Press L3 | Double Press L3 |
| Route Running/Move Player | LS | LS |
Special Teams Offense
| | | |
| --- | --- | --- |
| Action | PlayStation | Xbox |
| Audible | Square | X |
| Fake Snap | R1 | RB |
| Flip Play | Square + R2 | X + RT |
| Snap / Kick Power / Accuracy | X | A |
| Switch Player | Circle | B |
Special Teams Defense
| | | |
| --- | --- | --- |
| Action | Xbox | PlayStation |
| Audible | X | Square |
| Diving Block Attempt | X | Square |
| Flip Play | X + RT | Square + R2 |
| Jumping Block Attempt | Y | Triangle |
| Show Play Art / Jump Snap | RT | R2 |
| Switch Player | B | Circle |