Immortal Rising Codes (October 2023)
Rise higher with the help of some codes.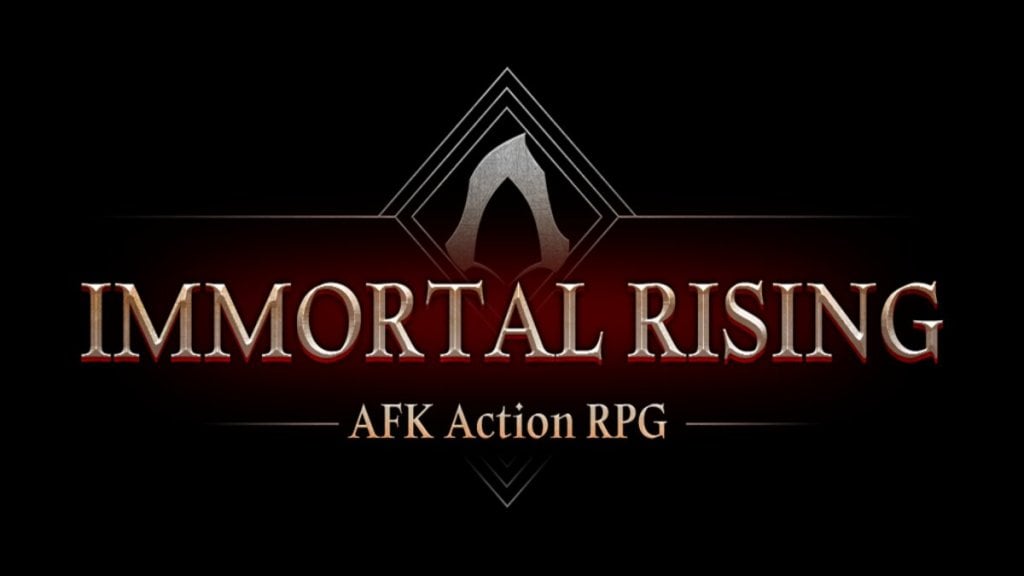 Face monsters in this side-scrolling adventure to defeat the ultimate evil. Take on the strongest and take out mobs using a classic idle RPG formula where a simple button press will have you hacking and slashing down foes set out in front of you. Be sure to keep your eyes on the screen however when taking on the quest bosses so that you can evade their attacks and keep your life intact for a while longer. These are all working Codes available for you to use in Immortal Rising.
If you are looking to get some goodies for Immortal Rising, you will need to keep your wits about you and your eyes on this page. These Codes come and go so bookmarking this page will keep you ahead of the game and have first dibs to any new rewards that are available for you to redeem. If you are interested in seeing more Idle Games, take a look at our 10 Best Idle Games for iPhone and Android.
All Immortal Rising Codes List
Immortal Rising Codes (Working)
2023FALL — Unlocks: 100,000 Gems, 300,000 Enhance Stone (New) (Expires September 30)
KR2NDANNIVERSARY — Unlocks: 730,000 Gems, 149x Spider Lord's Necklace, 54x Necklace of the Sun, 30x Sapphire Necklace, 17x Star Necklace, 39x Necklace of Restraint, 78x Guardian's Necklace, 109x Necklace of Light, 17x Ruby Necklace, 30x Necklace of Charm, 20x Scarab Necklace, 23x Sacred Necklace, 90x Necklace of Crushing, 10x Necklace of Wisdom, 54x Thorn Necklace, 1x Necklace of Frost, 6x Necklace of the Prophet, 1x Crescent Necklace, 1x Necklace of Unity, 1x Necklace of Spirit, 12x Golden Key, 10x Armory Key, 6x Raid Key, 6x Rift Key, 6x Rift Key, 6x Temple Teleport Stone, and 6x Library Map.
GLOBALIMMORTAL — Unlocks: 50,000 Gems, 3x Golden Key, 3x Armory Key, 3x Rift Key, 3x Raid Key, 50,000 Enhance Stone, 1000x Rune Dice, 1x Rune of Circles, 5x Ring of Ritual, 2x Coral Bow, 1x Devil's Horn, 7x Thorn Bow, 3x Forgotten Fang, 1x Hell Tooth, 1x Dagger of Brightness, 3x Pirate's Dagger, 3x Fraus, 2x Gladius, 1x Cedrick's Fragment, 2x Devil's Razor, 2x Brilliant Ring, 3x Rune Ring, 1x Sawblade Sword, 1x Gutripper, 1x Ruby Ring, 1x Fangs of Deep, 6x Basilisk's Thorn, 2x Shard of Light, 1x Celestial, 3x Noble's Ring, 1x Ceremonial Blade, 3x Bow of Accuracy, 1x Pincer Bow, 1x Halfen, 1x Glorius, 2x Thorn Sword, 4x Bringer, 1x Elven Sword, 2x Thorn Ring, 7x Bonepiece of Evil, 2x Bone Bow, 5x Spider Ring, 1x Emerald Ring, 2x Carbella, 2x Guardian Sword, 1x Soul Seeker, 2x Celestial Bow, 3x Katana, 3x Hunter's Bow, 1x Incision Blade, 2x Elven Bow, 50x D Grade Forge Stone, 30x C Grade Forge Stone, and 20x B Grade Forge Stone.
Immortal Rising Codes (Expired)
GLOBALDAY100
HAPPYCHILDRENS
APOLOGIZE
CHERRYBLOSSOM
GOOGLEFEATURED
BEACHSCOUTS
COOLSUMMER
Related: Super Snail Codes
How to Redeem Codes in Immortal Rising
Follow our steps below and redeem your codes for Immortal Rising in no time!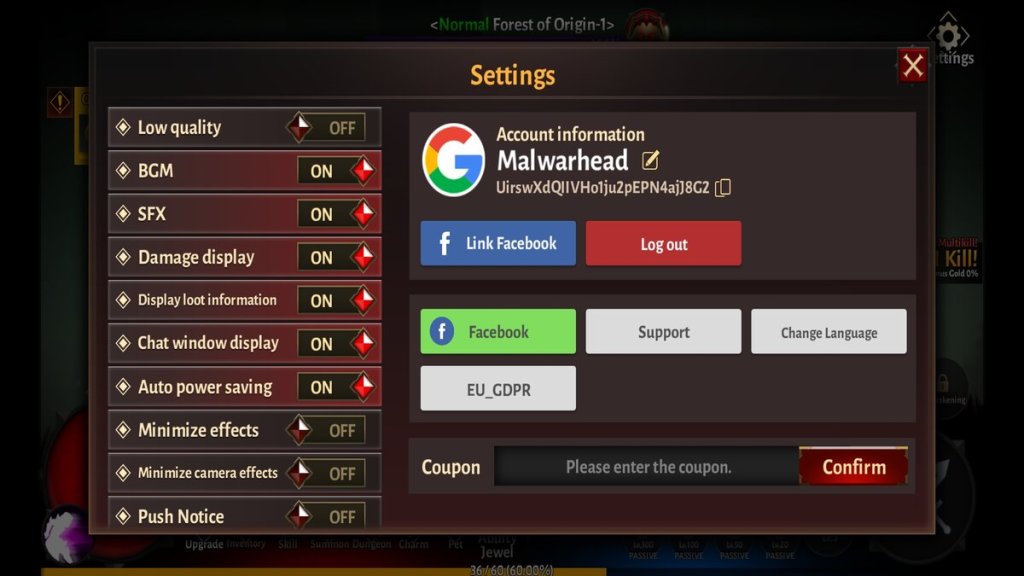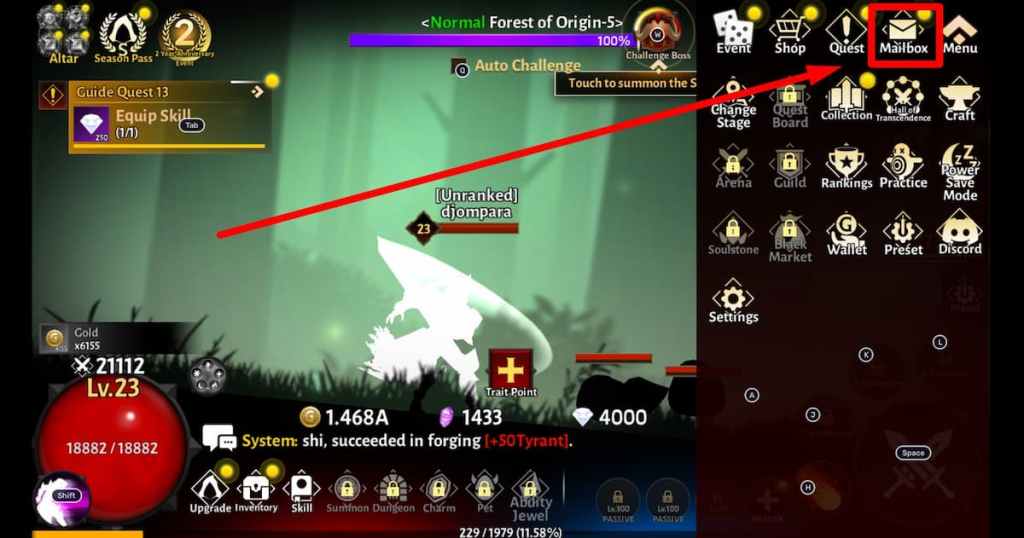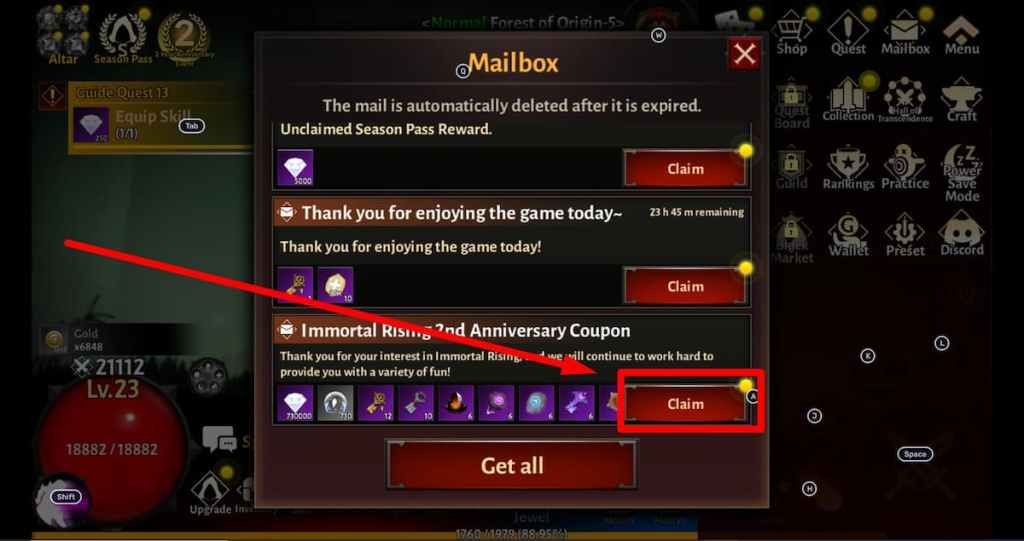 Launch Immortal Rising via Google Play or Apple Store. Alternatively, go to the Immortal Rising App to start playing.
Log into your Account via Facebook or Google.
When in the game, click the Cog Wheel in the right corner of the screen.
Under Settings type in your Code from the Codes List above in the 'Please enter the coupon' Text Box.
Hit 'Confirm' to redeem.
Go to the Mailbox in the upper right corner of the screen.
Claim your rewards from the mail and enjoy them!
How can you get more Immortal Rising Codes?
The only real place to follow the developer and the game is on the Immortal Rising Facebook Page and on the Official Discord Server. This will show any new developments, updates, and possible Code drops. As of now, these are the only real ways to keep an eye out for Codes on Immortal Rising. Alternatively, you can bookmark this page as any new Codes will be added to the Working Codes List for you to redeem.
Why are my Immortal Rising Codes not Working?
As Codes are case sensitive, you may find that what you have entered does not match the sequence exactly seen in the Codes List above. To ensure what you have entered is correct, you can highlight, copy, and paste directly from the list above. Keep in mind that the Code may have expired by the time you are attempting to redeem. The Developer may have withdrawn the Code and if this happens, you will not be able to get the freebies that were available. A solution to this is to bookmark our page and regularly check for updates so that you can get the Code the instance that it is put up. Finally, be sure to keep track of what you have previously redeemed as you may be trying to claim rewards you previously claimed. To avoid this, write down what you have redeemed to keep track of your rewards.
Other ways to get Free Rewards in Immortal Rising
There are multiple ways to get freebies in Immortal Rising. You can claim rewards at the Daily Quest and Daily Login Tabs. Check-In Events offer daily rewards so long as you keep the game on and continue playing. Ads are available for you to watch that offer XP and in-game currencies. Growth Quests are available which offer freebies upon completion. All of these methods are available under the Menu screen.
What is Immortal Rising?
Immortal Rising is an idle game that follows an anime-style, fantasy formula of battling mobs and bosses, completing quests, and leveling up your character. Everything is timed and whilst it is an idle game, you can get involved further by using your powerful abilities off cooldown or dodging attacks all from a click of a button.
---
Looking for Codes for other games? We have so much available in our Roblox Game Codes section at Gamer Journalist. There are freebies and bonuses available on our Roblox Promo Codes list. If these do not take your fancy, feel free to see all the latest guides and news at Gamer Journalist to fulfill all of your gaming needs.
About the author