How to Craft in Fae Farm
A Station for everything.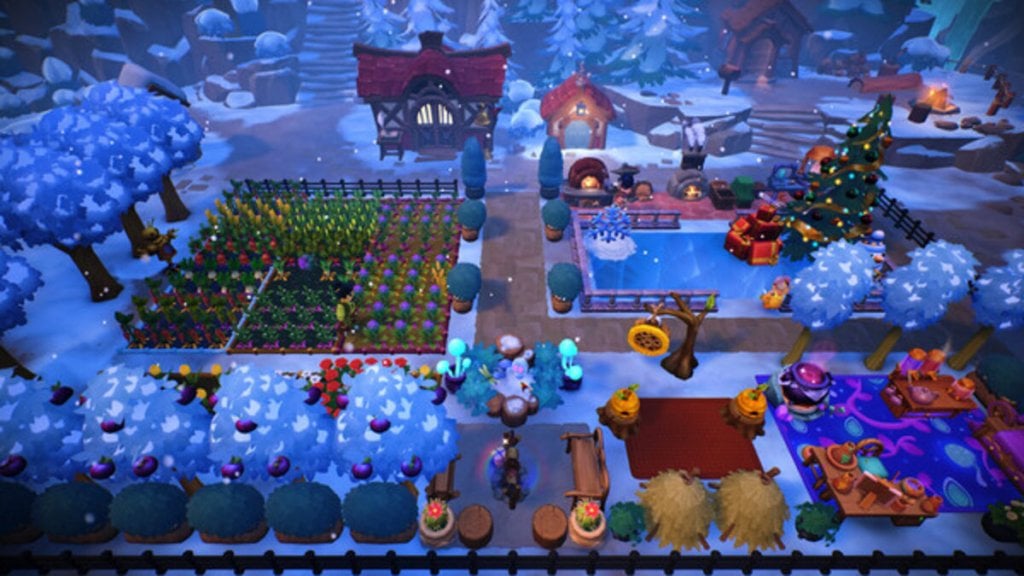 All cozy life sims require these as the absolute essentials – Farming, Fishing, Mining, and Cooking. But what do these all lead back to? The ability to use Crafting to improve your gear and make life on the land a little easier. Without these sim fundamentals, well it wouldn't be a cozy game.
Whilst there are many life sim releases throughout the year, each houses its own unique story and style for players to dive into and hand over countless hours of their life to Dev's work. As stressful as life is a lot of the time, breaking up the Groundhog Day of life can be done simply by living through another person's every day. Whilst we cannot see what it is like to live as those we look up to, we can live a simpler more fulfilling life inside this simulator of Fae Farm.
If you are looking for the next life sim to play, relax, and blissfully forget the real world for a moment, Fae Farm is the place to visit. Every life sim has the fundamentals but here is a guide about one of the main core gameplay mechanics you will find in life on the farm. This is Vincent's guide on how to craft in Fae Farm.
Related: How to Fish in Fae Farm
Fae Farm Crafting Guide
For those just getting started in Fae Farm you will want to know the key locations where crafting is done in this life sim. These are inside your Homestead – specifically inside your Field or Home itself. Crafting works more like Build Mode in Sims in that you are able to construct and add new builds, structures, and furniture inside your Homestead based on whatever you are looking to complete or upgrade your overall design.
Your Farm/Field itself can be altered so long as you are standing on the actual Field where you can plant, harvest, or remove crops. This area can have items added through the Construction Screen that offers a grid for you to find and place down structures anywhere within appropriate means of the Field.
How to Place Items in Fae Farm
Inside the Home, you can use the same Construction Screen tailored toward Indoor structures such as Furniture, Wallpaper, and general Decor. To open this Build Mode on either your Field or inside your Home, you will need to use 'C' (PC) or down on d-pad (Nintendo Switch). By pressing this interaction button again, you will open the Catalogue to check out what is available for the Outdoor or Indoor structures.
Use 'R'/'T' (PC) or 'L'/'R' (Nintendo Switch) to filter through the Tabs when searching for a specific item. Keep in mind that everything requires materials in order to be made and placed down. When you have the correct materials, use the left-mouse button ('LMB' on PC) or 'A' (Nintendo Switch) to pick up the item, choose its placement, and 'LMB' or 'A' to confirm your choice and the placement of the item.
How to Find Crafting Recipes
As with all life sims, not everything in the game is made readily available for you from the get-go. Because of this, you will need to know what to do to expand on your Field and improve the overall coziness of your Home to truly make it your own.
You can find recipes by finding Recipe Scrolls, Foraging and Mining, completing Quests, and leveling up your Skills. Scrolls are found inside Azoria, whilst other Recipes can be gained by expanding your knowledge through finding new materials and upgrading your Skills such as Fishing and Mining.
What Crafting Stations Can You Get in Fae Farm?
Finally, Fae Farm offers a multitude of ways to craft in Azoria. These Stations offer different methods of crafting, through cooking, brewing potions, creating furniture, or producing very specific types of materials for other construction. Keep in mind that all of these are unlockable through completing Quests and upgrading specific Skills relating to the Station you are looking to use.
All of the Stations available to use in Fae Farm are:
Cooking Fire – Crafts a meal with a singular ingredient.
Food Prep Table – Crafts ingredients out of foraged items, animal products, and crops that you have harvested. Used directly with the Cooking Hearth.
Cooking Hearth – Crafts more advanced Recipes with can offer temporary buffs.
Beverage Station – Crafts drinks specific to combating debuffs produced by weather conditions.
Potion Ingredients Station – Crafts resources into ingredients for Potions.
Potion Brewing Cauldron – Crafts Potions.
Artisan Table – Crafts valuable resources using foraged items, animal products, and crops you harvest.
Garden Bench – Crafts Seeds and Fertilizer out of crops you harvest.
Seal Crafting Station – Crafts Seals for Wayshrines.
Stone Forge – Crafts Ingots out of resources (mined).
Gem Polisher – Adds value to Gems.
Lumber Station – Crafts Planks out of resources (wood).

Animal Lure – Attracts animals to the Station.
Lowlands Critter Conservatory – Crafts resources out of insects that have been caught (Lowland area only).
Fae Critter Conservatory – Crafts resources out of insects that have been caught (Fae Lands area).
Mountain Critter Conservatory – Crafts resources out of insects that have been caught (Mountains area only).
Honey Hive – Crafts Honey out of bees.
Propagation Hive – Crafts Tree Saplings out of bees.
Loom – Crafts resources out of forged items and animal products.
Decorating Table – Crafts decorative items for your Home's interior.
---
That was our full guide on everything you need to know about crafting in Fae Farm. For more content like this, be sure to see How To Take Care of All Animals in Fae Farm and Can You Play Fae Farm Solo? We also have more Life Sim content readily available at Gamer Journalist for you to peruse at your leisure if you are looking for more cozy content. Thank you for reading this guide.
About the author