For The Gnomes Location in Fortnite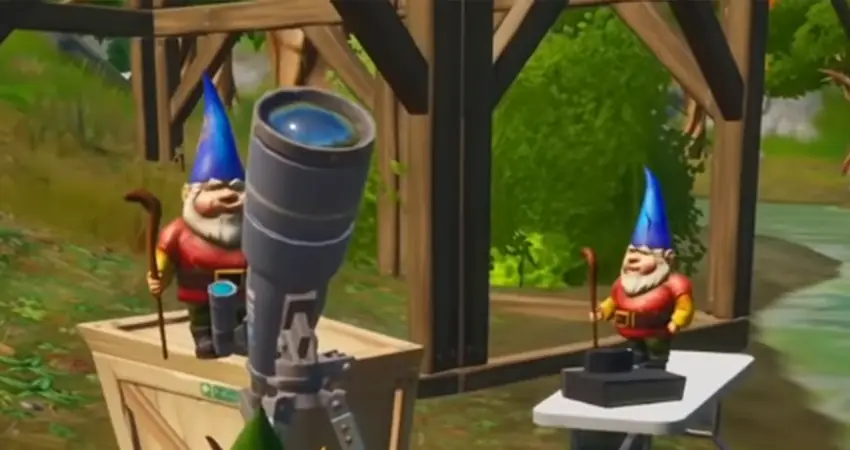 This guide will focus on completing the "For The Gnomes" challenge in Fortnite. Apparently, there are five different locations to find gnomes inside the Weeping Woods point of interest. After finding all five gnomes, you can get a free 40,000 XP for completing the hidden challenge.
Here are all the For The Gnomes locations in Fortnite so you can easily complete this challenge and pick up your 40k XP.
For The Gnomes Locations
Head over to Weeping Woods and keep an eye out for spots with gnomes, such as the one in the image below. There are five of these little gnome statues in total.
Gnome 1
The first gnome location is just under the wooden bridge in the eastern past of Weeping Woods. Interact with the telescope, and the gnome will shoot off into space.
Gnome 2
The second gnome is a bit north of the previous location next to a tree. Look near the top bend of the river. Interact with the telescope again and you can check this one off your list.
Gnome 3
Make your way northeast a bit across the river from the previous location. Near the log cabin, you'll find a fallen tree with the two gnomes and telescope right next to it.
Gnome 4
A little bit south we can find the next gnome. It's near the tomato head location, and you can see the gnome and telescope next to the campground over there.
Gnome 5
The final gnome can be found just a bit east of the location we were just at. If you're just south of the house, you will see the gnomes and hear flies as you approach them.
After picking up the fifth gnome you should get notified for completing the 'FOR THE GNOMES!' challenge on the left side of your screen.