Best Teams to use in Madden NFL 23's Franchise Mode
These teams are perfect to build a dynasty around in Madden NFL 23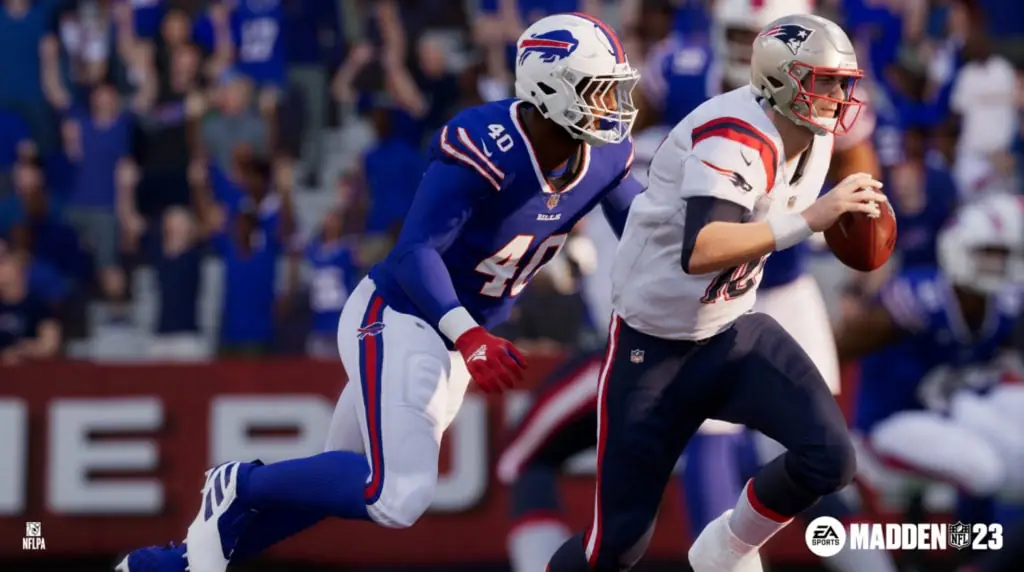 After months of speculation, it looks like Madden NFL 23 ratings have been released. Meaning that fans can finally see how their favorite players and teams stack up against the rest of the league. Now that every franchise has been assigned a rating, the debate over which virtual NFL team is truly king has been reignited. Particularly when it comes to building a dynasty from the ground up in franchise mode.
In this guide, we're going to break down all of the best teams to use in Madden NFL 23's franchise mode.
Best Teams to use in Madden NFL 23's Franchise Mode
There's perhaps no game mode in Madden that's been able to withstand the test of time like franchise mode. In which players get to take full control over their favorite team as the head coach or owner. Managing every aspect of the organization from free agency decisions down to player transactions over the course of multiple NFL seasons.
However, outside of choosing your favorite team, there are many other reasons why you might pick one team over another. Perhaps you prefer a challenge, and would like to build a lowly lottery team into a Super Bowl contender. Then again, maybe you'd rather take a team that's on the verge of greatness and push them over the top to create a dynasty.
Related: Best Wide Receivers in Madden NFL 23
To help you get started, here are some of the best teams to use in Madden NFL 23's franchise mode for those who are looking for a challenge as well as those hoping to take over a Super Bowl caliber franchise.
Best teams if You Want a Challenge
1. Houston Texans (74)
The Texans have the worst overall team rating and the worst defensive rating in Madden NFL 23. That being said, this also presents you with a clean slate to build up every aspect of the team exactly to your liking. They have no franchise quarterback, running back, or tight end and their highest-rated players are left tackle Laremy Tunsil (88) and wide receiver Brandin Cooks (87).
The bad news is that you've got a long road ahead if you want to create a Super Bowl contender. The good news is that you don't have any big contracts holding you back from completely shaking up the roster.
2. Jacksonville Jaguars (77)
The Jags are in a slightly better position than the Texans, in that they at least have their franchise quarterback locked up, Trevor Lawrence (76), who's still on his rookie contract. Past that, they also have some quality prospects that were well-regarded in college, including first overall pick Travon Walker (76), last year's first-round pick Travis Etienne Jr. (77), and Utah linebacker Devin Lloyd (73).
Jacksonville is in a tough division with the Colts and Titans but they've got a lot of young pieces to build around and enough trade assets/cap space to make some big moves.
3. Detroit Lions (78)
The Lions are on this list for similar reasons as the Jaguars. In that they both rank near the bottom of the Madden NFL 23 team ratings but show a lot of promise given their plethora of young talent. The Lions too are in a difficult division that includes the Packers, Vikings and Bears, all of whom are technically rated higher than the Lions.
Although, they also have a lot of really enticing young prospects to build around. Including tight end T.J. Hockenson (89), running back D'Andre Swift (80), offensive tackle Penei Sewell (80), and edge rusher Aidan Hutchinson (77). Not to mention a solid core of receivers in Amon-Ra St. Brown (78), D.J. Chark (78) and Jameson Williams (78).
Best Teams if You Want to Win Now
1. Tampa Bay Buccaneers (92)
Now, we'll take things in a completely different direction with teams that can win right now. The Bucs have the highest overall rating and the highest offensive rating in Madden NFL 23, and for good reason.
They've got the G.O.A.T., Tom Brady, at QB, Leonard Fournette (87) at RB, both Mike Evans (92) and Chris Godwin (89) at wide receiver and a stout offensive line that includes Tristan Wirfs (91), Ryan Jensen (90), and Shaq Mason (87). Not to mention basically the exact same defense that they won the Super Bowl with two years ago.
2. Buffalo Bills (89)
The Bills have the second-best overall team rating and offensive rating in Madden NFL 23. However, they also have the best defensive rating in the entire game. They've got a 92 overall QB in Josh Allen, a 95 overall wide receiver in Stefon Diggs, an 83 overall tight end in Dawson Knox and various other talented skill players on offense as well.
A list that includes running backs Devin Singletary (81) and James Cook (75) as well as wide receivers Gabriel Davis (80) and Jameson Crowder (80). Then on defense, they've got four players with a 90 overall or higher, including Tre'Davious White (93), Von Miller (92), Micah Hyde (91) and Jordan Poyer (90). Making them arguably the most balanced team in Madden NFL 23.
3. Los Angeles Rams (88)
The Rams are coming off a dominant Super Bowl performance in 2022, so, it's no shock to see them as one of the better teams in Madden NFL 23. First off, they're the only team in the game that has three players rated 98 or higher. Including Aaron Donald (99), Cooper Kupp (98) and Jalen Ramsey.
However, they also have an 85 overall QB in Matthew Stafford, an 83 overall running back in Cam Akers, an 83 overall tight end in Tyler Higbee, and an 82 overall wide receiver in Allen Robinson II. They're also tied for the best defensive rating with the Bills at 88 and just a few notches down on the other end of the field with an offensive rating of 85.
That's everything you need to know about the best teams to use in Madden NFL 23's franchise mode. Before you go, be sure to check out some of our other Madden content here at Gamer Journalist. Like the top 10 worst Madden NFL 23 ratings or all changes to franchise mode in Madden NFL 23.