The Top 10 Worst Madden NFL 23 Ratings
Want to know which teams and players to avoid? We've got the answer below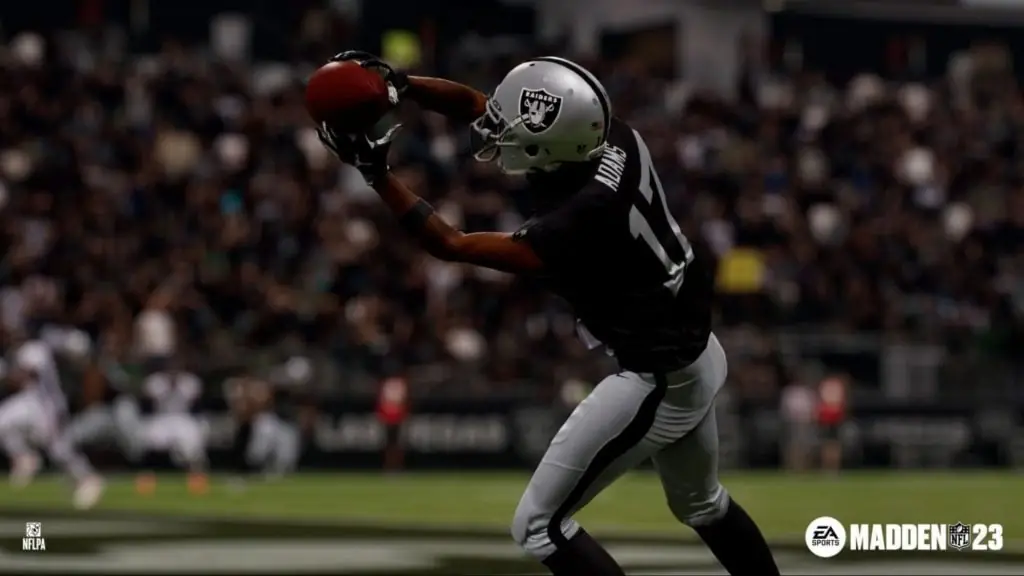 EA's ratings week for Madden NFL 23 is over, which means that all of the player and team ratings at launch are set. While these ratings are likely to fluctuate over the course of the real-life NFL regular season, it's clear that there are already some players and franchises you should avoid in Madden NFL 23.
Here are the top ten worst Madden NFL 23 ratings.
The Top 10 Worst Madden NFL 23 Ratings
Related: Madden NFL 23 – All Team Ratings and Rankings Revealed
Worst Team Ratings
Houston Texans (74 OVR – 70 OFF – 71 DEF – 72 ST)
New York Giants (75 OVR – 70 OFF – 71 DEF – 72 ST)
Seattle Seahawks (76 OVR – 70 OFF – 71 DEF – 82 ST)
Jacksonville Jaguars (77 OVR – 76 OFF – 73 DEF – 68 ST)
Atlanta Falcons (77 OVR – 76 OFF – 71 DEF – 81 ST)
Detroit Lions (78 OVR – 72 OFF – 75 DEF – 71 ST)
Chicago Bears (78 OVR – 75 OFF – 69 DEF – 76 ST)
New York Jets (79 OVR – 79 OFF – 72 DEF – 76 ST)
Carolina Panthers (79 OVR – 77 OFF – 74 DEF – 76 ST)
Minnesota Vikings (80 OVR – 82 OFF – 80 DEF – 72 ST)
So, it looks like the five teams that you'll want to avoid in Madden NFL 23 are the Texans, Giants, Seahawks, Jaguars and Falcons, as most of us expected. The Lions, Bears, Jets and Panthers each present some potential but none are anywhere close to winning a Lombardi Trophy. The one surprise here is the Vikings.
Sure, they're coming off an unimpressive year in which they finished 8-9 and subsequently missed out on the playoffs but I find it hard to believe that they're the tenth worst team in the NFL. Just two points higher than the Bears and Lions but lower than teams like the Commanders, Saints, and Browns. All of whom have serious holes to fill in the most important position on the field; quarterback.
Worst Player Ratings
The following list of worst player ratings features the ten worst players in each of the ten different positions; QB, RB, WR, TE, OL, DL, LB, CB, S and ST. That being said, since there are hundreds of players in the Madden NFL 23 database, a number of which wouldn't even qualify as starters. This list is based purely on players who are considered starters for their respective franchise.
Sam Darnold (70), QB – Carolina Panthers
Elijah Mitchell (80), RB – San Francisco 49ers
Juju Smith-Schuster (80), WR – Kansas City Chiefs
Mo Alie Cox (75), TE – Indianapolis Colts
Nick Gates (68), C – New York Giants
Alim McNeill (72), DT – Detroit Lions
Quay Walker (73), LB – Green Bay Packers
Jourdan Lewis (77), CB – Dallas Cowboys
Kyle Hamilton (76), SS – Baltimore Ravens
Riley Dixon (70), P – Los Angeles Rams
Sam Darnold is a fringe starter at quarterback, as is Alie Cox at tight end, Riley Dixon at punter and Alim McNeill at defensive tackle. However, I'm genuinely shocked by some of these other ratings. Elijah Mitchell had a break out season as a rookie in 2021, rushing for 963 yards and 5 touchdowns on 207 attempts. While Juju Smith-Schuster was the Steelers' number one option and near 1,000 yard receiver prior to his injury last year.
Similarly, center Nick Gates missed the majority of last season but didn't allow a single sack in 2020 and rookie safety Kyle Hamilton was widely regarded as one of the more NFL-ready prospects in the 2022 NFL Draft. So, to see all of these players land with the worst ratings in their respective position groups is interesting, to say the least.
That's everything you need to know about the top ten worst Madden NFL 23 ratings. Before you go, be sure to check out some of our other Madden content here at Gamer Journalist. Like all changes to Franchise Mode in Madden NFL 23 or everything that's included with each edition of Madden NFL 23.