The Best Nintendo Switch Games Coming in September
Summer is quickly coming to a close, but the gaming season never ends.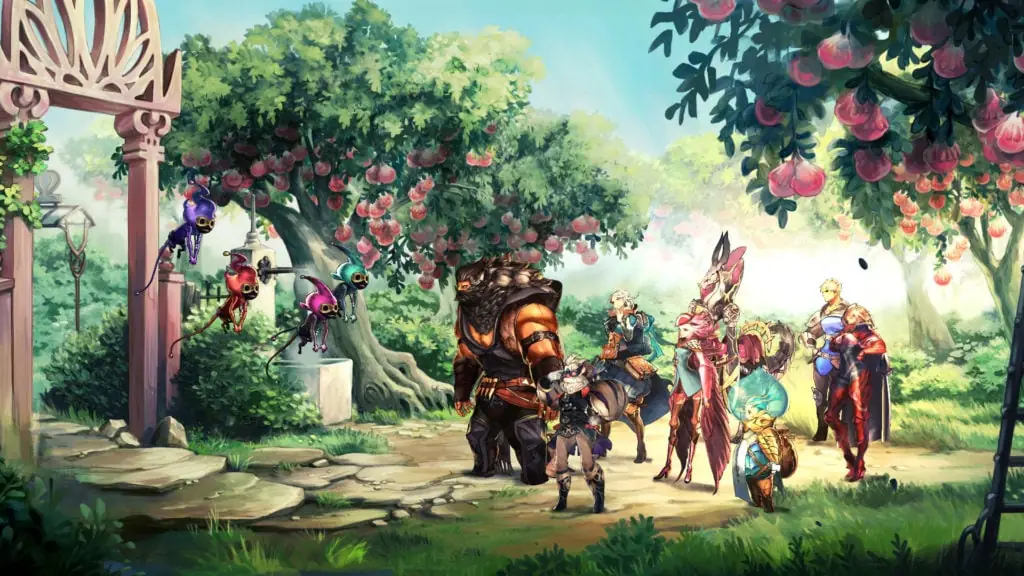 I have never been more thankful to own a Nintendo Switch than I have in this past year. I mean, obviously, being stuck inside by myself always makes for a great time to play games, but the Switch in particular has had a pretty good year, with standouts like Mario Golf Super Rush, New Pokémon Snap, and Hyrule Warriors: Age of Calamity. Of course, there's always new games coming out, and seeing as I don't think going outside will be any safer any time soon, it's still a great time for more Switch games.
Now that the summer season is over, this is gonna be the time to really start monitoring the waves. After all, the fall season is a stone's throw from Black Friday, which means all of the big name (and little name) games gotta get on the board in time for the holiday shopping season. There's also the matter of the Switch OLED model releasing in October, which will probably bring its fair share of new initiates into the fold.
As we get closer and closer to the holidays, more and more games are going to start coming out, so it's a good time to start assembling your wishlists, setting money aside, and incepting gift ideas into your family members' heads. See if there's anything that looks promising to you on our list of the best Nintendo Switch games coming in September.
Here's our list of the best Nintendo Switch games coming this September:
Ravva and the Cyclops Curse – Now Available
Times change and eras pass by, but no matter how much they do, you can't beat a good old fashioned pixel platformer. Ravva and the Cyclops Curse is an old-school sidescrolling platformer, wherein you control apprentice summoner Ravva, whose mother, along with the land at large, has been cursed by a terrible cyclops! By switching on the fly between four different summoned buddies, each with a different means of attack, Ravva will carve a path through a myriad of traps and minions.
Kitaria Fables – Now Available
If there are two things I'm statistically certain people like, it's Stardew Valley and cats. Kitaria Fables successfully hits both of those buttons, featuring a large, colorful, and absolutely adorable action RPG world. Take to the forest to get the rampaging wildlife under control with swords, bows, and magic spells, then return to town and start a farm! Make friends with the townsfolk, lend an ear to their problems, and build Paw Village into the biggest, best village it can be!
Sonic Colors: Ultimate – September 7
Sonic Colors holds an impressive distinction as "one of the 3D Sonic the Hedgehog games people don't hate." Compared to some of its contemporaries and predecessors (lookin' at you, Sonic Unleashed), Colors was a delightfully fluid and fast-paced Sonic experience, helped by some entertaining dialogue from Sonic's at the time newly-casted voice actor, Roger Craig Smith.
Since the game was so well-received in its time, Sega has decided to bring it to modern platforms in the form of Sonic Colors: Ultimate; it's the same game in general, but with major improvements to the graphics and gameplay stability (thanks in part to the removal of any Wii waggling nonsense). There's also a new Rival Rush mode where you can compete in head-to-head races against Metal Sonic!
BloodRayne Betrayal: Fresh Bites – September 9
Before last year, the delightfully edgy BloodRayne series lay mostly dormant since its heyday in the early 2000s. Since last year, though, developers have been making an effort to revitalize the series with "Terminal Cuts" of the first two games. The next game to get that treatment is sidescrolling action game BloodRayne Betrayal.
The game's original developer, Wayforward, has returned to give it a fresh coat of red paint in the upcoming Fresh Bites version. This version of the game will feature overhauled, high-resolution visuals, some modern quality-of-life fixes, and most interestingly, full voice acting, with Laura Bailey as Rayne and Troy Baker as Kagan.
Hermitage: Strange Case Files – September 9
You might not know if you didn't own a Famicom, but mystery visual novels are actually a pretty old genre of game, always selling in the background of major releases. Hermitage: Strange Case Files keeps the spirit of those classic mysteries alive as it spins the tale of a mysterious bookstore that seems to be a magnet for dark, Lovecraftian horrors. Keep notes and interview suspects as you try to solve a variety of supernatural conundrums in a branching storyline that will change based on how you play it.
Ultra Age – September 9
It's a scientific fact that oversized, transforming weaponry makes any game at least 40% more awesome. Ultra Age lives and dies by its sword… or rather, the monsters and machines you fight live and die by your sword! Take on hoards of foes in high-speed hack and slash action.
Transform your sword into many different forms on the fly, each with their own stats, properties, and moves. Is your foe too far away to pummel with a sword? Bring them to you (or you to them) with a grappling wire! Slash your way through a post-apocalyptic future landscape where humankind is on the verge of all-out civil war.
WarioWare: Get it Together! – September 10
The WarioWare series has long been one of my favorite time sink series. You wouldn't think a rapid-fire succession of ten-second microgames would be that engrossing, but it's that simplicity that makes it so easy to pick up and play, and loads of fun with friends. The latest game in the series, WarioWare: Get it Together!, puts another unique spin on the microgame paradigm: unique characters!
With Wario and his friends/employees sucked into his newest game, they'll be getting right into the action! Every one of the game's over 200 microgames can play out slightly differently as you play with different characters, with Wario flying around and shoulder-bashing things to 18-Volt sitting in place and launching CDs at stuff. Besides the story mode, there's also a Variety Pack full of party games and challenges, as well as a leaderboard where you can set online time and score records!
Eastward – September 16
You ever take one look at a game and think to yourself, "oh yeah, this is probably gonna make me cry?" That's the vibe I get from Eastward, and I'm all for it. Eastward follows the unlikely duo of cooking enthusiast John and his young, mysterious ward Sam as the travel cross-country through murky swamps and abandoned railways. Control the duo as a single unit to fight off foes, or split them up to solve environmental puzzles. Don't forget to stop and talk to everyone in town; they've all got a story to share.
Nexomon – September 17
In a monster-catching mood, but feeling burnt out on the usual suspects? Why not give Nexomon a try? Nexomon was originally released in July of last year, followed by an expansion called Nexomon: Extinction. Extinction has been on the Switch for a while, but the original game was absent until now. Explore a world teeming with over 300 different species of Nexomon. Catch 'em, train 'em, and battle 'em to become the best around, and show the ruthless Nexolord a thing or twelve.
Ni no Kuni II: Revenant Kingdom Prince's Edition – September 17
The Switch has shown up a bit late to the Ni no Kuni party, having received a late-stage port of the first game back in 2019, but hey, better late than never, especially if the DLC is included. The Prince's Edition of Ni no Kuni II: Revenant Kingdom includes the full 2018 action-RPG release bundled with all of the post-launch DLC it received for no extra price. Take on the role of fugitive prince Dell as he rebuilds his kingdom and unites the world, all presented in gorgeous Studio Ghibli animation.
Tails of Iron – September 17
What is it about fantasy worlds populated with rats and frogs that are so compelling? Well, whatever the reason, it works, and Tails of Iron is no exception. This Souls-like action RPG features rats at war with frogs, and you in control of Redgi, heir to the Rat Kingdom throne. Master brutal, punishing combat with customizable equipment and fighting styles as you reunite the land's rats against the frog menace!
Embr – September 23
Nobody ever said firefighting was easy business, but that doesn't mean it can't be fun! When Embr Emergency Services gets the call, you and up to three friends can run to the scene to put out wacky fires and rescue (paying) civilians! Break down doors with axes, quench flames with the latest water-blasting tech, and plug up gas leaks before the whole joint blows! You can also get into side gigs, from innocuous stuff like food delivery to full-on robbery and demolition! Hey, whatever keeps the lights on, right?
Dragon Ball Z: Kakarot – September 24
Son Goku sure has had a weird life, huh? First he was a monkey-tailed mountain kid hunting Dragon Balls, then he finds out he's an alien, then skip a bunch of stuff and suddenly he's going toe-to-toe with literal gods! If that sounds like a life you're interested in living, play Dragon Ball Z: Kakarot to experience all of the best moments of Goku's life, plus tons of sidequests and minigames to flesh out the Dragon Ball world.
The Switch port of Kakarot includes the "A New Power Awakens" set, in which you can challenge the God of Destruction, Lord Beerus, himself, as well as have a showdown with Golden Frieza as Super Saiyan Blue Goku!
Astria Ascending – September 30
If you've ever found yourself particularly taken with Yoshitaka Amano's old Final Fantasy character and setting art, you may feel a particular kinship with Astria Ascending. This game features a massive JRPG adventure with art and story created by alumni of Final Fantasy, NieR Automata, and Bravely Default. Assemble your adventuring party and customize them with 20 different character classes and embark on 50+ hour tale of heroes willing to sacrifice everything for the sake of the world they love.
Melty Blood: Type Lumina – September 30
The original Melty Blood was a co-creation of game publisher Type-Moon with doujin circle-turned software developer French Bread. It was a fighting game utilizing characters from Type-Moon's Tsukihime visual novel that's long served a flag-bearer of small studio fighting games. While Type-Moon is a little more focused these days on the gargantuan success of the Fate franchise, they're always willing to show some love to the classics that got them where they are (especially with the recently released Tsukihime reboot to advertise for).
Melty Blood: Type Lumina is a complete reboot of the original game, once again headed by Type-Moon and French Bread. The mechanics have been overhauled to create a smoother, cleaner gameplay experience, while all of the art assets and voice lines have been completely redone. It's sure to be another hit with the fighting game community.
Those are all of the best Nintendo Switch games coming this September. If you want to discover even more games, check out our best roguelikes for mobile and our best gacha games.