What is Valorant Error Code 43?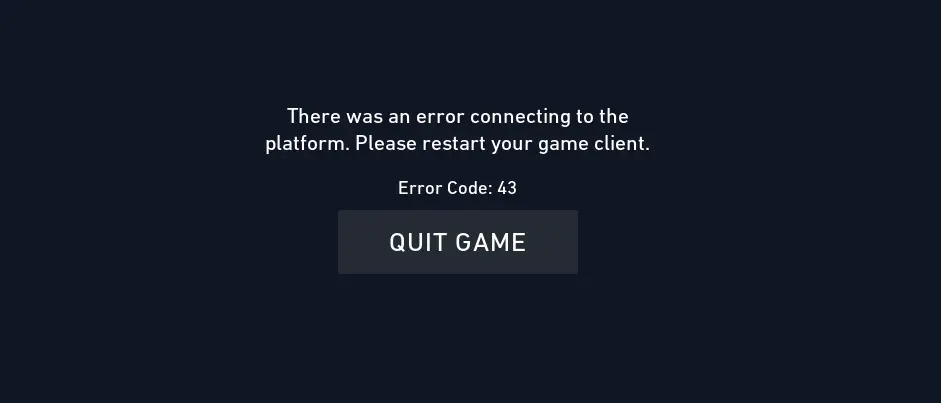 Valorant is the new competitive first-person shooter from Riot Games, the developers of League of Legends and Legends of Runeterra. The closed beta for Valorant went live at the beginning of April, and quickly became the number one title on Twitch. With massive success, there are always some server issues. One issue, in particular, is the Valorant Error Code 43.
What is Valorant Error Code 43?
Valorant Error Code 43 is an error relating to the Riot Games servers. You may be seeing this issue for a variety of reasons, which we'll outline below. First, you should make sure your internet connection is stable. If you're reading this on your computer, that's likely not the issue. Just in case, be sure to go to websites like Google.com to ensure everything is loading properly.
Restart Your Valorant Client
If you see Error Code 43, shut down your game client. Try reopening Valorant and loading into the game again. If you see the issue once again, you can close out of your game and move on to the next troubleshooting tip.
Check Riot Games Status Page
Riot Games has a support Twitter where they post all updates in real-time, or as close to real-time as they can, at least. You can check out the Twitter page here and check their recent Tweets to see if they are having any server issues.
Server Problems
If you checked the official Riot Games accounts and they haven't posted any issues, you may need to be patient. The Valorant Error Code 43 is related to connecting to the Riot Games servers. Companies usually have around the clock support for when this happens, but fixing the problems can sometimes be time consuming.
Check with other players to see if they are also experiencing the error. If so, then the problem is likely not on your end, meaning it's out of your control. During game patches and update times, it's likely server outages occur while the patches are deploying to the servers. If you're trying to play on a day where an update is rolled out and you see this issue, that's likely the reason.
For other related content, be sure to check out our VALORANT section.