Valorant Spectrum Skin Bundle Release Date, Prices, Details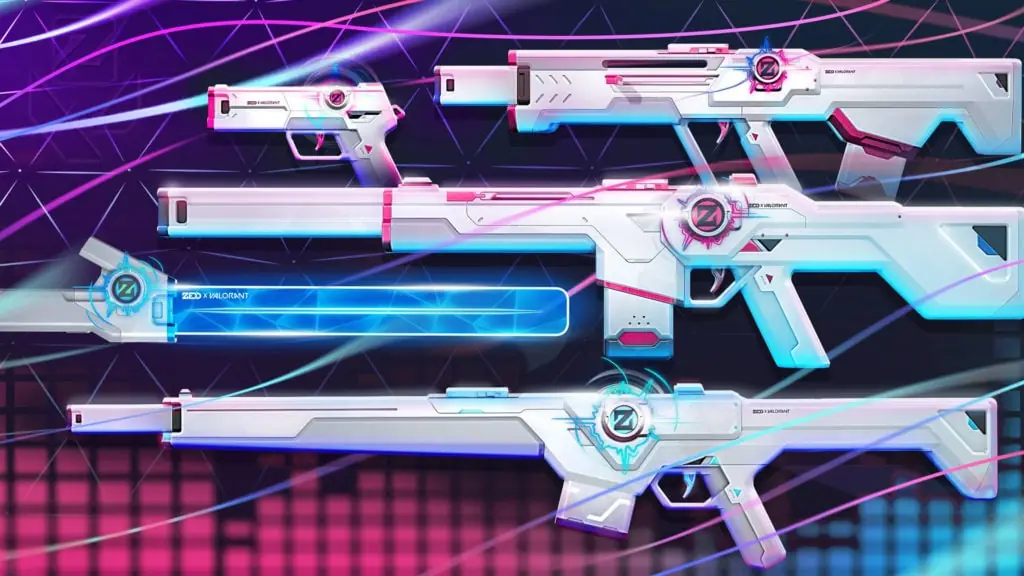 Riot Games' latest collaboration is with German DJ and Valorant immortal-ranked player Zedd. The collab brings the Valorant SPECTRUM skin bundle into the game for players to enjoy. Zedd explains the new bundle as "weaponized color and sound" in the keynote posted to the official Valorant Twitter this morning. Let's take a look at the Valorant SPECTRUM skin bundle, including the release date, prices, and details.
Valorant SPECTRUM Skin release date
The Valorant SPECTRUM skin bundle releases on September 8, 2021. You will be able to pick it up through the in-game shop at that time.
Valorant SPECTRUM Skin prices
The Valorant SPECTRUM skin bundle is considered an Exclusive Edition (XE) set, similar to the Elderflame collection. Considering the past price action of similar skins, the Valorant SPECTRUM skin bundle should cost somewhere between 9,900 VP and 10,700 VP.
At this time, it is unknown whether the skins will be obtainable individually or through the full bundle purchase only. It does appear that it will be a bundle-exclusive collection, though.
All Valorant SPECTRUM Skins
The Valorant SPECTRUM bundle will include the following weapon skins:
Melee
Classic
Bulldog
Guardian
Phantom
Melee
Classic
Bulldog
Guardian
Phantom
Overall, the skin bundle features a cool, balanced sound design, touched up by Zedd in collaboration with the Valorant audio design team. Much like Zedd's music, the weapon firing sounds are rich and bass-heavy. Each weapon features a "Z" Zedd emblem on the side, along with electrified animations pulsing through each design. There are four colorways on each skin, including default white, black with red accents, red with white and black accents, and purple with pink and red accents.
Will you be picking up this bundle on September 8, 2021?
All screenshots and footage was sourced via the official Riot Games Valorant x Zedd Spectrum keynote video here.