Valorant Champions Collection Raises over $7.5M for Prize Pool
Through player-driven support, the Champion Collection raises over $7.5M for participating teams.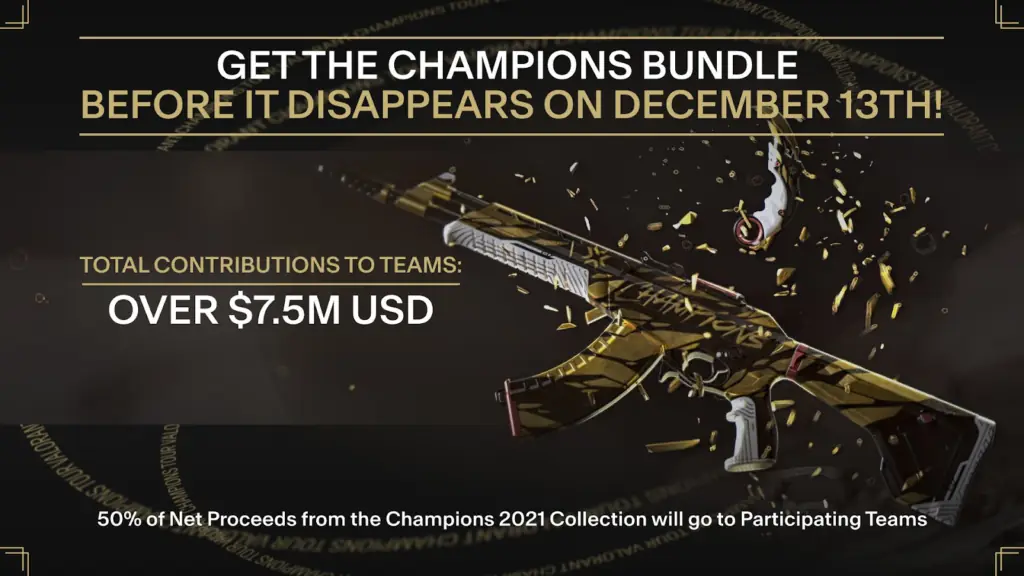 VALORANT Champions Berlin is the biggest esports tournament the game has organized ever since its debut and is considered the ultimate proving ground for teams around the world. The tournament stakes have just been raised as Riot Games has announced that they have already amassed $7.5M in USD to add to the $1M prize pool in the first week of the tournament.
The tournament uses a similar system to how Dota 2 amasses its prize pool with the player-driven economy. In VALORANT, players and fans can purchase limited-edition skins and other items from the shop through the Champions 2021 Collection. VALORANT esports states that 50% of the sales from these items will be added to the total prize pool. The in-game bundle is available for purchase until the end of the tournament, which is on December 13. After that, the items will be gone permanently from the shop and will not return to the Store or Night Market after the event.
For fans not familiar with how prize money distribution typically works, the breakdown looks like this: players get a cut of the prize money, in addition to their salary from the organization. Organizations bring in sponsor money, as well as league and publisher revenue. The players' contracts usually determine their exact cut of the prize money, depending on how they negotiated when signing with the organizations. The payout structure to players can therefore vary from team to team.
The prize pool is not completely set at $7.5M as the community still has a chance to increase it until December 13. The largest prize pool in esports history was from Dota 2's The International 2021, with a pool of over $40M. Meanwhile, the highest prize pool in FPS esports was from Fortnite's World Cup Finals 2019 Solo event, which was just north of $15M. With VALORANT Champions having one week left, it's doubtful that the prize pool will surpass these two, but the current prize pool cements VALORANT as a top contender in the competitive esports scene.