Torchlight 3 adds new end game: Fazeer's Dun'djinn Challenge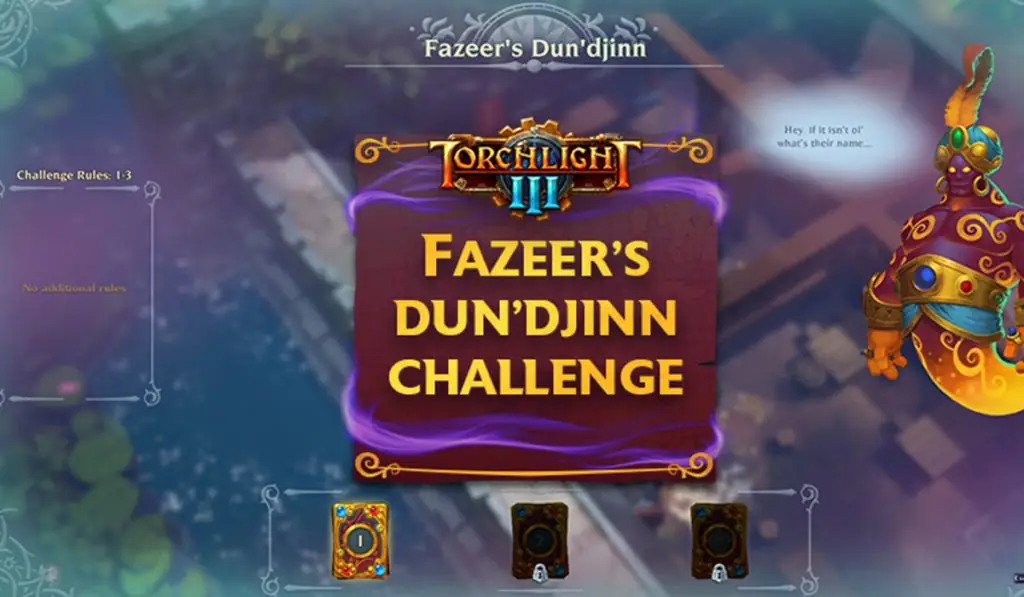 Torchlight 3 Fazeer's Dun'djinn Challenge is here. The new Mainline Patch is now available for Torchlight 3 early access on Steam. Fazeer's Dun' djinn Challenge is the most exciting part of the update. It is the end game in Torchlight 3 that everyone has been patiently awaiting. Alongside the new content are tons of bug fixes, notably one that reduces lag and rubberbanding.
Torchlight 3 Fazeer's Dun'djinn Challenge
Players have been wondering about the endgame in Torchlight 3 since it went into early access on Steam. Fazeer Shah is a djinni from the previous Torchlight game that helps you save the Guardian of Mana for finding the Lamp of Marvels. Now, Fazeer is back and wants to hang out in your fort.
Fazeer's Dun'djinn Challenge is accessible via a quest in act three, after beating the last boss. The questline unlocks Fazeer's throne, a fort decoration you can use to gain access to the challenge. Progress through the event is character specific and not shared across your entire account. Upon entering the Dun'djinn, players will see challenge rules and levels.
Rules increase in difficulty the further you progress through the Dun'djinn. Level cards are at the bottom of the screen and show information about the area's elemental affixes and modifiers. Failing a Challenge Level before the last card resets your progress. Each time you beat a set of cards, your progress saves, and you can return there any time. Players will also encounter Boss cards that save your progress and allow you to farm some extra high-tier loot.
You can run the Dun'djinn solo or with up to three friends. Clearing the challenge after level 60 awards players with an emblem to show off their progression. Similar to mapworks, there is no escape other than victory or death after entering. Make sure to stock up on potions and have your sets of gear ready. Adjust your skills depending on the Dun'djinn affixes and modifiers to make things more efficient.
There are hundreds of Challenge Dungeon Levels and additional updates, rewards, and bug fixes will be coming with future patches.

Steam
A complete list of patch notes can be found here. Torchlight 3 is available in early access on Steam for $29.99.