Sky: Children of the Light Days of Love Event Guide
Find out about the warm, festive event here!
Valentine's Day is upon us, and for Sky: Children of Light fans, that means a new event is just around the corner! Sky is all about making friends and spending time with people you care about, so it's no surprise that the Days of Love are such an anticipated time for sky kids. The event itself begins on February 13th, around Valentines Day across the world. It lasts until the 26th PST (UTC -8), and has ways for newer and veteran players to enjoy their time across the world of sky. New cosmetics, seasonal gifts, and new scenery within the game itself are all coming soon, so there really is a lot to be excited about!
What Seasonal Events can you expect?
Along with the pretty cosmetics that come with every season and events, there's a chance for players to get extra in-game currency: wax and hearts. Throughout the two weeks that the event extends for, sending light or heart gifts to your friend will grant them double of what the gifts usually send out. That means that if you send your friends one heart (which costs three candles in game), then they will receive double of that. By sending them a gift of light, you'll give them double of that amount. Furthermore, if they give you light and heart gifts, then you will receive double, as well!
What can you find in game?
When you first log into the world of Sky, you're greeted with a peaceful home base where you can teleport to any of the five realms, and customize your character. This is also where you will see many of the Days of Love features in place. A soft mist will surround the area, adding to the peaceful atmosphere Sky promotes. Thats not all, though. The mist will offer players some light every day, most notably during the first half of the event.

Furthermore, The Auspicious Visitor Spirit from the previous event, Days of Fortune, will make a return for a time. Instead of celebrating the Lunar New year though, they will be on a Valentine's Day, Heart-themed pier. By heading over to the pier, you'll find the spirit offering cosmetics to those who have the candles and hearts for them. If you don't have enough though, don't worry! You can also find spells that grant you the cosmetics for a limited amount of time, including the Days of Love Gondola, which will allow you to glide across the waters! By heading to the Vault of Knowledge, and locating the secret area, you'll also gain access to spirits offering other previously sold Days of Love Items, including the Days of Love Mask, which costs 15 hearts.
What Cosmetics can you get during this Event?
The most highly anticipated part of any Sky season or event are the cosmetics that come along with it. The Days of Love has quite a few of these, with some returning from previous years, and others that are entirely new. The Days of Love Flower Crown will be making its return, which players can wear with any of the hair sets that Sky has to offer. It's a sweet looking crown of red and light pink petals, perfect for the season! There will also be the Days of Love Flowery Archway, a prop that will make wherever you place it all the more festive, floral, and fun. The flower crown will cost 15 hearts, while the archway will be 100 candles.
The event will also feature some items that you can get with money. Here are those items, with their prices listed, as well:
Days of Love Gondola Pack: $19.99 (includes 35 Season Candles)
Seesaw Pack: $19.99 (includes 35 Season Candles)
Swing Pack: $19.99 (includes 35 Season Candles)
Days of Love Classy Cravat: $4.99
Days of Love Serendipitous Scepter: $14.99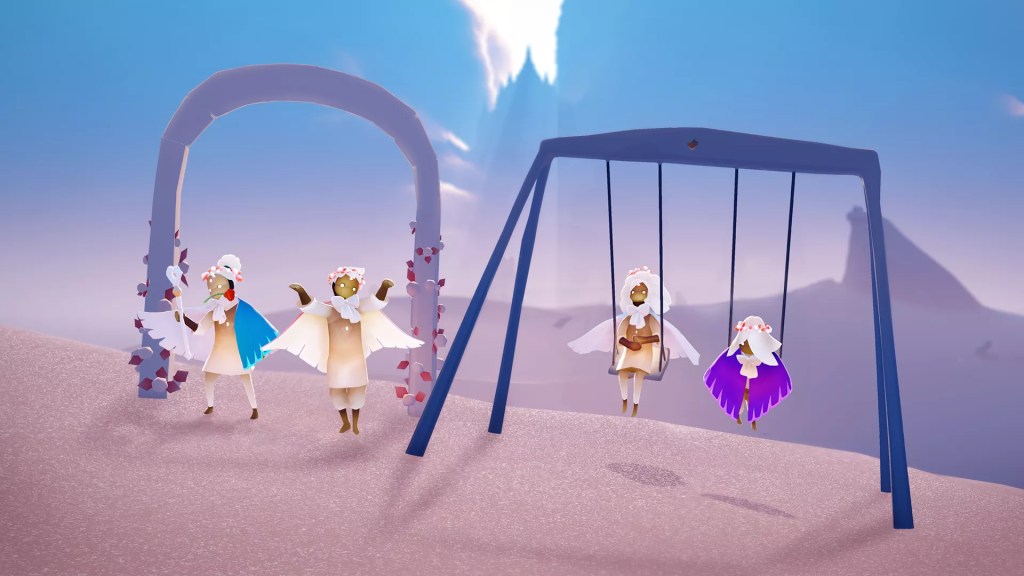 Is there anything else we can expect?
Along with the in-game events, the Sky developers are hosting a challenge on their Instagram, Facebook, Twitter, and Discord pages! By taking an in-game screenshot, you'll have a chance to win Sky prizes! Deck your sky kid out in Days of Love cosmetics, and take a picture in the event space. After that, post it with the hashtag #SkyDaysOfLove23, and you'll be entered in a giveaway! Five winners will be randomly selected, and receive a Days of Love Serendipitous Scepter, and three Crane message spells!
The Days of love are just around the corner – so get ready!
How do I send heart and light gifts to my friends?
In order to send hearts and lights to your friends in Sky, you first need to go to the home world. Then, head to the round stone, and hit the icon that appears. After that, a constellation should show up showing off any friends you've made in the game. When you click on the stars that make up the constellation, your friend should fly down, and you should have the option to send them a light gift by lighting their candle. You can also send them a heart by clicking the letter on the side of the screen, though that costs 3 candles.
---
We hoped you enjoyed our Sky: Children of the Light guide. Be sure to check out our Sky: How to Fly guide as well. Or to follow our Sky: Children of the Light coverage, consider joining our Facebook!
About the author