Shovel Knight Pocket Dungeon Now Available on Switch, PS4, and Steam
A roguelite puzzle game hybrid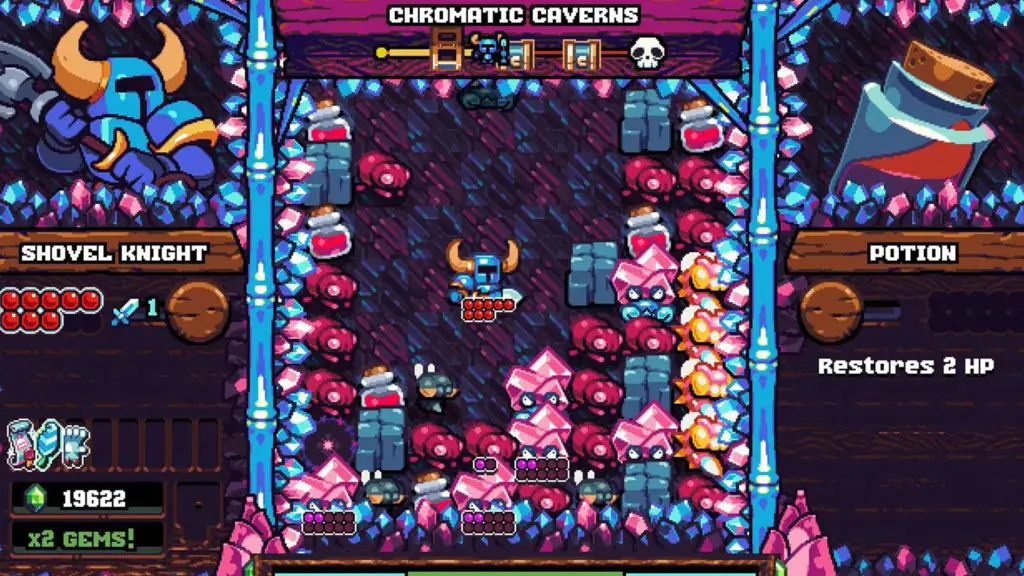 It's incredible how much of a slam dunk Shovel Knight was. Not only was it very well-received from the start and bolstered by a stable of high-quality DLC, the character himself became synonymous with indie game success. He even got a cameo in Super Smash Bros. Ultimate! While the original game has concluded its development life, it'd be criminal not to set the shovel-wielding hero on new adventures, and that's exactly what Yacht Club Games is doing.
Shovel Knight Pocket Dungeon is now available for Nintendo Switch, as well as PlayStation 4 and Steam. This new game swaps out old-school platforming sensibilities for old-school puzzle game sensibilities, all through the lens of the blue burrower and his trusty shovel blade. When Shovel Knight awakens from a nap and discovers the titular Pocket Dungeon, a magical palm-sized cube, he's whisked away to the entire world contained within. If he wants any hope of getting out, he'll have to heed the advice of the friendly Puzzle Knight, as well as work a stable of friends like Shield Knight and foes like the former members of the Order of No Quarter.
Shovel Knight Pocket Dungeon Now Available for Nintendo Switch
Shovel Knight Pocket Dungeon is kind of like a combination of the classic falling puzzle game like Tetris and a multi-screen dungeon crawler. Blocks, enemies, and items fall from the top of the grid, and with a few swipes of his shovel blade, Shovel Knight can clear them away. If he clears them away while they're touching more of the same block, they'll all clear at once, rewarding you with gems and items.
On the field and in shops, you can obtain items for your loadout that bestow abilities and mechanics changes to help you keep up with the shifting dungeons, not to mention boss fights against other Knights. If you're not a fan of Shovel Knight (though I don't know how that'd be possible), you can take control of over ten other playable characters, each with their own mechanics like Shield Knight's large shield and Plague Knight's explosives.
Shovel Knight Pocket Dungeon features multiple modes, including a full adventure with a brand new story, a versus mode to go head-to-head with your friends either on the couch or online, and a daily challenge puzzle you can play for a spot on the leaderboard. You can also scan your Shovel Knight amiibo for some fun little bonuses during gameplay.
Shovel Knight Pocket Dungeon is available now for $19.99 USD.