Rocket League Season 4 Rocket Pass Rewards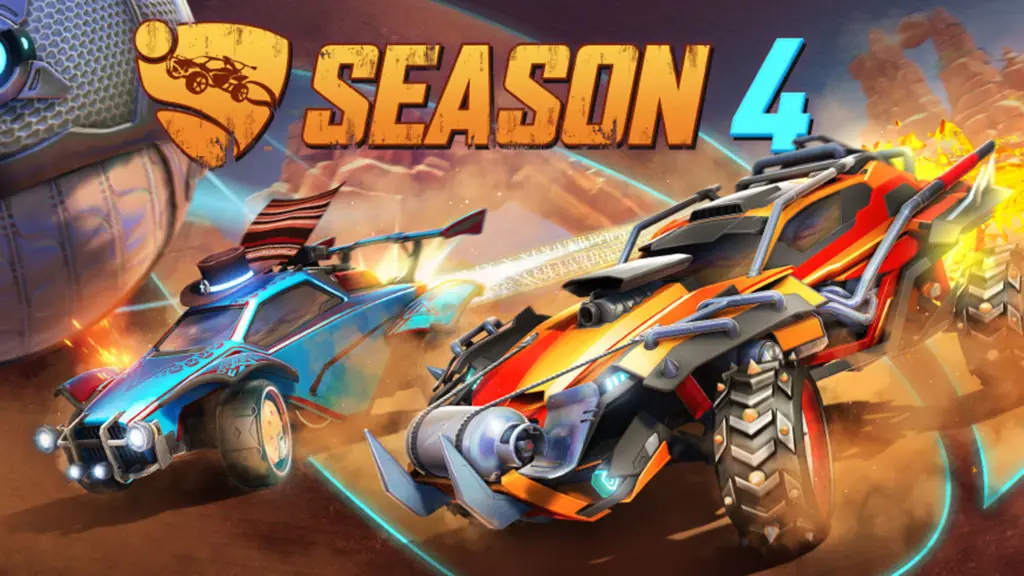 Season 4 of Psyonix's explosive vehicular soccer game Rocket League has officially arrived. Today marks the release of their tenth battle pass or the fourth since the game went free-to-play last year. There are 70 tiers to work through this time around and two tracks to pick from, including Free and Premium. Let's take a look at the Rocket League Season 4 Rocket Pass Rewards.
The free Rocket Pass is available to everyone at no additional charge, and you'll still get plenty of free items for leveling up. Twenty-four, to be exact. Rocket Pass Premium players will need to drop 1,000 credits, which comes out to be about $8.99, or 2,000 credits if you want to get a 12-tier boost.
Players can complete weekly and season challenges to receive lots of XP and exclusive items. The challenges release every Wednesday, and there are six per week in total, with three requiring Premium Rocket Pass access. Weekly challenges expire after the week is up, incentivizing players to complete them on time.
As for the rewards, the ultimate Tier 70 reward for the Rocket League Season 4 Rocket Pass Premium track is the Outlaw GXT. We also have plenty of wild west-themed items along the way, including wheels, decals, trails, and more. You can find a full list of the Rocket League Season 4 Rocket Pass rewards broken down by Premium and Free down below.
Rocket League Season 4 Rocket Pass Premium Rewards
Outlaw Limited Body
Cowpoke Limited Player Banne
Flame Chain Limited Trail
10% Party XP Boost
Dreamcatcher Limited Antenna
Outlaw: Hardline Limited Decal
Powder Keg Limited Wheels
Title: Boost Bandit Limited Player Title
Dominus: Gasman Limited Decal
5% XP Boost
Dead Horse Limited Topper
100 Credits
Gadabout Limited Wheels
Outlaw: Camo Limited Decal
Campfire Limited Topper
Horsepower Limited Engine Audio
Outlaw: Tough Break Limited Decal
Title: The Sheriff Limited Player Title
Lava Limited Rocket Boost
Rocko Limited Wheels
Straightlaced Limited Paint Finish
Stanger Limited Player Banner
5% XP Boost
100 Credits
Outlaw: Sally Limited Decal
Barouche Limited Wheels
Howdy Limited Avatar Border
Octane: Amikoo Limited Decal
No-Name Limited Topper
Title: Outrider Limited PLayer Title
Gadabout: Inverted Limited WHeels
5% Boost
Iron Horse Limited Engine Audio
Outlaw: Notched Limited Decal
Tarnation Limited Trail
100 Credits
Vaticinator Limited Animated Decal
Wanted Limited Avatar Border
5% XP Boost
Title: Yellowbelly Limited Player Title
Boomstick Limited Wheels
Steel Horse Limited Engine Audio
Sundown Limited Player Banner
Rockfall Limited Paint Finish
Outlaw: Coyotl Limited Decal
Tanked Limited Wheels
Outlaw: Ombre Limited Decal
100 Credits
Title: Sawbones Limited Player Title
5% XP Boost
Whisperer Limited Wheels
Outlaw: Huntress Limited Decal
Dust Cloud Limited Trail
Ruinator Limited Wheels
Hydrophobic Limited Animated Decal
Distressed Denim Limited Paint Finish
Title: Wanted Limited Player Title
5% Party XP Boost
Tanker: Infinite Limited Wheels
100 Credits
Outlaw: Snakeskin Limited Animated Decal
Timeline Limited Rocket Boost
Outlaw: Martian Wind Limited Animated Decal
Haunted Hoss Limited Wheels
Heat Lighting Limited Animated Decal
5% XP Boost
100 Credits
Yeehaw Limited Goal Explosion
Ruinator: Inverted Limited Wheels
Outlaw GXT Limited Body
Rocket League Season 4 Rocket Pass Free Rewards
Tier 2: Title Lunkhead
Tier 5: Uncommon Drop
Tier 8: Chipboard Limited Paint Finish
Tier 10: Uncommon Drop
Tier 13: Ripper Stibium Limited Decal
Tier 15: Uncommon Drop
Tier 18: Prickly Cactus Limited Topper
Tier 20: Uncommon Drop
Tier 22: Road Hog Watermelon Limited Decal
Tier 24: Title: Car Cowboy Limited Player Title
Tier 25: Uncommon Drop
Tier 28: Aftershock: Clipper Limited Decal
Tier 30: Uncommon Drop
Tier 32: Esper: Eye Opener Limited Decal
Tier 35: Uncommon Drop
Tier 38: Title: Ace in the Hole Limited Player Title
Tier 43: Twisty-Sweet Limited Trail
Tier 45: Rare Drop
Tier 48: Buckboard Limited Wheels
Tier 50: Rare Drop
Tier 55: Rare Drop
Tier 60: Rare Drop
Tier 65: Very Rare Drop
Tier 70: Very Rare Drop