How to Get Noble Pursuit Recipe in Zelda Tears of the Kingdom
Who knew cocktails would be on the recipe list for the people of Gerudo City.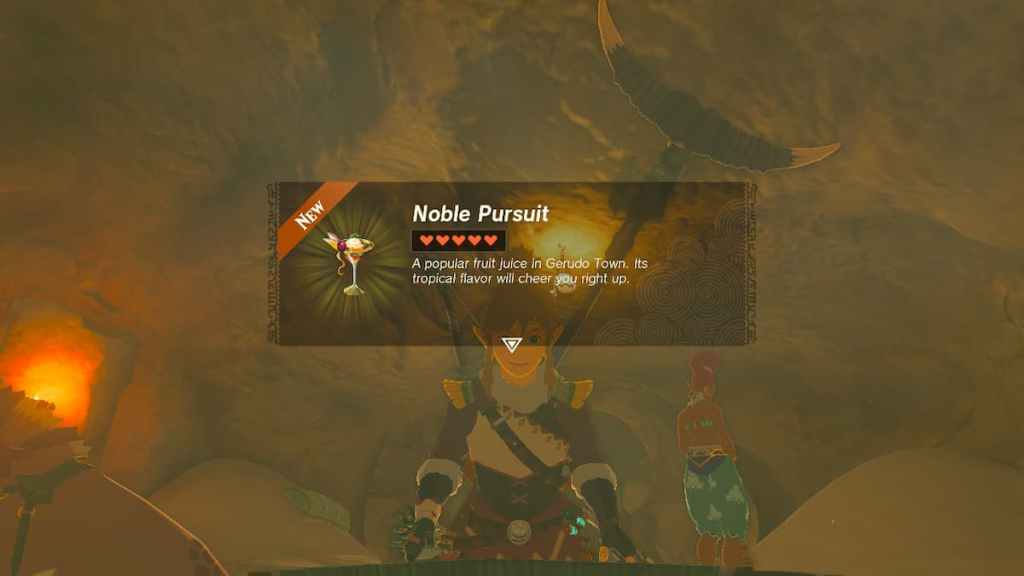 If there's one thing that players enjoy about the sequel to Breath of the Wild, it's how many callbacks you will find while playing Tears of the Kingdom. Being one of the few true sequels to a Legend of Zelda game, TotK rewards players with a ton of references to events that happened in BotW. One of these callbacks happens to be in the once forbidden city of Gerudo. A place where no Voe (or male) was allowed into previously, the once great town has been affected by the events initiated by Ganon. The city is home to a plethora of unique and cultural items, gear, and recipes. One of these being for an alcoholic drink that Link was not previously able to partake in due to his age. So let's shake it up and figure out how to get Noble Pursuit recipe in Zelda Tears of the Kingdom.
How to Get Noble Pursuit Recipe in Zelda Tears of the Kingdom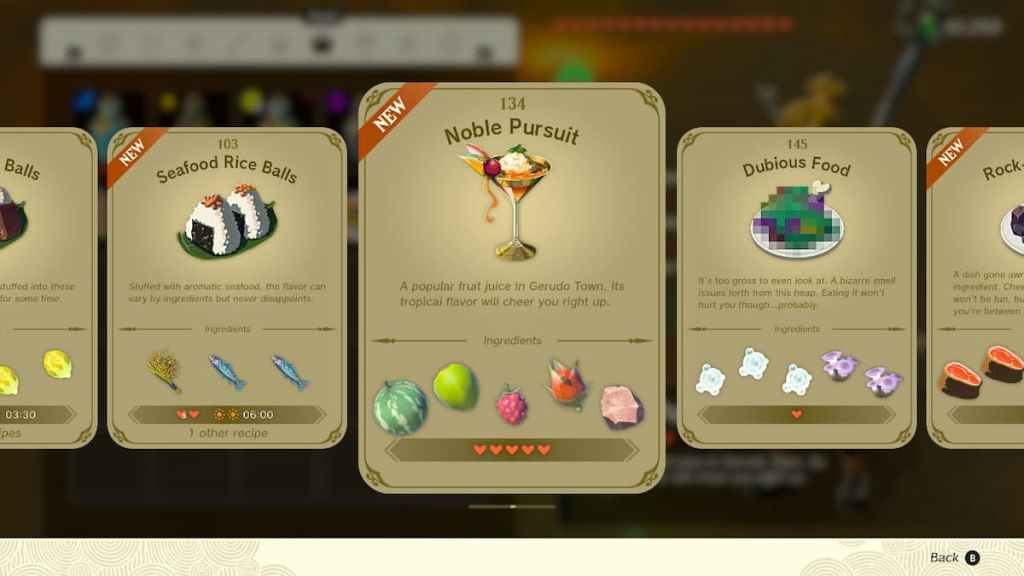 Like all other recipes in Tears of the Kingdom, Noble Pursuit's recipe can be unlocked simply by crafting the meal. However, if you were looking to find out the knowledge in game, you'll need to do a bit of progressing. As when you first enter Gerudo City, it will be ransacked and torn apart thanks to the upheaval of Hyrule Castle by the dreaded Ganon. The bar that you will find the recipe at in TotK, The Noble Canteen, has been deserted and won't go back to normal until you complete a few things. You'll need to go ahead and complete the Lightning Temple further into the Gerudo Desert in order to put the city back to normal. Doing so will allow the townspeople to go back to their normal lives, and The Noble Canteen will be back in business.
Related: Where to Farm Bright-Eyed Crab in Zelda Tears of the Kingdom (TotK)
This might take some time and require more tools that you have at this point. And thankfully, if you don't want to wait until that is done, there are some simple ingredients that you can use to create a Noble Pursuit and add the recipe to your list. In order to make a Noble Pursuit, you'll need: Hydromelon, Palm Fruit, Wildberry, Voltfruit, and Rock Salt. Combining all of these into a pot will produce the tasty looking fruit juice that is Noble Pursuit. Consuming this drink will heal you for a total of 5 hearts. And for the materials you need to grab, this might be a recipe you want to keep in your back pocket.
---
This concludes our guide on how to find the Noble Pursuit recipe in Tears of the Kingdom. For more gaming news and updates, go ahead and follow our Facebook page. Fellow mixologist looking for even more recipes and guides for Tears of the Kingdom should stay tuned in right here at Gamer Journalist.
About the author