Da Piece Codes (March 2023)
We have the complete list of working codes for Roblox Da Piece that you can use to get free OP in-game items and boosts.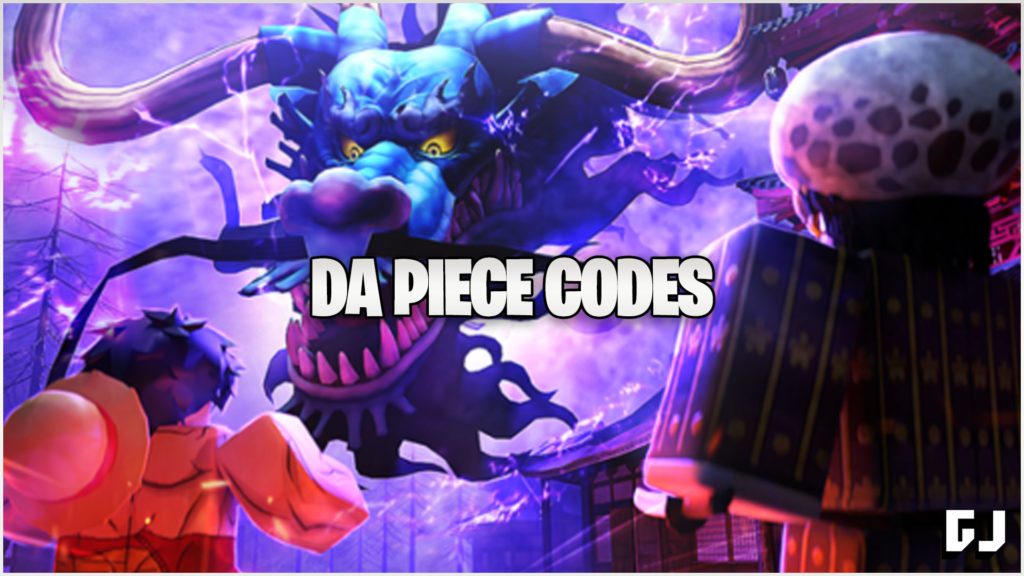 Get the latest free Beli, boosts, and stat resets with our Da Piece codes list. Refer to the section below for more information on how to redeem codes in Da Piece. Remember to bookmark the page and check back often for new codes and updates. If you're on a computer, press CTRL+D to add us to your bookmarks and never miss a code again.
Da Piece is an experience developed by Handsome Studios for the Roblox platform. In this anime-inspired One Piece game, players sail the seas in search of treasure. Complete quests and defeat enemies to get stronger and determine your fate as a pirate. Can you become the strongest pirate, or would you rather put away the bad guys?
All Working and Expired Da Piece Codes – Full List
We have the full list of codes for Roblox Da Piece below. You can enter any of these codes into the code redemption screen to claim some freebies like Beli, boosts, or even limited-time items. Codes expire after a short time, so make sure to use them while they last or they will go to waste. Check back soon for more updates. These codes were last checked on March 6, 2023.
Da Piece Codes (Working)
S3A_B3ASTS – Free Rewards (New)
L3GENDARY_FRU1T – Experience
BLOX_FRUITS – Free Rewards
S3A_B3ASTS – Beli
C0NFUSEDLUFFY – Beli
CHARM1NGSANJ1 – Skill Reset
P0VMAU1 – Beli
SYRUPV1LLAG3 – 15K Beli
L1TTL3GARD3N – 50K Beli
DRUM1SLAND – Free Stat Reset
BR00KSB0N3S – Double XP
J0YB0Y – Stat Reset
B0SSK0BY – Double XP
R0BLUCC1AFURRY – Double XP
K1NG0FP1RAT3Z – 50,000 Beli
2KL1KESWOOOHOOO – Double XP
YAM1YAM1 – Double XP
B1GMERA – Stat Reset
NEWUPDAT30N3 – Skill Point Reset
PH03N1X – XP
G0LDG0LDG0LD – 25,000 Beli
0N3P13C3 – 100,000 Beli
EV1MAR1NE – Stat Reset
US0PPSN0SE – Stat Reset
NAM1SG0LD – 30,000 Beli
G0LD3NP1RAT3 – Skill and Weapon
B1GSH1P – Skill Point Reset
B0SSP1RATE – Skill Point Reset
TREASUR3 – Skill Point Reset
K1NGTANK13 – XP
1KL1K3SYEAH – 10,000 Beli
AC3 – 5,000 Beli
G0LDR0G3R – 1,000 XP
M0NK3YDLUFFY – Skill Reset
K1NGTANK13 – Boosts
Launch0N3 – 30,000 Beli
B1GR3S3T – Stat Reset
Da Piece Codes (Expired)
There are no expired codes.
How Do I Redeem Da Piece Codes?
Launch Da Piece on your Roblox-compatible device.
Tap on the Menu button on the left side of the screen.
Tap the Settings button on the Menu screen.
Enter a working code into the code redemption box.
Press the Enter key on your keyboard to redeem the code.
Enjoy your free in-game rewards.
Where Can I Get New Codes for Da Piece?
Follow the developers on the Roblox game page to stay up-to-date with announcements and Da Piece news. You can also join the official Da Piece Discord community server to chat with other players, get new updates and announcements, and learn more about the game. We recommend following our code list here for updates so you can have them all in one convenient location!
That's the full working codes list for Roblox Da Piece. Bookmark this page and check back later for more. As soon as a new one releases, we'll have it on our list.