Cult of the Lamb: 5 Ideas For New Content
A Cavalcade of New Content!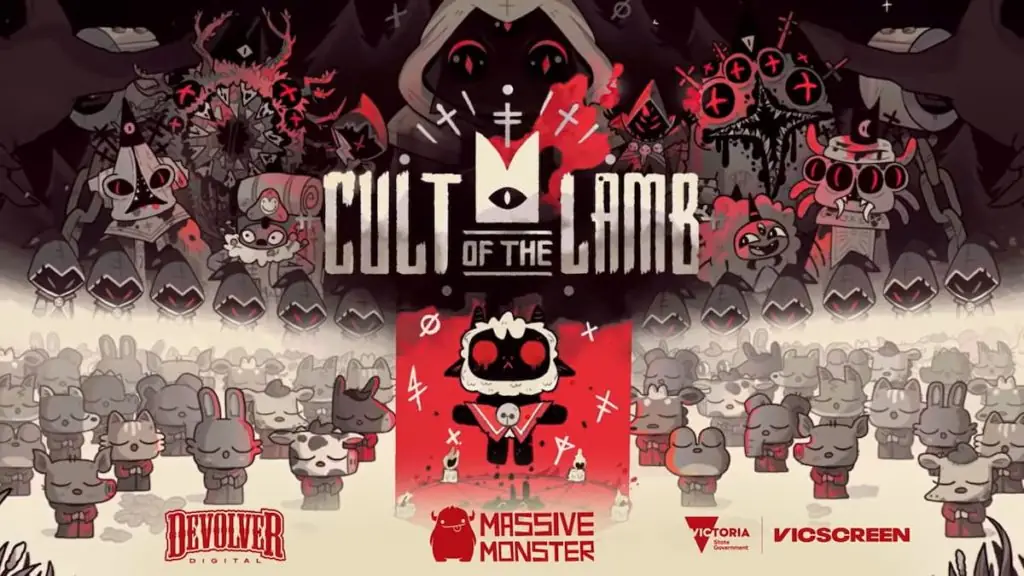 Cult of the Lamb has seen tremendous success since its launch. It's no surprise that this amalgamation of Animal Crossing's community building and The Binding of Isaac's roguelike dungeon crawling would be a critical and commercial success. In fact, according to SteamCharts, the game has received an average of 40,000 players just since its launch on August 11. It also has a pretty high metacritic (and audience) score.
So, now all eyes are on Massive Monster and Devolver Digital to determine what's next for the Lamb. We have confirmation that the dev team is planning new content, but how that new content will manifest is unclear. It's in that sentiment that we'd like to brainstorm on some ideas that we'd love to see become reality. These ideas are limited by the size and scope of the game so far. But, here are some concepts for Cult of the Lamb DLC, now that we've played the game, start-to-finish.
1. Holiday Updates
I think this idea writes itself. In our Cult of the Lamb review, I mentioned that the aesthetic reminds me of the Christmas Critters episode of South Park. Imagine entering your cult to find that Christmas décor has been added to the walls and buildings. Or — if you're more a fan of the spoopy season, what if all of your followers dressed up as different animals for Halloween?
I am basically asking for Cult of the Lamb to lean more into Animal Crossing, except less Zipper. But, on the other hand, Zipper was terrifying, so they might fit in just fine in the Lands of the Old Faith.
2. Multiplayer Co-Op or PvP
One feature that would be really interesting — if implemented properly — is multiplayer. I mean, sure; each cult is built using the same assets, but it would still be cool to visit friends' cults and see how their personality shines through that limitation. This could be implemented in two ways:
Co-Op; Animal Crossing: New Horizons style
PvP; any other online multiplayer game style
In the Co-Op concept, perhaps you could visit friends' cults, interact with their followers and contribute to their offering box. You could also sit in on a sermon, and perhaps you being there would give them more loyalty for reasons. Or, it could manifest as in Elden Ring where you can join friends on a crusade and help them with particularly tough enemies. I think this is begging to be a thing, honestly.
But also, there could be a special mode where — playing into the whole false prophet concept — you and a friend could go head-to-head to decide who the true cult leader is. I imagine it could be like a crusade, but you start at different ends, but as soon as you're both in the same room, you fight to the death. It would remind me somewhat of Nidhogg's gameplay, only it'd be top-down rather than side-scrolling.
3. New Story Content?
I think this could be the most likely possibility. What if there were challengers to the Red Throne now that the Lamb has claimed it? Or — we know that mini-bosses (and The One Who Waits) transform into critters after they're defeated, but what if the opposite were to happen? Imagine being forced to choose followers to transform into mini-bosses, and having to then take them down. I think this could possibly be saved for a potential sequel, but if they don't want to make a second game, this could be a valid update!
4. Boss Rush / More Difficult Post-Game?
I am aware that the game comes pre-packaged with the option to re-fight Bishops. But, they're not really much of a challenge in the post-game. It might be cool if they were to buff the rematches, making them a bit more challenging, or maybe even just making the mini-bosses a bit more of an obstacle to overcome. I would also like the option of challenging The One Who Waits to a rematch, as you can't do that now.
5. More Divine Inspiration Upgrades
By the end of the game, chances are, you've already unlocked most items in the Divine Inspiration menu. I think it might be cool for them to add more tiers of items that could be useful in building your cult. I would love to see them add an upgrade to the Demon Summoning Circle that lets you summon 4 or 5 demons at a time. Or, maybe an option to expand your cult, giving you more room to roam about.
Related: How to Get Cthulhu as a Follower in Cult of the Lamb
In any case, we are very excited to see what the future holds for Cult of the Lamb. We have a plethora of news and guides on the game for your perusal, so stick with Gamer Journalist!!