Best Treehouse Ideas The Sims 4
Excuse me while I go build a tree house now.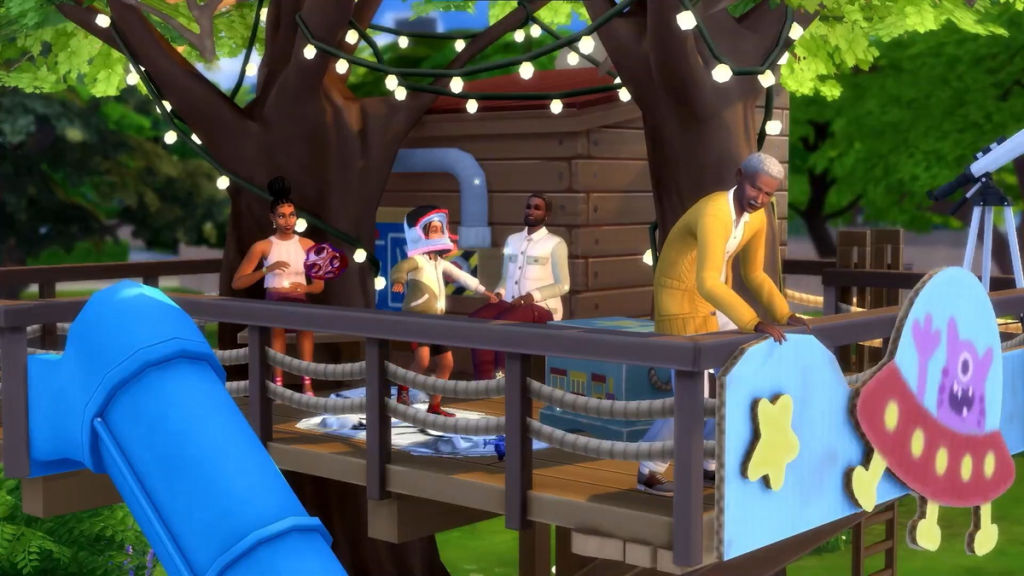 Builders and Simmers you're probably excited over the possibility of building a treehouse for your grandchildren or children. A treehouse is the perfect escape so your children can experience nature, play pretend, and grow into a teenager with a happy life attached. I remember when one of my childhood friends had a treehouse and my dad swore he'd build one. Unfortunately he never did but now I can build a treehouse for my pretend children so they don't have to go through all of the emotions of being without a treehouse. Here's some of the best treehouse ideas you can build in The Sims 4.
Treehouse The Sims 4
Building a treehouse is simple in The Sims 4. It requires you to have a little creativity and is easy enough to understand. In order to build a treehouse you need to find the treehouse build in the build menu. Once you have purchased it and placed them in front of a tree you can start the building process. Materials will appear in front of the tree. After some time of building you'll get a treehouse where kids can hang with friends and lovers can enjoy a romantic dinner. You also have the ability to upgrade your treehouse to give it bells or other various objects. We found some cool treehouse ideas if you wanted to go beyond what EA Games has to offer. Here are the best treehouse ideas in The Sims 4.
1. The Sim Scrolls – Cozy Treehouse
This incredible treehouse is fully functional and was created by The Sim Scrolls. It features livable quarters where your Sim can go off grid and live in a treehouse forever. The treehouse is fully stocked with a fridge, running water, and other assorted items that make it feel more like a home. If you've ever wanted to live in a tree this is the perfect solution. It goes for 69k on the market and you can find this treehouse on the gallery by searching for the username: thesimscrolls
2. Siemma – Base Game Tree House
If you're looking for something a little modern and still kid friendly you're going to want to check out this tree house. It has no CC attached to it and is base game friendly so everyone can enjoy it without needing tons of packs. This simmer actually teaches you how to build her tree house so you don't have to download it if you don't want to. This is a shell of a treehouse so the interior won't have any furniture. This means you can design it however you want and put whatever you want in it.
3. Sims 4 Creations Too – Ultimate Tree House
When you see this tree house, you're probably thinking about Tarzan, when his parents built the ultimate tree house. If you're older you can remember Swiss Family Robinson when the entire family got stranded on an island and built a magnificent tree house to live in. This build is the ultimate tree house if you want them to live amongst the trees in a mansion. Just look at the creativity and I'm curious as to how long it took for them to build it. If you want to live up in the trees like a king or queen you're going to want to download this tree house on the gallery. Just search for SarahAmina ID and you'll come across the greatest tree house ever.
4. daniellebuilds – Floating Monkey Bar Tree House
The floating monkey bar is impressively crafted onto this tree house. It allows your child to play on their tree house instead of the tree house just being a regular home. You can hang out on the monkey bars or just goof around by playing on it. The tree house also comes with a pond filled with alligators, so, there's that. Just make sure your kid doesn't play in the water. What happens if your kid falls in the water infested pond? Absolutely nothing because there is an invisible barrier, similar to a net, so your Sim doesn't fall to their death.
5. MsGryphi – Ultimate Kids Tree House
A tree house was meant for your kids to play and have a chance to escape from adults telling them what to do. What if I were to tell you that kids can enjoy living a care free lifestyle in this tree house? This is the ultimate tree house designed for kids to have fun. It's packed using the Little Campers Kit items, as well as, toys for them to use. If this was a tree house my dad built for me I would never come home because I would be paying rent to live here. All of the rooms inside of it have furniture that kids will enjoy as well. If you want to add this to your Sims lives you can find it on the gallery by searching for Gryphi ID name. It's $24k and was built in Newcrest.
---
If you're looking for more tips and tricks you can use while playing The sims 4 please check out Gamer Journalist on Facebook to join the discussion and keep up to date with our content. You may also want to check out Best Mods to Pair With Sims 4 Growing Together Expansion or Sims 4 Toddler Cheats – Age Up and Max Out Their Skills