The Best Games to Grab During the Steam Autumn Sale
Here are the best games to grab during the Steam Autumn Sale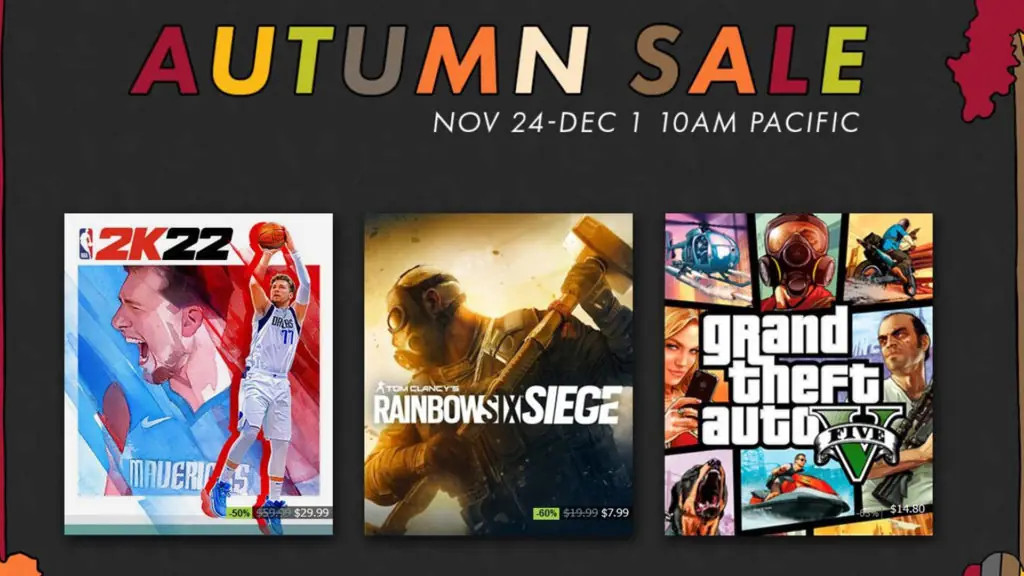 I'm no economist, so I don't quite understand the full logic behind the prices game publishers set during major sales. If it were up to me, everything would cost $20 or less, but I guess that's why I don't work for a game publisher. Still, even if it's not quite to that extent, Steam's major sale events always have their fair share of discount curveballs, and if you're looking to bulk up your library with modern classics, there's no better time to shop. It certainly beats getting trampled on Black Friday. Here are some of the best games to grab during the Steam Autumn Sale, which is running from November 24th to December 1st.
One of the big draws of the major Steam sale events is the potential of nabbing nearly brand new, big budget games at discount prices. Case in point, Marvel's Guardians of the Galaxy only just came out about a month ago, and yet it's already on sale, and a pretty good sale at that.
If you like Marvel stuff, the Guardians of the Galaxy, or highly cinematic games in a similar vein to the Uncharted series, you'll definitely get a kick out of the wild adventures of Peter Quill and company. And even if you don't, it's got a soundtrack full of classic tracks from the 80s and 90s. You don't know action until you've blasted Twisted Sister's "We're Not Gonna Take It" over it.
In many situations I could name, sequels that take an absolute epoch to come out usually end up disappointing everyone. Psychonauts 2 was not one of those situations. I waited for 15 years for this game to come out, and it was exactly what I wanted.
Even if you've never played the original Psychonauts (though you really ought to remedy that), Psychonauts 2 is still a fantastic experience that combines excellent platforming with smart and hilarious writing and incredibly creative level design.
Even a few years later, I'm still not entirely sure what to make of Death Stranding, and I know I'm not alone in that. But while what may effectively be the world's most elaborate walking simulator is the very definition of nonstandard game design, the sheer production value behind it makes Death Stranding something worth experiencing at least once in your life, just to say you did. And hey, at that price, who can say no?
Do you ever stumble upon an indie game in Steam's new release list by sheer chance and immediately think to yourself "I need to see what the deal with this is?" Everhood was one of those games for me, and I'm sincerely glad that happened.
Everhood has a distinctive visual style, kind of like a tape of an old cartoon left on the shelf too long. That style, combined with a battle system that merges snap dodging with some seriously groovy tunes, creates a psychedelic adventure that you won't forget any time soon.
When all else fails, there's always room for the ol' rip and tear. While many shooters these days have a tendency to share mechanics with one another, DOOM Eternal has done its best to stick to its series' roots.
There is very little between you and hordes of demonic invaders, and isn't that peachy? It's just you, them, and an entire arsenal of creative murder in your pants for you to use as much as humanly possible, and a little bit beyond that. If you just want a straight-up, all-action shooter, DOOM Eternal's got a chainsaw with your name on it.
For years now, Remedy has been quietly assembling something akin to a cinematic universe with games like Alan Wake and Quantum Break. Control is the next big step in that universe, placing you in the role of director of a top-secret organization tasked with controlling the world's weird and inexplicable phenomena.
If you've ever wanted to take a tour through the SCP Organization, this is the closest you'll get. Incidentally, this sale is for the Ultimate Edition of Control, so it includes all of the DLC packs bundled in at no extra charge.
Outer Wilds is a thinking man's game, something that, despite its somewhat unassuming premise, isn't to be tackled half-heartedly. The entire game is one big interplanetary puzzle, made even more complicated thanks to time looping whenever the sun goes supernova.
You need to be good at narrowing down minute details, and you need to be able to do it quickly. In addition to that laser-precision design, Outer Wilds' space exploration mechanics really put you in touch with the quiet beauty of the infinite void, as well as the distinctive fear and loneliness that accompany it.
I had no idea what to think when it was announced that the Yakuza series would be shifting from an action game to a JRPG, but as it turned out, it was a match made in heaven. Yakuza's distinctive storytelling style and densely packed overly mesh surprisingly well with turn-based RPG battles, thanks in no small part to the series' new protagonist, rookie Yakuza and Dragon Quest superfan Ichiban Kasuga. Ichiban's journey from wrongful imprisonment to local hero takes turns that are equally funny, dramatic, and touching.
While Darkest Dungeon 2 just recently released in Early Access, it's anyone's guess as to how long it'll be before it's complete. While we wait, it's a great time to get properly acquainted with the first game's distinctive flavor of hopelessness if you haven't already.
Build up a party of adventurers, guide them through darkened catacombs and gnarled forests, and try your best to keep them sane in the face of unspeakable horrors as you prepare to face the terrible truths beneath your family's estate.
Y'know, it's strange; the series is called Resident Evil, and started in a giant, debatably evil mansion, but it seems to shine its brightest instead in dilapidated villages. It shined in Resident Evil 4, and it shined again in Resident Evil Village.
Take on a family of mutant monsters inhabiting the slimiest, grungiest parts of a rural European village you can think of in the shoes of Ethan Winters, who may very well be the most unfortunate man on the face of the Earth.