Best Animal Crossing New Horizons Kitchens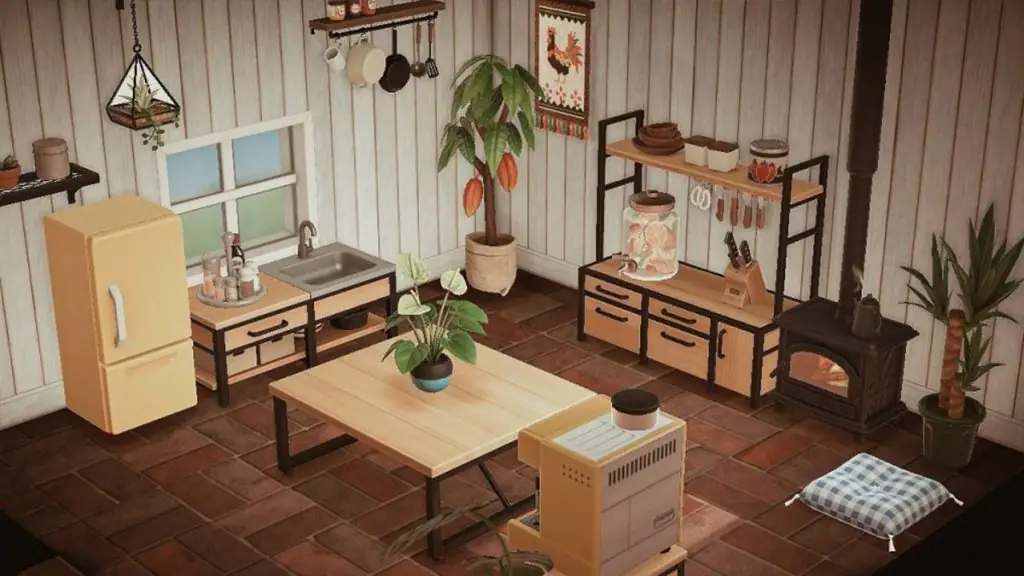 We already covered some of the best living rooms we could find in New Horizons, but how about kitchens? There are some furniture sets like the Ironwood collection that can be used to make some awesome looking kitchens. Other players used their creativity and came up with some other ideas. Here are the best Animal Crossing New Horizons kitchens we could find.
Best Animal Crossing New Horizons Kitchens
We looked everywhere for some of the best Animal Crossing New Horizons kitchens, and we were not disappointed in what we found. Warning, some of these kitchens may cause you to rethink your design choices.
ACNH Kitchen 1
The first kitchen on our list uses some of the popular Ironwood Furniture pieces. We like the carrot cake and tea kettle setup on the table as well.
ACNH Kitchen 2
This next one is a from a Twitter user who utilized a lot of the Ironwood Furniture set recipes.
ACNH Kitchen 3
Some of you might be eyeing up that stand mixer like we are. This kitchen gives a nice vibe and nicely mixes and matches a bunch of different appliances together.
ACNH Kitchen 4
Here we have another kitchen that uses a couple pieces of the Ironwood set mixed in with some other appliances. The toast popping out of the toaster makes for a great addition to the kitchen.
Ironwood Kitchen
Here's what a kitchen looks like utilizing every piece of the Ironwood Furniture set. The kitchen in this image is setup in the back room.
Vintage Ironwood
Here's a kitchen utilizing some of the Ironwood pieces with an added retro style refrigerator and stove. It's giving off a really nice vibe of modern mixed with retro. Nice appliances like these can be hard to come by in this game.
Ironwood Teal Kitchen
As we can see, the Ironwood pieces are a popular choice when it comes to kitchens. This placer has some really nice teal appliances to match the color of the walls.
Medieval Kitchen
A Reddit user attempted to create a Medieval, Skyrim style kitchen, and it looks awesome. They completely nailed the look and it's a nice refreshing change from the standard Ironwood kitchen. Our favorite pieces are the brick oven and the wood burning stove.