All VALORANT Crosshair Codes from Optic Gaming
Shoot like the best with Optic Gaming's crosshairs!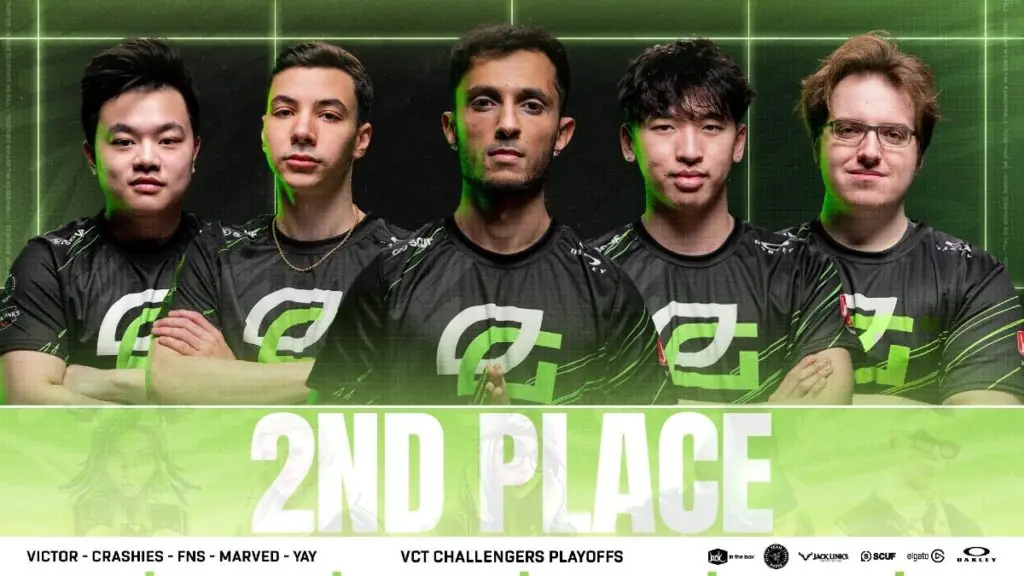 I've compiled the VALORANT crosshair codes from Optic gaming's world-class team. While they didn't manage to close out the VCT Challengers playoffs, they're redoubtable still one of the best teams in the entire world. There's a lot you can learn from them, starting with what crosshairs they use.
If you're looking for a new crosshair in VALORANT, or if you're just wondering what the best of the best are using, then you should find these five crosshairs useful.
Optic Gaming VALORANT Crosshair Codes
FNS
Optic FNS VALORANT Crosshair Code – 0;P;c;1;h;0;f;0;0l;3;0o;2;0a;1;0f;0;1b;0
There's nothing too strange going on with any of the crosshairs on Optic. FNS', however, is one of the more unusual ones despite being fairly common.
It's a larger take on the typical spaced-out inner-lines crosshair. Most players have the space in the center of their crosshairs fairly small, whereas this crosshair is far larger than usual. You can see an entire model's head through it.
Personally, I'm not a fan. I think it sacrifices far too much precision compared to a more compact crosshair. I found that despite my crosshair placement being fine, long-range shots were much less accurate than they otherwise would be. You might disagree, though. It's worth trying the crosshair out, in any case.
crashies
Optic crashies VALORANT Crosshair Code – 0;P;c;1;h;0;0l;4;0o;2;0a;1;0f;0;1b;0
Both crashies' and Victor's crosshairs are pretty similar. They're tighter versions of FNS' crosshair and typical of what a lot of VALORANT players run.
You'll see a crosshair like these being used by a large majority of the VALORANT player base, and that's because it's good. That's all there is to it. It's precise, but not too small as to be hard to follow. It's the type of crosshair that someone looking for a change ought to try out.
If you've never used this type of crosshair before, it's worth experimenting with. There's a reason it's so popular.
Victor
Optic Victor VALORANT Crosshair Code – 0;P;c;4;h;0;0l;4;0a;1;0f;0;1b;0
Victor's VALORANT crosshair code occupies a comfortable middle ground between FNS' and crashies' crosshairs. It's bigger than the typical crosshair of this style, but not by too much.
Like other similar crosshairs, this is a safe option. It's bigger than usual, which makes tracking targets easier, but your long-range accuracy does suffer as a result. Overall, though, it's pretty good. The only thing I would change about it is the color. Yellow isn't my taste for a crosshair, but you might be weird and like it.
Regardless, like crashies' crosshair, Victor's is one well worth using, at least for a game or two.
yay
Optic yay VALORANT Crosshair Code – 0;P;h;0;0l;4;0o;0;0a;1;0f;0;1b;0
You'll be hard-pressed to find a team these days without one player running this exact crosshair. It's not the most common out there, but those that do run it tend to do absolutely incredible.
It's a smaller crosshair, making it ideal for hitting clean headshots. Unlike ScreaM's crosshair, though, it's not too small. You won't suffer when it comes to tracking like you would with a typical dot. It lacks the center space that a lot of crosshairs have, but it's small enough for that not to be too big of an issue.
I wouldn't exactly recommend yay's crosshair to a beginner, but I would highly recommend it to any experienced player looking for something new to try.
Marved
Optic Marved VALORANT Crosshair Code – 0;P;c;1;h;0;0t;1;0l;5;0o;1;0a;1;0f;0;1b;0
Last but not least, we have Marved's VALORANT crosshair code. This is the most atypical crosshair on Optic's entire VALORANT roster, so make of that what you will.
The inner lines of the crosshair are long and thin, with a tiny center gap between them. It's not the best for hitting precise shots or tracking, but Marved makes it work so maybe you will too.
If you're in the market for a new crosshair and are looking for something a little bit outside the box, but still effective, this might be it.
Related: All VALORANT Crosshair Codes From Challengers Winners XSET