All Champions to Unlock in LEGO Brawls
There are a lot of Champions to unlock.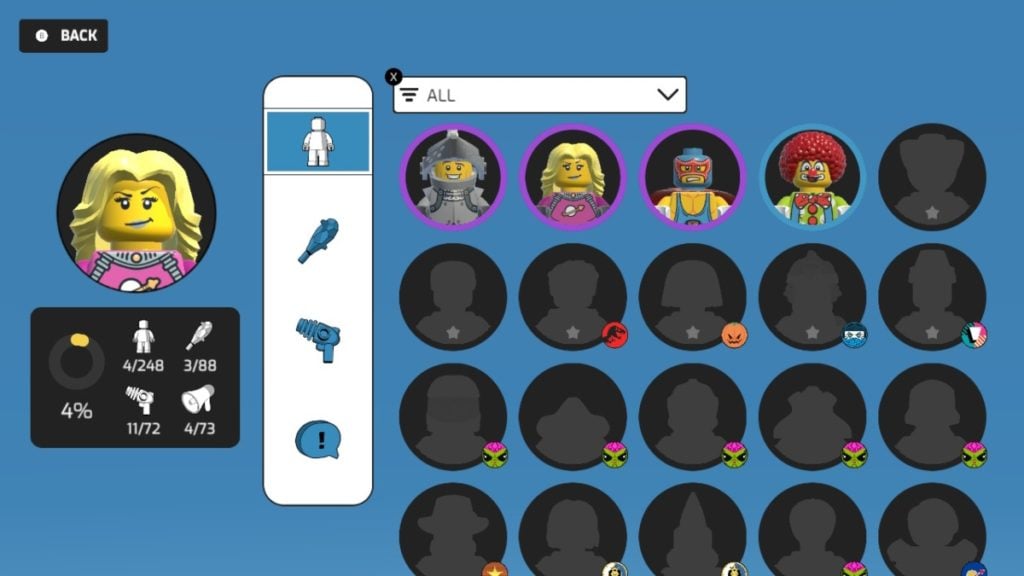 The newly released LEGO Brawls has tons of unique Champions to unlock as players try to fight their way to victory. In fact, there are 248 different Champions that you'll want to unlock in order to fully take advantage of all of the abilities and customization options in the game. Today, we've tracked down each and every different Champion in LEGO Brawls so that you know what's around the corner after each and every one is unlocked.
All Champions to Unlock in LEGO Brawls
We've gone over exactly how Champions are unlocked in a previous article on Gamer Journalist, so be sure to check it out if you're unsure about how it works. Aside from the regular way of unlocking them, some of these Champions can only be accessed once you find the pieces in their specific sets.
So, without further delay, here's the list!
Heroic Knight
Intergalactic Girl
Super Wrestler
Circus Clown
Cowgirl
Janitor
Owen Grady
Mummy Queen
Nrg Nya
Punk Pirate
A.D.U. Soldier
Alien Pilot
Alien
Alien Soldier
Alien Trooper
Bandit
Barbarian
Battle Dwarf
Classic Alien
Cyborg
Cyclops
Diver
Elf
Evil Mech
Evil Wizard
Fairytale Princess
Fisherman
Forest Maiden
Forestman
Frightening Knight
Galaxy Patrol
Galaxy Trooper
Captain Jonas
El Fuego
Ghost Dwayne
Ghost Joey
J.B.
Mr. Clarke #1
Mr. Clarke #2
Paola
Parker
Ghost Rose Davids
Jack
Alan Grant
Claire Dearing
Dennis Nedry
Henry Wu
Ellie Sattler
Gray Mitchell
Ian Malcolm
John Hammond
Ken Wheatley
Lex Murphy
Ray Arnold
Simon Masrani
Tim Murphy
Vic Hoskins
Zach Mitchell
Zia Rodriguez
Lady Cyclops
Laser Mech
Bull Clone
Gold Horn Demon
Silver Horn Demon
Hero Mei
Mei
Money King
Hero MK
MK
Mr. Tang
Hero Pigsy
Pigsy
Princess Iron Fan
Red Son
Spider Queen
Musketeer
Cole Legacy
Jay Legacy
Kai Legacy
Lloyd Legacy
Nya Legacy
Master Wu legacy
Zane Legacy
Avatar Harumi
Avatar Jay
Avatar Kai
Avatar Lloyd
Digi Cole
Digi Kai
Digi Lloyd
Digi Nya
Digi Jay
Hausner
Okino
Richie
Scott
Sushimi
Benthomaar
Scuba Cole
Scuba Jay
Scuba Kai
Scuba Lloyd
Chief Mammatus
Maraay Guard
Maya
Scuba Nya
Pixal
Ray
Rumble Keeper
Thunder Keeper
Scuba Zane
Bolobo
Gravis
Griffin Turner
Jacob Pevsner
Karlof
Skylor
Samurai X
Zane
Dareth
Eyezor
Lord Garmadon
Sensei Garmadon
Young Lloyd
Lloyd Fan
Mr. E
Nindroid
Ronin
Pinata Boy
Admiral's Daughter
Captain Redbeard
Pirate Girl
Jack Doubloons
Lady Anchor
Mermaid
Ocean King
Quartermaster Riggings
Robin Loot
Shipwreck Survivor
Port
Starboard
Reporter
Robot Drone
Sailor
Sheriff
Space Alien
Space Fan
Space Miner
Space Police
Viking
Thespian
Tournament Knight
Toxic Cleanup Scientist
Alien Keytarist
Banshee Singer
Bunny Dancer
Cotton Candy Cheerleader
Discowboy
Alien DJ
DJ Cheetah
Genie Dancer
Candy Mermaid
Ice Cream Saxophonist
Red Panda Dancer
Samurapper
Shark Singer
Werewolf Drummer
Wiking Woman
Alien Avenger
Artist
Astronaut
Ballerina
Bunny Suit Guy
Businessman
Butcher
Carpenter
Cat Costume Girl
Cave Woman
Caveman
Red Cheerleader
Cheerleader
Circus Strong Man
Connoisseur
Cowboy Costume Guy
Cowboy
Daredevil
DJ
Dragon Suit Guy
Egyptian Queen
Elephant Girl
Evil Knight
Explorer
Fairy
Farmer
Firework Guy
Fright knight
Galactic Bounty Hunter
Gardener
Goblin
Gong Guitar Rocker
Hiker
Hippie
Hockey Player
Hollywood Starlet
Hot Dog Guy
Hot Dog Man
Ice Skater
Jester
Karate Master
Kickboxer
Lady Liberty
Mariachi #1
Mariachi #2
Mime
Motorcycle Mechanic
Cole
Jay
Kai
Lloyd
Nya
Zane
Paintball Player
Pharaoh
Plumber
Pretzel Girl
Prospector
Punk Rocker
Retro Spaceman
Rocker Girl
Samurai
Santa
Scallywag Pirate
Scarecrow
Skeleton Guy
Sleepyhead
Soccer Player
Spaceman
Surfer Girl
Trendsetter
Unicorn Girl
Unicorn Guy
Video Game Champ
Wacky Witch
Warrior Woman
Wizard
Wolf Guy
Yeti
Yuppie
There's the entire list of Champions to collect in LEGO Battles! Good luck on your journey to unlocking them all!
Related: Is Lego Brawls Crossplay? How to Add and Play With Your Friends